This story was reported by Camille Botello, Ximena Del Cerro, Ethan Marshall, Dean Moses, Max Parrott, ET Rodriguez, Barbara Russo, Robbie Sequeira and Ethan Stark-Miller. It was edited by Christian Murray and Robert Pozarycki
Just three businesses in New York, all in Manhattan, are legally permitted to sell marijuana to the public at this time — but that hasn't stopped a plethora of pot dealers across the city from building their own definition of a "green economy."
Marijuana may have been decriminalized, but illegal sales persist citywide, namely at colorful storefronts where the proprietors do little to hide what they're offering to interested customers. While the stores purport to offer traditional smoking devices, groceries and even "exotic beverages," shoppers can clearly see bongs in the window displays and other products related to cannabis use inside. Aiming to attract a younger clientele, the shops often use cartoon characters, memes and corporate logos to get their attention and their business.
In some cases, you can even find pre-rolled marijuana joints for sale behind the counter at local bodegas that normally serve up bacon-egg-and-cheese sandwiches and cheap coffee to regular customers.
Hundreds of marijuana sale licenses from applicants in New York City remain pending, so any pot sales from unlicensed merchants remain illegal. The city recently stepped up its efforts in cracking down on merchants who flout the law; on Feb. 24, New York City Sheriff Anthony Miranda announced that his office has led over 34 inspections of stores selling marijuana without a license over the past month, leading to the seizure of about $262,000 worth of cannabis plants and edibles.
Yet the situation has left many New Yorkers completely confused about the legality of buying pot. 
How is it that so many marijuana merchants are able to operate so openly when they lack the proper licenses to do so? And how does the public know for certain if the pot being sold is truly safe for consumption?
Out in the open
Perhaps the most blatant examples of the problems associated with unlicensed marijuana sales are in Brooklyn — where some merchants just can't be bothered hiding the fact that they're selling pot against the law.
One merchant, the One Love Culture Shop in Crown Heights, has a "donation list" posted outside offering a menu of marijuana types being offered at a price, from 3.5 grams to as much as 1 oz. The transaction is masqueraded as a "donation" to the retailer rather than a sale — a seemingly explicit effort to get around the law.
The names of marijuana types on the "donation list" are quite colorful featuring names of presidents (Obama Runtz), sweets (Cotton Candy, Cherry Gelato) and even basketball players (Scottie Pippen, Gary Patton [sic]). 
On some major commercial corridors, such as Nostrand Avenue in Crown Heights and Bedford Avenue in Williamsburg, the concentration of smoke shops that sell marijuana is as high as two stores per block.
Some stores advertise THC products on signs that stand on the sidewalk. Others offer pre-rolled joints ranging from $15 to $40 each.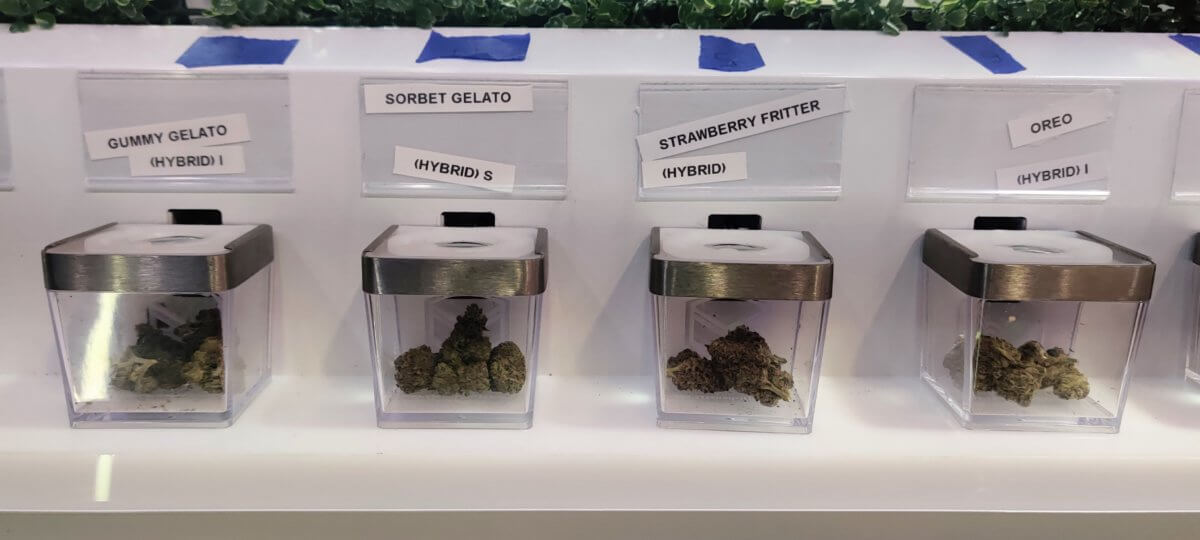 For locals, the sales have proven to have a profound negative impact on their quality of life. The smell of cannabis seems to be everywhere for some.
"It floats into my apartment every time I open my windows and I get a pretty good taste of it when I walk down my street, but it's everywhere in the city," said local resident Randy Warner. I think that smoking in public places should be banned because we all end up breathing it in even if we don't want to."
The fragrance of wacky tobacky in the air also stuns visitors from outside the neighborhood, one resident observed.
"Every time friends or family come from out of town, there's someone who points out how pungent the smell is," said Williamsburg resident, Marissa Roberts, 25. 
Residents also feel irked by retailers blatantly using cartoon characters to lure younger consumers — including, inadvertently, young children far below the legal age of 21 to use pot.
The situation is eerily similar to a notorious Big Tobacco tactic from years ago, when companies used cartoon characters like Joe Camel to make smoking look cool to impressionable youth.
"The marketing definitely makes it appealing, especially for children," said Collette Sanders, 29, who walks past a smoke shop on Bedford Avenue every day with her 4-year-old son and 2-year-old daughter. "They use characters like Pikachu from Pokemon and even Peppa Pig. My kids go crazy when they see anything related to their favorite tv shows."
Up in the Bronx, two storefronts we visited claimed they weren't selling cannabis under the counter, but their shops were chock full of marijuana paraphernalia and CBD products. They also sold vaping nicotine, ash trays, pipes and bongs.
An employee at one location, Top One Exotic on East 167th Street, claimed shoppers preferred to buy vapes and cartridges. The store, however, had products that resembled cannabis and other items labeled as "federally legal" on the packaging, including CBD products such as Citicenz Hemp, Go CBD, Opland Hemp, Lit Natural and Alfakher.
Marijuana remains illegal in the U.S. government's eyes even though New York and 20 other states have legalized its recreational use.
Inside a new convenience store in Dongan Hills, Staten Island, are shelves of Starburst, M&Ms and other standard candy fare. On shelves next to the candy are envelopes of similar sweets and snacks, except these "treats" aren't what you think. They're infused with CBD, a chemical found in marijuana.
Jars of colorful Gummy Bears, little envelopes of Trix and Cocoa Puffs cereals and other CBD snacks that would appeal to kids are for sale. We asked the salesman behind the counter if there was any pot in the candies. He explained, "It's got CBD, THC, a little of everything."
THC is the main compound in cannabis that gets people high.
While we spoke, several young people browsed the store. Meanwhile, the salesman asked us if we wanted some "flowers," the smokable part of a cannabis plant.
Customers must be 21 to purchase any candy with CBD, per the products' cheap-looking, slapped-on labeling. But many of the in-store shoppers looked to be underage and eyeing everything from vaping products to the cereal-themed "snacks."
Shops like this are located around the city. And cannabis products they sell pose two major health risks to children, according to experts. The first threat is that they are designed to look like candy. Kids are less likely to heed to dosage guidelines on a bottle of "candy" and risk over-consumption.
"This increases the likelihood of a toxic overdose reaction," Catherine Schneider, a licensed clinical social worker in Bellport Village, NY, explained. 
The second threat is that THC is a mind-altering substance. And many products in these stores—even ones that claim to have little to no THC—can contain the compound. This can interfere with a child's developing brain. 
"Children's brains are in the process of changing in density from grey matter to highly connected neural networks that make up a mature brain," Schneider explained. "A brain can be considered mature at around 25 years old. THC and other mind altering substances introduced to the brain prior to 25 increase the vulnerability of the growing neurons and neurotransmitters."
No license? No problem
Only those businesses that have been granted a license to recreationally sell cannabis products are allowed to do so in New York City. So far, just three shops in Lower Manhattan are legally permitted within the city's confines to sell marijuana.
None of the first three legal dispensaries to open their doors responded publicly to an inquiry about enforcement efforts against unlicensed shops.
Licenses have yet to be released for another 63 businesses and retailers who received initial approval to sell pot in New York City. But without having the permit first, they cannot legally offer marijuana to consumers.
The state Office of Cannabis Management (OCM) is responsible for the issuance of these permits, known as CAURD (Conditional Adult-Use Retail Dispensary) licenses. A spokesperson for the OCM told amNewYork Metro that the Cannabis Control Board, which oversees the OCM, hopes to release the majority of all remaining allotted CAURD licenses for The Bronx, Manhattan, Queens and Staten Island during its April board meeting.
There was no immediate word about the fate of pending CAURD licenses in Brooklyn, which is one of four regions in New York state where legal marijuana sales have been upheld due to a pending court case.
The Cannabis Control Board is set to next meet on Thursday, March 2. The meeting agenda includes an "announcement on the CAURD program" from Chris Alexander, the board's executive director. A source with the OCM indicated that the announcement will include doubling the allotment of available licenses per year from 150 to 300.
Even so, the lack of a license hasn't stopped some 1,400 shops in the five boroughs from illegally selling weed and cannabis products, Sheriff Miranda said during a Feb. 24 hearing at City Hall. The Sheriff's Office bust was the result of an investigation launched last year through the formation of a task force designed to weed out illegal pot dealers in the city.
The OCM, in a statement sent to amNewYork Metro on Tuesday, described its combined efforts with the NYC Sheriff's office further, noting that they "have confiscated 20 mobile trucks, conducted enforcement at over 75 unlicensed shops, issued over 200 cease and desist orders, and seized an estimated value of $10,000,000 worth of unregulated product."
But for Miranda, the problem is not just about dealers not being properly licensed — it's also about what they're selling to consumers.
"The unregulated business presents a certain health hazard to all of our communities," Miranda said at a Feb. 24 press briefing at City Hall. "We want to protect our communities against getting sick or smoking some product that is mixed with products we don't know about."
According to a spokesperson for the NYPD, there currently aren't any punishments listed under the city's penal law for unlicensed stores displaying cannabis for sale. 
"The NYPD continues to advocate for reasonable amendments to these state laws which would enable appropriate enforcement of violations," the NYPD spokesperson said. "In the meantime, the NYPD is working closely with our criminal justice partners to address the proliferation of unlicensed cannabis dispensaries under the confines of the current law."
For its part, the OCM, in its statement to amNewYork Metro, said it has zero tolerance for unlicensed vendors who undermine New York's efforts to regulate the marijuana industry — and reverse years of social harm caused by the unequal enforcement of marijuana laws that primarily targeted communities of color.
Cannabis sale licenses have been primarily awarded to nonprofits as well as individuals who have been previously convicted of marijuana-related crimes.
"New York State will not allow a market of unlicensed cannabis storefronts operate side-by-side with a legal, regulated market," the board statement read. "Unlicensed cannabis sales undercut the goals of the New York State's Cannabis Law to protect public health and build an equitable regulated market that works to undo the harms caused by the disproportionate enforcement of cannabis prohibition. Legal dispensaries are opening their doors to consumers and offering safer, tested products they can trust. The Office of Cannabis Management's enforcement team is working every day to advance investigations that shut down unlawful cannabis operations. … We will continue to work with our partners in communities across the State to enforce the Marijuana Regulation and Taxation Act (MRTA) and protect New Yorkers as our nation-leading cannabis industry continues its regulated expansion."
Customers undeterred
Twenty-seven-year-old Justin Ellick, who recently frequented a smoke shop in Midtown, believes that his age group is more familiar with lighting up a joint than most, so the concept of marijuana dealers popping up throughout New York City is not some bizarre phenomenon for him. In fact, Ellick shared that before licenses were even distributed to vendors, finding pot was not a difficult task. 
While Ellick does not know the exact intricacies of how establishments receive their license, he feels that this presents an issue between smoke shops and official dispensaries. 
"I don't mind them. I think at this point, you have licensed ones and they're probably losing business because of the unlicensed ones, so from that perspective, I guess it's not good. But I just don't know what you can do to get rid of them," Ellick said.
Milton, an employee at Hot Pot Convenience who declined to give his last name, says he likes the experience.
"You get to build your customers, meet new people, make friends–stuff like that," Milton said. "They [the customers] come in and say, 'How are you doing?' stuff life that."
Milton also said that the prospect of being a potentialtarget for criminals does not worry him.
"We had a couple of instances," Milton said, pointing to his sweatshirt. "Right here it says 'Savage.' I handle my own." 
Milton excitedly showed his products, including chocolates and gummies. When asked if competition is tough with new shops opening every day, he simply responded: "It is, but people tell me they love my smoke shop."     
Another Midtown visitor, named Rachelle, said she is concerned about the fact that more and more smoke shops keep popping up.
"You know, I wish they were licensed. I don't quite understand why the city can't close them down. But you know, it's not great that they're popping up all over the place," Rachelle said, from the Upper West Side. "They close them down and then they open them back up again, and I don't know why."
Back in Brooklyn, one local resident charged that the biggest problem related to marijuana sales in New York is the lack of properly licensed retailers.
"It's well known that all these stores are selling marijuana illegally," said Williamsburg resident Craig Peterson, 32, who was incredulous at how few stores had the legal ability to sell pot. "If they really wanted to make things up for people who were persecuted for an unjust war against marijuana and racially profiled, hundreds would have started a business by now."
Another Brooklynite suggested the continued unlawful sale of marijuana by vendors out in the open leaves her and other confused about the meaning of state law legalizing the sale of pot.
"I don't understand how the game works," said Crown Heights local, Patricia Rogers, 41. "Can they sell this or not? And if they can't, why are they so open about it? It makes me think that all of the sudden, there is nothing wrong with smoking weed and that all these years, we've been hearing demonizing stories that were just a way for the government to control people and divide us by creating a stigma against those who've always known it is not a big deal."