For years, we've been mourning the loss of great neighborhood record stores like Greenwich's Other Music, Bleecker Street Records and Rebel Rebel — all which shuttered in 2016 — but one Brooklyn-based shop is ready to fill the void.
Carroll Gardens' Black Gold celebrated the opening of its SoHo location inside the Artists and Fleas market on Broadway in February.
Taking after its Brooklyn shop, Black Gold's corner of Artists and Fleas still serves up Brooklyn-roasted coffee next to its taxidermied animal heads and vinyl (ranging from hip-hop and punk rock to gospel, jazz and swing), but now there's a new clientele.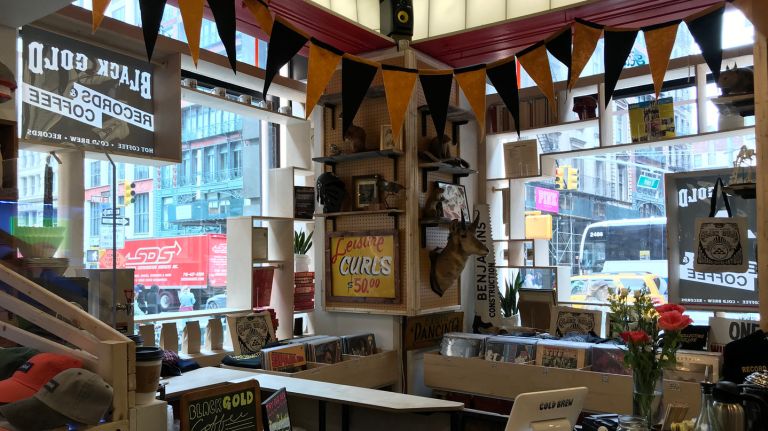 The original shop in Carroll Gardens is in a commercial stretch surrounded by a largely residential neighborhood. Broadway in SoHo is very different — much of Black Gold's traffic there is from people who work nearby.
"It's a new crowd," co-owner Jeff Ogiba said inside the new digs. "It's a very specific crowd, and we're learning to adapt to it quickly. A lot of folks work around here, across the street and upstairs, and they've been saying our coffee is good. We've even converted some people from their local places."
His co-owner, Mike Polnasek, said that he expected there to be a lot more strangers coming in and out, rather than repeat customers.
Both of them, however, are grateful to be the record shop in SoHo, which might have not happened years ago.
"There is a need for it right in this neighborhood," Ogiba said. "We're trying to find new and innovative ways to maintain the attention we had as the underdog, now that we're breaking thresholds. It's a real challenge."
Polnasek said the clientele also has changed as vinyl enjoys a resurgence. Years ago, those who walked through the doors were collectors, but now they're young people, families and couples, who are there to purchase turntables and records.
"The popularity is up to a place it hasn't been in a really long time," Ogiba added. "We're reaching a point where everybody is aware of the collectibility of records so it's becoming a lot more challenging, but it's also becoming easier to move stuff once you get it at a fair price because of the traffic and the interest."
Black Gold started eight years ago when the vinyl-loving duo decided to take their record business from New Jersey to Brooklyn. The friends sought out a different experience for their store, rather than just a place to dive through stacks of vinyl. When they added good coffee and oddities, they found their niche.
"It was a cool business model — it was promising," Polnasek said. "It's not just the standard record store, it's about community and discovery. We insert our personal tastes and preferences into the things we put in our store, and I think that resonates."
It's safe to say the shop has been a passion project for the two. Ogiba, 37, and Polnasek, 42, were once roommates and had a joint collection that lined the walls from floor to ceiling in one room, having to downsize time and again to create more space.
Now that they have their own places, their respective collections sit at about 12,000 and 3,500, they said.
They've even cut down on living expenses to keep the shop rolling, living carefully to make sure it survives, Ogiba said.
"We take care of ourselves modestly because it basically is our lives," he said. "It's a labor of love."
Whether in Carroll Gardens or SoHo, you may see them emptying their car of records because as they see it, Black Gold is "a manifestation of ourselves," Polnasek said.
For more information about Black Gold, located at 461 Court St. in Carroll Gardens and at 568 Broadway in SoHo, visit its website at blackgoldbrooklyn.com.