An off-duty cop in Brooklyn is fighting for his life after being shot in an apparent robbery on Saturday night, it was reported.
Police said the shooting happened at about 7:05 p.m. on Feb. 4 near a home on the 400 block of Ruby Street in East New York, in the confines of the 75th Precinct. 
According to Police Commissioner Keechant Sewell, the officer, a 5-year NYPD veteran, was shot while attempting to purchase a car at the location. 
A massive NYPD presence has converged upon the neighborhood as officers search for the suspected shooter. Police are desperate for any information that will help track the killer down.
"If anyone has any information, please inform the NYPD tip hotline. This dangerous person must be removed off our streets," Mayor Eric Adams beseeched during a press conference Saturday night at Brookdale University Hospital, where the wounded officer remains in critical condition.
Law enforcement sources said the off-duty officer went with a relative to the Ruby Street location Saturday night to purchase a vehicle through a connection made on social media.
But moments after arriving, officials said, the suspect confronted the off-duty officer, pulled out a firearm and announced a robbery. The officer, whose name has been withheld by the NYPD, was shot in the head during an exchange of gunfire with the suspect.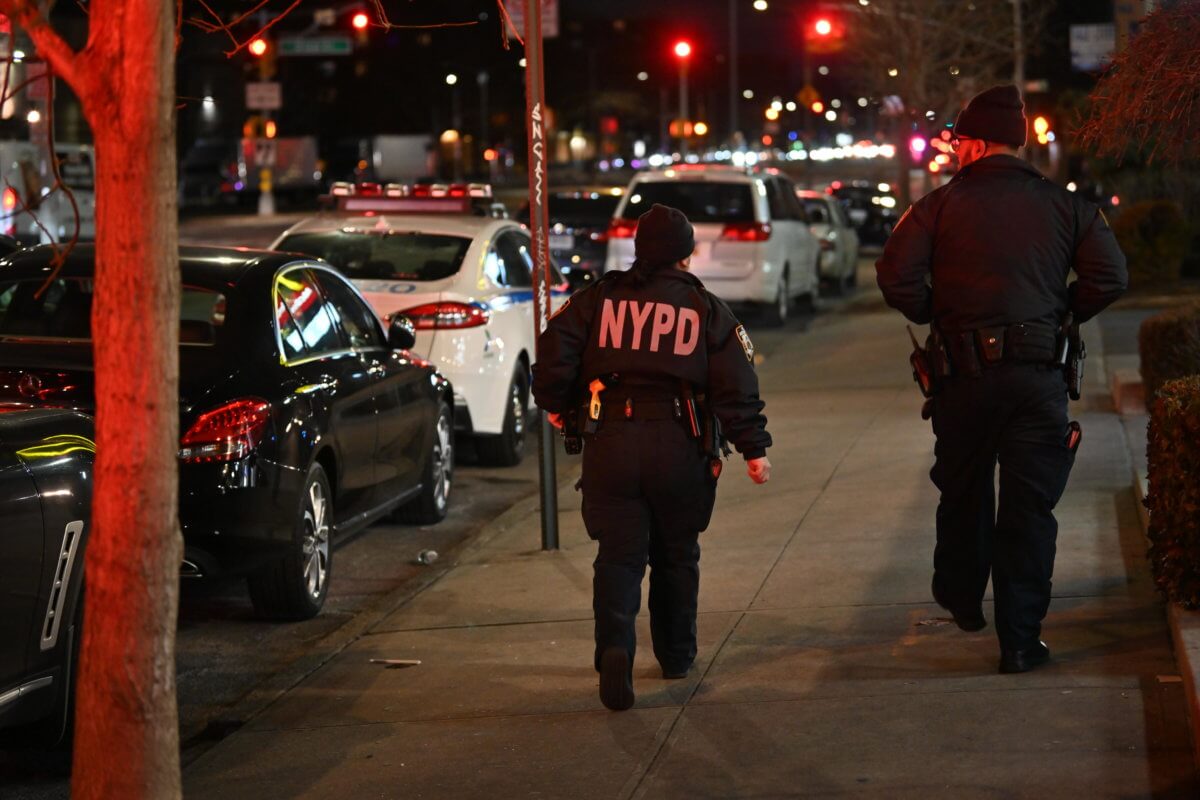 According to information posted on the Citizen app, police believe the shooting suspect may have fled in a black SUV with tinted windows.
Mayor Adams arrived at Brookdale Hospital hours after the shooting and said he met with the officer's family, vowing that the killer would be brought to justice.
"An officer conducting a simple errand and a dangerous person pulled out a firearm," the mayor said. "As we see so far and so often in the city, too many illegal guns are in the hands of bad people and doing bad things. I spoke with the officer's wife, saw his beautiful children. We're all lifting his family up in prayer. We will catch the person responsible for this act."
The investigation remains ongoing, police said. Anyone with information about the shooting is urged to call Crime Stoppers at 800-577-TIPS (for Spanish, dial 888-57-PISTA). You can also submit tips online at crimestoppers.nypdonline.org, or on Twitter @NYPDTips. All calls and messages are kept confidential.
It was the second shooting incident in Brooklyn involving an active or retired NYPD member in as many days. On Friday afternoon, a retired police officer and her boyfriend were found shot dead in their East Flatbush home in an apparent murder-suicide that remains under investigation.
With reporting by Dean Moses and Lloyd Mitchell; videos by Lloyd Mitchell
This is a developing story; check with amNY.com Sunday morning for updates.