The International Center of Photography (ICP) will soon open in its new Lower East Side home at Essex Crossing — and is debuting four new exhibitions for the occasion.
The new location at 79 Essex St. houses ICP's museum and school, reuniting them for the first time in decades. ICP was founded in 1974 on the Upper East Side, and over the years has had locations in Midtown, New Jersey, and on the Bowery in Lower Manhattan. Its new location will have a free Opening Community Day on Jan. 25.
Along with exhibitions, the new Center includes educational programs for people of all ages, along with media labs and shooting studios in the 40,000 square foot space that spans several floors. The building is part of the newly opened Essex Crossing mixed-use development, which has 1.65 million square feet of space across nine sites in the area.
The inaugural exhibitions include "Tyler Mitchell: I Can Make You Feel Good," which explores ways to interpret Black identity, especially in positive ways, across several media, including with photographs, video, and portraits on cloth put on clotheslines in the installation.
Mitchell is a photographer and filmmaker based in Brooklyn; this is his first U.S. solo exhibition.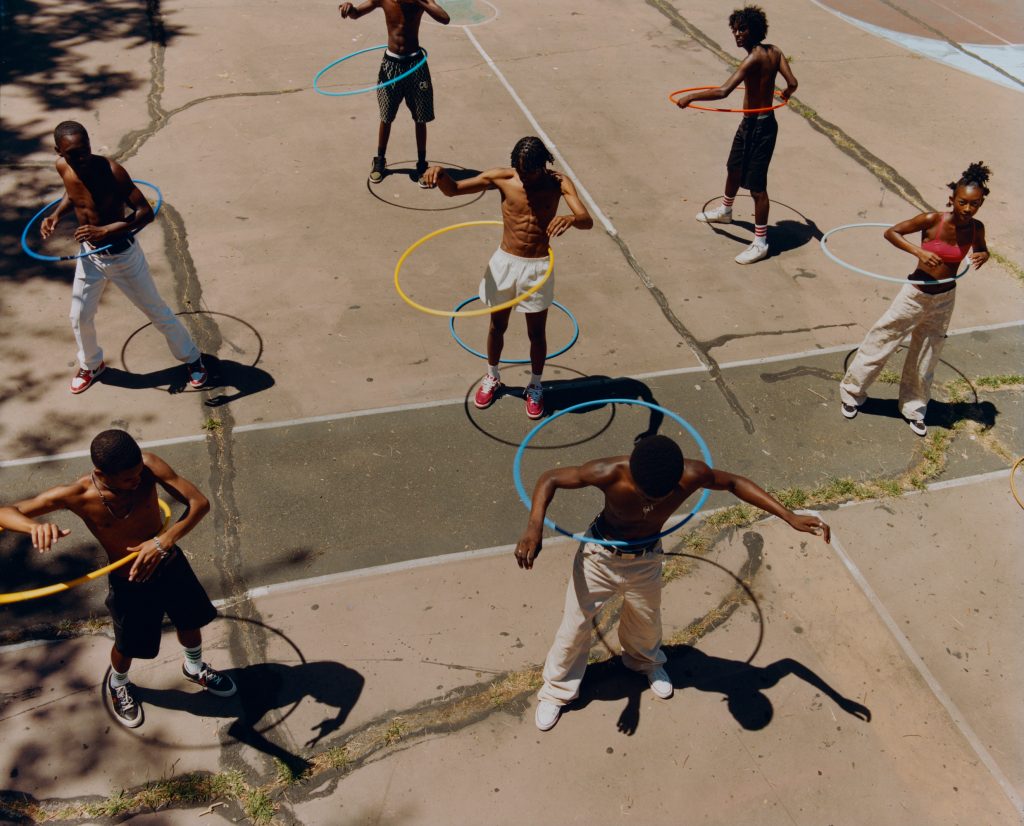 "I Can Make You Feel Good is simply a declaration," said Mitchell. "And one that I feel is gut punching in its optimism. It feels important at a time like this to declare such a thing."
Another exhibit is "CONTACT HIGH: A Visual History of Hip-Hop," featuring an impressive collection of portraits and behind the scenes photos and contact sheets of every legend and big name in hip-hop you can think of, from its earliest days up to the present.
A third exhibition explores issues around technology and surveillance, and is called "James Coupe: Warriors." Coupe lets visitors have a photo taken of their face, which is then inserted, using deepfake technology, into the 1979 cult classic New York film "The Warriors."

And the final exhibition is "Lower East Side: Selections from the ICP Collection," featuring vintage photos of the Lower East Side's streets and people going back decades and into the 19th century. The exhibit was a chance to connect and engage ICP with its new location, according to Erin Barnett, ICP's director of exhibitions and collections.
"Many of the social documentarians and street photographers of the 1930s and 1940s were first-generation Americans born on the Lower East Side," said Barnett, "who created sensitive and nuanced portraits of their neighbors and shared environment."
The four exhibitions will run from Jan. 25 to May 18. Admission is $16 for adults and $12 for seniors and students, and more information can be found at www.icp.org.
UPDATE on Jan. 26, 2020, 3:30 p.m.: Here are a few photos from the Jan. 25 opening of ICP: