Man attacked and robbed on West 29 Street
A man was allegedly mugged by three men on West 29th Street on Thursday, Jan. 30, according to police. At 4:50 a.m., in front of 205 West 29 St., a 31-year-old male victim was walking when he was approached by three men, who allegedly demanded his property. The group then allegedly started punching the victim about his head and torso, then took his wallet and cell phone and fled into a nearby subway station. The stolen property had an estimated value of $1,000. The victim refused medical attention at the scene.
Illegal buys at Macy's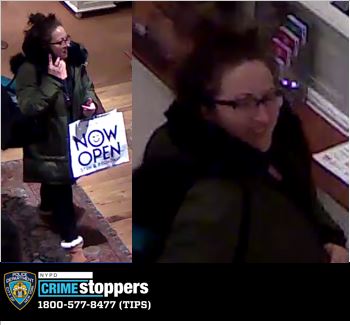 Officials are looking for a woman who made unauthorized purchases of hundreds of dollars worth of items at Macy's, according to a police report. On Jan. 27, around 11:00 a.m., a woman entered Macy's at 151 West 33 St. at Herald Square, and allegedly used a stolen credit card to buy about $553 worth of merchandise, officials said. Police released a surveillance image of the person wanted for the grand larceny.  
Arrested after using drugs in open view
A man was arrested for public drug use on Saturday, Feb. 15, police said. Around 7:30 p.m., in front of 406 West 40 St., a police officer observed a man allegedly holding and lighting a crack pipe in the street and in public view, according to a police report. The man, 30, was found to have a warrant out for him, and he was arrested for criminal possession of a controlled substance.
Trying to steal lotions and soaps at Duane Reade
A shoplifting incident at a Duane Reade led to a man's arrest on Friday, Feb. 14, according to police. Around 4:50 p.m., a man, 34, allegedly concealed several items in a shopping bag. The items included two lotions, two Sensodyne toothpaste products, and Dove products, with a total value of $99. After he allegedly left the store with the items, a canvass was conducted and the man was stopped on West 33 Street at Eighth Avenue. All of the items were recovered, and the man was arrested for petit larceny.