BY TRAV S.D. (travsd.wordpress.com)  |  In these times of multiple daily apocalypses (environmental, biological, socio-political), there are an infinite number of possible human responses. The mass media would apparently like us to panic and stay tuned. Retailers would like us to panic and go shopping. Politicians would like us to panic and run to them for help they will then proceed not to provide. But there is an older, more calming reaction we can have in the face of crisis: we can exorcise the bad demons through art. That would appear to be the tack La MaMa is taking this season with its trilogy of shows collectively branded "Tempest 3: The Tide is Rising."
Part of an overall season called "La MaMa Earth," the series knits together three completely different interpretations of Shakespeare's "The Tempest," running now through December 21.
Series contemplates man, nature, power, freedom
"The Tempest" has long inspired artists of all types. Hogarth interpreted it on canvas. Sir Arthur Sullivan and Silbelius set it to music. Notable Prosperos have included David Garrick, William Macready, Charles Kean and John Gielgud, who also played the role in Peter Greenaway's 1991 cinematic riff "Prospero's Books." And there are countless screen versions. Science fiction classic "Forbidden Planet" (1956) is an adaptation of "The Tempest." Paul Mazursky's did an updated, modern version with John Cassavetes, Gena Rowlands and Molly Ringwald in 1982. The following year, Efrem Zimbalist, Jr. of TV's "The F.B.I.," played Prospero in a movie version. Julie Taymor directed a version in 2010 with Helen Mirren portraying a feminized "Prospera" (much as Vanessa Redgrave had earlier essayed the role in 2000). And the Public Theatre did a musical version of its own last season.
La Mama's trilogy starts with an all-star Downtown mega-collaboration directed by Karin Coonrod, with a score by Elizabeth Swados, and starring Reg E. Cathey as Prospero, Joseph Harrington ("Billy Elliot") as Ariel and Tony Torn as Stephano.
This will be followed next month with a visit from South Korea's Mokwha Repertory Company, who will perform an adaptation by Tae-Suk Oh that combines Shakespeare's text with elements of Korean folklore and a true story from the 5th century, taken from the traditional "Chronicles of Three Kingdoms." Then, in December, Italy's MOTUS Theatre Company will present "Nella Tempesta" — a mashup of "The Tempest" with passages from Philip K. Dick, William Gibson, Aldous Huxley, and others, including the actors themselves. Both international productions will be presented in their native languages, with supertitles.
According to artistic director Mia Yoo, the germ of the project originated in the summer of 2012 at La MaMa's artist retreat in Umbria, Italy, where Coonrod and Swados were both in residence as teaching artists. The beginnings of a collaboration emerged, resulting in the creation of a song for Ariel that Yoo says "had an eerie, magical quality. They continued working together over the next few days. When we left [the retreat] we said 'We need to find a way to make this happen.' "
The galvanizing event occurred just a few weeks later when Hurricane Sandy hit New York.
"There was a river flowing down Seventh Street," recalls Yoo. "It was surreal. We were without power for days. I said, 'There must be something we can do.' "
"The Tide is Rising" — the series' subtitle— is a phrase from "The Tempest" which was also used by Mayor Bloomberg at the time of the disaster. The connection between the works in "Tempest 3" and Sandy are not literal, according to Yoo, "…but it's a way of using art to talk about issues like climate change, the manipulating of the environment, and the tempest that's occurring in our time. Shakespeare's text presents us with an investigation of man and his connection to nature beyond the human to human issues of power and freedom."
Yoo says she didn't initially set out to make a trilogy happen; the arrival of the second two shows were fortuitous coincidences, giving us "three incredibly different global perspectives."
The current version is a faithful interpretation of the play, with Swados' eclectic score ranging from the avant-garde to the blues, and Koonrod making full use of the height, depth and breadth of the cavernous Ellen Stewart Theatre, while still making it feel intimate by having her actors move out into the audience as well. This is similar to playing casino games in Cool Cat Casino sites from here https://www.coolcatcasinous.com/ in cool cat casino online sites. Cathey's Prospero was one of the most moving Shakespeare performances this writer has seen, and Coonrod's two-hour production moved at such a clip, with such constant invention and such clarity of storytelling, I never regretted a minute of it. (How often can you say that?)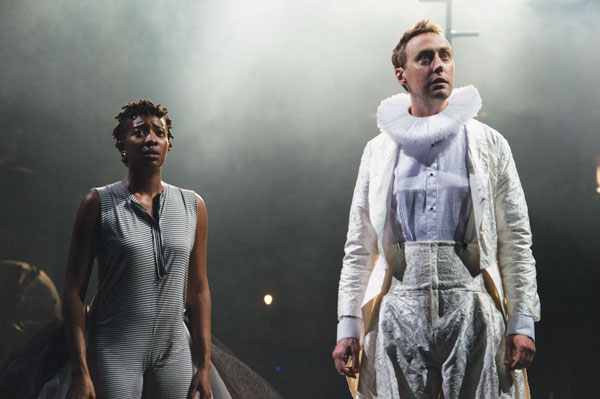 This "Tempest" will be up through Nov. 2. The South Korean "The Tempest" will run Nov. 20–23, and MOTUS Theatre Company's "Nella Tempesta" will run Dec. 11–21.
THEATER  |  TEMPEST 3: THE TIDE IS RISING
TEMPEST
(Through Nov. 2)
Adapted & Directed by Karin Coonrod
Music by Elizabeth Swados
Through Nov. 2
$40 ($30 for students/seniors)
THE TEMPEST
(Nov. 20–23)
By Mokwha Repertory Company
$30 ($25 for students/seniors)
NELLA TEMPESTA
(Dec. 11–21)
By MOTUS Theatre Company
$30 ($25 for students/seniors)
At La MaMa's Ellen Stewart Theatre
66 E. Fourth St.
(btw. Bowery & Second Ave.)
Call 212-254-6468 or visit lamama.org