NYPD are seeking the public's attention in identifying multiple individuals responsible for a series of  Manhattan crime sprees in which they stole just about anything and everything from their victims: from LA Dodgers baseball hats to cash to E-bikes. These senseless criminals used both knives and firearms to terrify their victims into submission.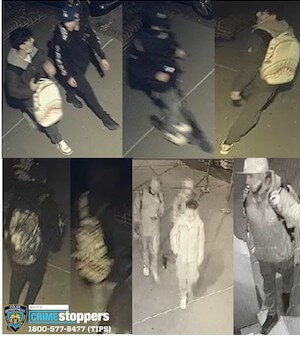 There have been five, allegedly connected incidents, authorities report, with the first occurring on March 31 at approximately 9:25 p.m. when a defenseless 13-year-old male was pushed to the floor of a residential building in the vicinity of Amsterdam Avenue and West 77th St. on the Upper West Side of Manhattan, and stripped of his Dodger's cap.
On March 17 at approximately 3:25 p.m. the hoodlums approached a 25-year-old man and a 26-year-old man in the northwest area of Central Park where, after the sinister flash of a knife, they forcibly stole their Citi bikes, NYPD report.
Moving back to the Upper West Side area of Manhattan on March 30, the group again targeted youths  who were 14 and 15 years old. The attack occurred at approximately 9 p.m. in front of 52 Riverside Drive, where after threatening the teenagers with a gun, they took off with two cellphones and a sweatshirt.
For their fourth and fifth rounds of attacks they again prowled the Upper West Side and on March 30 at approximately 11:15 p.m., entered a residential building in the vicinity of Riverside Drive and West 78th St., stealing an unmanned electric scooter, according to police reports.
Finally, on March 31 at approximately 12:30 a.m., in front of 19 West 69th St. they approached a 27-year-old male and, after threatening to stab him, forcibly removed his cellphone and wallet containing $375. They fled southbound on Central Park West with one crook riding an electric scooter and the rest on foot, authorities report.
No injuries were reported in any of the attacks and EMS were never called.
The photos and videos were taken from the vicinity of the fifth attack.
 Anyone with information in regard to the identity of these individuals is asked to call the NYPD's Crime Stoppers Hotline at 1-800-577-TIPS (8477) or for Spanish, 1-888-57-PISTA (74782). The public can also submit their tips by logging onto the CrimeStoppers website at WWW.NYPDCRIMESTOPPERS.COM, or on Twitter @ NYPDTips.
All calls are strictly confidential.