BY SCOTT STIFFLER  |  WASHINGTON SQUARE PARK CAROLING  |  There are, of course, other trees in town this time of year — but our favorite is the 45-footer artfully framed by the Washington Square Park Arch. Tastefully (never overly) decorated, you'll find no pricey skating rink standing between you and the photo op that's served as more than one true New Yorker's holiday greeting card. It's enough to make even the most grizzled Grinch break out into song — and The Washington Square Association will help make that happen, by handing out complimentary songbooks and providing accompaniment from the Rob Susman Brass Quartet. The tree's lights will be turned on for the first time this season on Dec. 6, when the very busy Santa Claus appears to lead the traditional illumination countdown. Then, Yuletide carols will be sung by an informally convened choir — dressed up like Eskimos if weather permits. The festivities repeat on Dec. 24.
Free. Wed., Dec. 10 at 6 p.m. and Wed., Dec. 24 at 5 p.m. At the Washington Square Park Arch (at the foot of Fifth Ave., one block south of Eighth St.). The tree is lit from 4 p.m.–1 a.m. daily, through the season. For info, call 212-252-3621 or visit washingtonsquarenyc.org.
WEST VILLAGE  CHORALE:  MESSIAH SING, HOLIDAY CONCERT & CAROL WALK
Steeped in tradition but never stuffy, the West Village Chorale has been celebrating the classics since 1971— while providing their audiences with friendly, informal opportunities to sing along. Their participatory "Summer Sings" series may be as distant a memory as 70-degree temperatures, but December presents ample opportunities to add your voice to the joyful noise.
On Dec. 7, the audience becomes the choir — as conductor Michael Conley leads the annual "Messiah Sing." On Dec. 12 & 14, the "All That Glitters" concert marks the Chorale's third year at Judson Memorial Church. Brass ensemble, harp and piano fill the 1890 Village landmark church, in a program that features Gregorian chants, Irving Berlin classics and 1940s bandleader Fred Waring's period arrangement of "Twas the Night Before Christmas." The audience is invited to join the Chorale in singing a few carols — a helpful warm-up to Dec. 20's annual Greenwich Village Caroling Walk. Since 1974, they've been hosting this stroll through the historic, Dickens-like Village neighborhoods. Songbooks are provided, so no pressure to remember all the words. The Walk concludes back at Judson — where refreshments await, along with much conviviality and more singing.
The "Messiah Sing" happens Sun., Dec. 7 at 3 p.m., at Judson Memorial Church (55 Washington Square South, at Thompson St.). Tickets are $15 ($10 for students/seniors). The "All That Glitters" concert happens at Judson: 7 p.m. on Fri., Dec. 12 and at 3 p.m. on Sun., Dec. 14. General admission, $25 ($10 for students/seniors). The Caroling Walk happens at 4 p.m. on Sat., Dec. 20. This free event (donations accepted) begins in the Meeting Room of Judson. For info on all Chorale activities, call 212-517-1776 or visit westvillagechorale.org.
WINTER WEDDING: HOLIDAY CARDS BY POETS
At your wits end when it comes to finding the right thing to say inside all of those holiday cards you'll be mailing or including with gifts? This exhibition of correspondence by famous poets is a great source of inspiration — or, in desperate circumstances, outright theft. A great poet in his own right, Robert Duncan chose the latter option, by transcribing Rainer Maria Rilke's "The Child." He kept the universe in balance, though, by sending it in a card designed by his artist partner, Jess. On view through March 21, "Winter Wedding" features holiday cards, valentines, birthday greetings, annual original compositions and more, from some of the last century's most beloved poets — including Langston Hughes, Robert Frost, Alice Notley, Ted Berrigan, Seamus Heaney and Marianne Moore.
Free. Through March 21, 2015, at Poets House (10 River Terrace, in Battery Park City). Hours: Tues.–Fri., 11 a.m.-7 p.m. and Sat., 11 a.m.–6 p.m. For info, call 212-431-7920 or visit poetshouse.org.
23 DAYS OF FLATIRON CHEER
Courtesy of The 23rd Street Partnership, this annual three-week event fills the Flatiron Building's public plazas with food, contests and family-friendly activities — most of it free, and all of it featuring good stuff from local merchants. Highlights include performances by the Peoples Improv Theater, 90-minute, holiday-themed walking tours (Sundays, 11 a.m.), balloon and candy cane giveaways, and complimentary gift-wrapping to anyone showing $25 or more in receipts from a Flatiron establishment. Spin the Flatiron Wheel and you might win a prize from area shops and restaurants. Post images on public Instagram and Twitter accounts of your encounter with the art installation (using the hashtag #NewYorkLight), and you'll be entered to win prizes from Flatiron businesses. Nonperishable food items will be accepted at the North Public Plaza, and then donated to the Food Bank For New York City.
At Broadway & 23rd St. For the "23 Days" events calendar, visit FlatironDistrict.nyc. Facebook: FlatironDistrict.nyc/facebook. Twitter & Instagram: @FlatironNY. Email: [email protected]
ARC's HOLIDAY RECORD + CD SALE
When the wrapping paper comes off, the beat goes on — but first, you need to scope out the ARChive of Contemporary Music's 30,000+ collection of CDs, LPs, books, videos, DVDs, music magazines, audio equipment and vintage psychedelic posters. There, you'll find the perfect gift for every jazz, folk, funk, punk, pop, classical, world music and rock fanatic on your list (without having to decimate your piggy bank). This annual sale benefits the non-profit archive, library and research center's mission to collect, preserve and provide information on popular music from 1950 to the present. Most of the items are donated by record companies and private collectors, and all are skip, scratch and warp-free.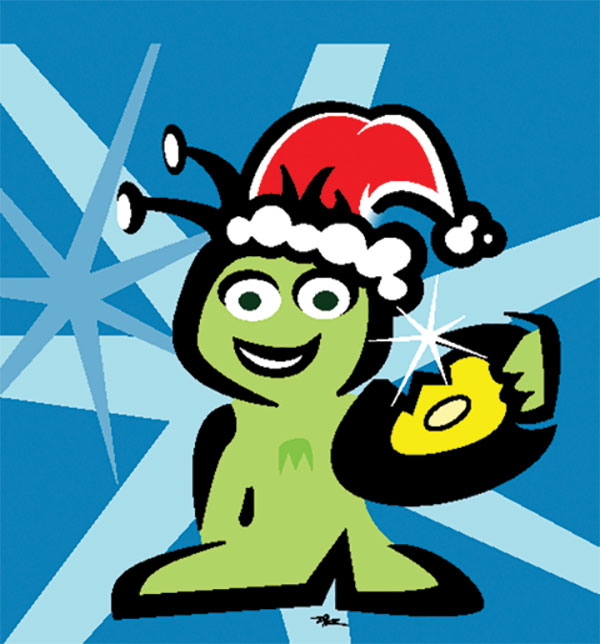 With hundreds of CDs at $1 and new items starting at $5, you can walk away with a tactile gesture of holiday cheer that's cheaper than downloading. Need a gift for somebody who doesn't like music? You're still in the right place! Peruse the Astroturf Yard Sale for vintage kitchenwares and clothing. Join ARC as a member, and you'll get an invite to their Dec. 11 cocktail party (with food, booze, schmoozing and first dibs on everything up for grabs when the sale starts two days later).
The sale happens from Dec. 13-21, daily. Hours: 11 a.m.–6 p.m. At the ARChive of Contemporary Music (54 White St., 3 blocks south of Canal St., btw. Broadway & Church Sts.). Call 212-226-6967 or visit arcmusic.org.
MENORAH MADNESS AND JOSHUA NELSON AT THE MUSEUM OF JEWISH HERITAGE
Kiddie rockers Joanie Leeds and the Nightlights are the marquee entertainment, when the Museum of Jewish Heritage hosts "Menorah Madness." Geared toward children ages 3 to 10, the afternoon offers crafts and a mini-tour of the galleries (free with your concert ticket). After years on the NYC alt music scene (with gigs at The Bitter End, The Living Room, Arlene's Grocery and CBGB's), singer/songwriter Leeds shifted her focus to children's music — and the little ones gobbled up CDs such as "Challah, Challah" and "City Kid." Even parents have been known to request repeat listens! Hearing is believing, though, so catch Leeds and her Nightlights perform songs from their new release, "Good Egg."
On Dec. 25, Joshua Nelson brings his Kosher Gospel Choir to the Museum for two concerts. Known for his fusion of Hebrew tunes and gospel style, the African-American "Prince of Gospel Music" will perform "Lecha Dodi," "Adon Olam," "Mi Chamocha," "Ein Keloheinu" and "Eli, Eli," among others.
"Menorah Madness" takes place on Sun., Dec. 14, 1-4:30 p.m. (crafts 1-4, tour at 1:30, concert at 2). Tickets: $10, $7 for children 10 and under. Museum members: $7 and bring up to 3 children for free ($5 for each additional child). Joshua Nelson performs at 1 & 3:30 p.m. on Thurs., Dec. 25. Tickets are $35 for adults, $25 for students and seniors, and $20 for members. At The Museum of Jewish Heritage (Edmond J. Safra Plaza, 36 Battery Place). To order, call 646-437-4202 or visit mjhnyc.org.
HOLIDAY EVENTS AT BROOKFIELD PLACE
Winter Garden's 10-story barrel-vaulted glass roof sparkles and shines with an intensity that increases throughout December, as the mirrored and jeweled discs embedded in veteran theater designer Anne Militello's "Metamorphosis" light instillation provides a dramatic backdrop to a series of free holiday events at Brookfield Place. Santa's Winter Garden returns on the weekend of Dec. 5-7, offering photo ops with the jolly old fellow (for kids, of course, but adults are welcome to snap a selfie). Free 12:30 p.m. concerts on Dec. 11 & 14 feature jazz and blues vocalist Catherine Russell and the National Yiddish Theatre, respectively. The Grammy Award-winning Russell will put a swing spin on classics from the American songbook, while the Yiddish Theatre's "Songs of Chanukah" will celebrate the Festival of Lights with traditional holiday melodies and hot Klezmer music.
Free. Through Dec. 31, at Winter Garden and Waterfront Plaza at Brookfield Place (220 Vesey St., at West St.). For info: brookfieldplaceny.com/arts-events.