Four individuals accused of operating a major Brooklyn gun and drug trafficking have been indicted on federal charges, the U.S Attorney for the Eastern District of New York, NYPD, and DEA announced Wednesday.
The unsealed indictment charges David McCann, Tajhai Jones, Raymond Minaya, and Calvi Tabron with allegedly conspiring to illegally traffic more than 50 firearms. Both the NYPD and prosecutors that many of these guns were sold in broad daylight at family-friendly locations such as the Canarsie Pier.
Law enforcement top brass also rallied behind new 2022 legislation which they say made the takedown possible—ultimately saving lives.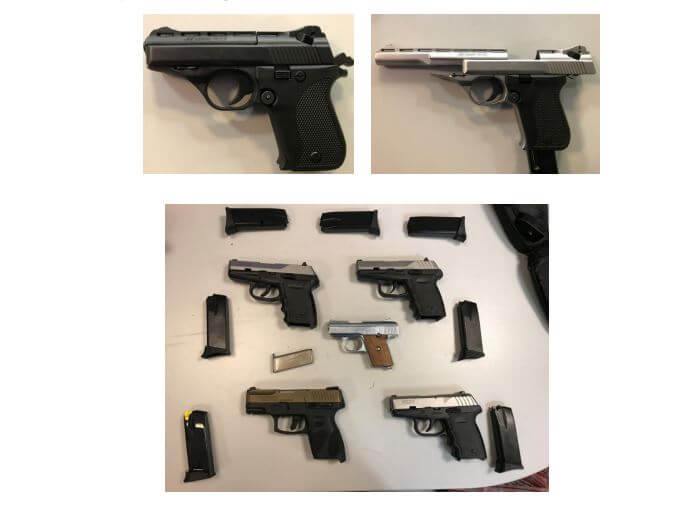 "The charges brought today exemplify how the bipartisan Safer Communities Act can be used as an effective tool in our continued battle against gun violence," U.S. Attorney Breon Peace said. "These charges, the arrests made today are the culmination of a significant investigation into gun and narcotics trafficking occurring largely in and near the Breukelen Public Housing complex in the Canarsie area; the defendant sold an NYPD undercover officer over 50 guns."
Officials assert that Breukelen Houses public housing complex is one of the most dangerous locations for gun violence in the city, with many of the guns distributed are made of ghost gun kits or have had their serial numbers defaced in order to make them more difficult to track.
Peace also put forth that a number of guns sold — to a cop posing as a drug dealer — were traced to previous acts of gun violence in the borough.
"For example, one defendant, Minaya, sold the undercover officer a gun that was used in an Aug. 21, 2021 shooting in Bedford Stuyvesant, during which armed perpetrators shot into a large crowd who gathered for a family day celebration, and in total, eight people were shot. Another gun sold by Minaya, another to the undercover officer links to a Dec. 18, 2021 shooting of an individual in Canarsie, in the block surrounding the Breukelen Houses. That individual sustained multiple gunshot wounds to his body, including shoulder, neck, and the base of his skull," Peace said.
According to Police Commissioner Keechant Sewell, the investigation was driven, in large part, by complaints from residents of the Breukelen Houses who say they live in fear of gang violence in the neighborhood. Chief of Detectives James Essig added that residents at the Bayview Houses also made similar complaints in recent years.
In 2020, law enforcement officials report that the Bayview and Breukelen Housing developments saw 4 fatal shootings, 28 non-fatal shootings, and 102 confirmed shots fired.
"Illegal guns still proliferate and circulate in many neighborhoods across the city that want or need our assistance. And that every day, the women and men of the NYPD along with our law enforcement partners perform incredibly dangerous work, preventing these guns from getting into the hands of criminals," Sewell said. "New Yorkers in every neighborhood should be free from fear and tragedy related to gun violence."
Deadly weapons were not the only concern, however. DEA Special Agent Frank Tarentino shared that the inter-agency teams confiscated a staggering number of illegal substances, including fentanyl and crack cocaine— something he believes has saved numerous lives.
"Our investigative team of DEA, NYPD, and ATF seized over a kilogram and a half of fentanyl powder: This is the equivalent of 114,000 potential lethal doses of fentanyl off our city streets. Additionally, our investigative team seized nearly a kilogram and a half of fentanyl laced crack cocaine. These two seizures, along with the removal of over 50 illegal guns off our city streets saves lives," Tarentino said.
The seven-count indictment took place on Jan. 11 inside the Brooklyn Federal courthouse house (Jones and Tabron were arraigned in Virginia). David McCann, Tajhai Jones, Raymond Minaya, and Calvi Tabron are charged with conspiring to illegally traffic more than 50 firearms. Additionally, McCann and Minaya are also charged with conspiracy to distribute and possess with intent to distribute cocaine base. McCann is also charged with conspiracy to distribute and possess with intent to distribute fentanyl.