Garden defender: An early backer of Mayor-elect Bill de Blasio, actress Cynthia Nixon has also become a fan of the embattled Children's Magical Garden on Stanton and Norfolk Sts. On Halloween, she brought her toddler son to C.M.G.'s costume party and posed in front of  a banner calling on Mayor Bloomberg to help restore the portion of the garden fenced off last summer by developer Serge Hoyda, whose firm Norfolk Development Corporation LLC, purchased the lot back in 2003. A day before the party, on Oct. 30, Hoyda dispatched a drilling rig to the site, which plowed through the "meditation herb circle" and other plantings made by neighborhood children. The rig was there to take core samples, presumably in preparation for developing the site, though no plans have been filed with the Department of Buildings. Hoyda did not respond to requests for comment. The garden's other two lots are owned by the city.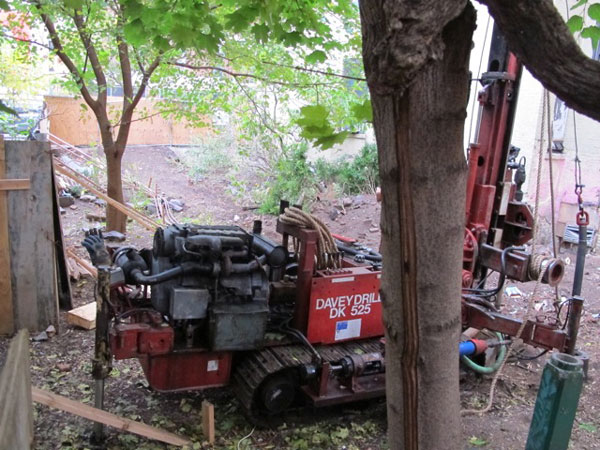 Kavanagh's good 'point': Aside from their choice in the mayor's race, there was one thing that many New Yorkers agreed about on Election Day — they could barely read the ballots. The six-point font used by the city's Board of Elections caused both figurative headaches and literal eye strain throughout the day, as many voters took to social media to gripe about the tiny print. But state Assemblymember Brian Kavanagh replied with a tweet of his own Tuesday, reminding New Yorkers that he has sponsored pending legislation that would require the B.O.E. to use the largest possible print size on ballots — up to 12-point font for candidates' names, and up to 11-point font for all other words. "Poll workers have told me that up to half of all voters are saying that they can't read the ballots," Kavanagh told this newspaper in a phone interview Tuesday evening. "That's just unacceptable." The East Village assemblymember asserted his belief that if the bill were to become law, the B.O.E. would in fact use a more reasonable font size, allowing voters to see their ballots without squinting. Kavanagh's bill was passed by the Assembly in both 2012 and 2013, but has yet to make it through the state Senate — something Kavanagh chalked up to "some minor differences in language" on the Assembly and Senate versions of the bill. But he remained optimistic about the future of the legislation, especially since Tuesday's voter complaints will bring plenty of buzz back to the issue. "I think the Senate will work with us on it," Kavanagh said.
Guilty plea in 'wild' case: Richard Pearson, a.k.a. the "Soho Wild Man," a mentally ill man who many Soho merchants and residents say "terrorized" them by physically and verbally harassing them, pleaded guilty in State Supreme Court on Wed., Oct. 30, for possession of cocaine. Pearson, 48, has consistently pleaded not guilty since May 17, when he was charged with second-degree assault, a felony, for allegedly throwing a brick at someone's head. Pearson was indicted by two grand juries for possession of a narcotic, a misdemeanor, but was not indicted on the assault charge. Judge Charles Solomon is the presiding judge on the case. In a phone interview, Alex Grosshtern, Pearson's attorney, expressed his opinion on the case. "He accepted responsibility and / or pleaded guilty to the only charges he's guilty of, which is the misdemeanor narcotics possession," Grosshtern said of Pearson. "He trusts that the court, and this judge, will render a just and proper sentence for this misdemeanor charge — the sole misdemeanor charge, and the sole charge the grand jury found appropriate," Grosshtern said. "So he pleaded guilty without being made any promises." Pearson's next court date will be Tues., Nov. 12, at 2:15 p.m.
7-Eleven asessment? So, after all the rallies and protests, and sturm und drang over slurpies and corn dogs, the 7-Eleven has opened at 11th St. and Avenue A. We stopped by Saturday night, and things inside were pretty mellow there, sterile-seeming, bright white. The man working the register during the night shift was friendly and agreed to have his photo taken, but he didn't give out his name and said he wasn't really allowed to say anything about the store, the anti-7-Eleven protesters or anything else. We recently met a couple from E. 11th St. at a rooftop garden meet-up in Carroll Gardens, Brooklyn, and they said a lot of people in that building preferred a 7-Eleven over a bar. But Councilmember Rosie Mendez told us that she knows a lot of the building's residents opposed the 24-hour chain food mart. What's more, Mendez said, the noise and vibrations from the new store's HVAC system in the rear is negatively impacting a lot of neighboring buildings. She said the Cooper Square Committee has been on the case, and that, even worse, the HVAC structure is blocking a fire escape ladder. She said they've asked the Fire Department to do an inspection. And the HVAC problem is more widespread in the district than just 7-Eleven, she added. More to the point, Mendez said, "I miss the  mom-and-pop shops that we keep losing."