BY JANEL BLADOW
A wickedly busy month in the neighborhood — everything from making history to marking it.
SANDY SURGE SIGN… Saturday, Oct. 29, some 30 neighbors and Seaport enthusiasts turned out to officially mark the highest extent of the storm surge that inundated the area three years ago.
The South Street Seaport Museum along with the city's Office of Emergency Management and the Federal Emergency Management Agency unveiled an official high-water-mark sign near the museum's flagship Wavertree to promote awareness about storm surge risk.
"The location where we are now standing had storm surge waters that reached four feet high in October 2012 when Hurricane Sandy hit," said OEM deputy commissioner Frank McCarton. "This is the fourth community in New York City where we have placed High Water Mark signs to help promote awareness of hurricane risks and to encourage people to take steps to prepare for a storm."
Councilmember Margaret Chin, and tireless storm-resiliency advocate Catherine McVay Hughes joined McCarton and museum director Capt. Boulware for the unveiling.
"The South Street Seaport Museum and its historic buildings were devastatingly flooded during Sandy, as were many businesses, homes, and communities throughout New York," said Capt. Boulware. "Although Sandy was a one-time event, a storm like this will occur again, and we must be prepared."
The High Water Mark Initiative aims to increase communities' awareness of local flood risk by posting prominent signs showing high water marks after recent floods.
GRANDMASTER SLAM… Flushing Meadows may be known for the U.S. Open but we have the grand slam of chess coming to the Seaport this month. See the two youngest chess grandmasters ever to compete for the world title right in our hood! The World Chess Championship Match is the first large-scale event to take place in the newly renovated Fulton Market building. The three week match up running Nov. 11–30 will be the first match-up of two great minds of the Millennial Generation, according to Agon Limited, the company that holds the internationally recognized World Chess Championship. Defending Champion Magnus Carlsen, 25, of Norway faces off against 26-year-old Sergey Karjakin of Russia. Challenger Karjakin is the world's youngest Grandmaster (he earned the title at 12 years and 7 months old).
The match consists of 12 games, with every move followed and analyzed by a global audience of hundreds of millions of chess fans. The last World Championship match, held in Sochi in Russia in 2014, enjoyed record-breaking coverage with a viewing audience topping 1.2 billion people, according to Agon Limited, which will provide a live broadcast of the Match through its worldchess.com website. To attend the actual event, you can buy tickets at nyc2016.fide.com.
GATHER YOUR SQUADS… Are you ready to "experience" Taylor Swift?  The Grammy Museum® The Howard Hughes Corporation®, will bring "The Taylor Swift Experience" to 19 Fulton St., opening Friday, Nov. 18. The exhibit opened two years ago on Taylor's 25th birthday (that's Dec. 13, in case you just awoke from a coma) and gives the public a sneak peak at the 10-time Grammy winner's musical and private life through personal photographs, home videos and interactive experiences. Also in the Swift stuff are her childhood books, costumes from the RED and 1989 tours, her banjo from her 54th-Annual Grammy performance, her Met Gala Louis Vuitton dress, and more.
"This installation will activate the Seaport with a new offering that will attract New Yorkers and visitors alike while we continue to transform the district into a leading destination for cutting edge entertainment, fashion, dining and cultural experiences," said HHC CEO David Weinreb.
Tickets are $9 (plus tax and fees) and available through Ticketmaster. The exhibit will be on display within the Seaport District through February 19, 2017.
MEET & GREET… Want to meet some neighbors, get to know other Seaport business people or just like to mingle? Mark your calendar for Tuesday, Nov. 15. The Old Seaport Alliance will hold its general membership meeting at the Blue School at 241 Water St. Come at 6 p.m. to chat with fellow Seaport fans, sip some wine and nibble on snacks. The meeting begins a half hour later, covering topics that concern business owners and residents in the neighborhood — for example, the closing of Peck Slip for a school "Play Street." And feel free to raise some concerns of your own — OSA is all about respecting the Seaport's historic past and helping create a dynamic future.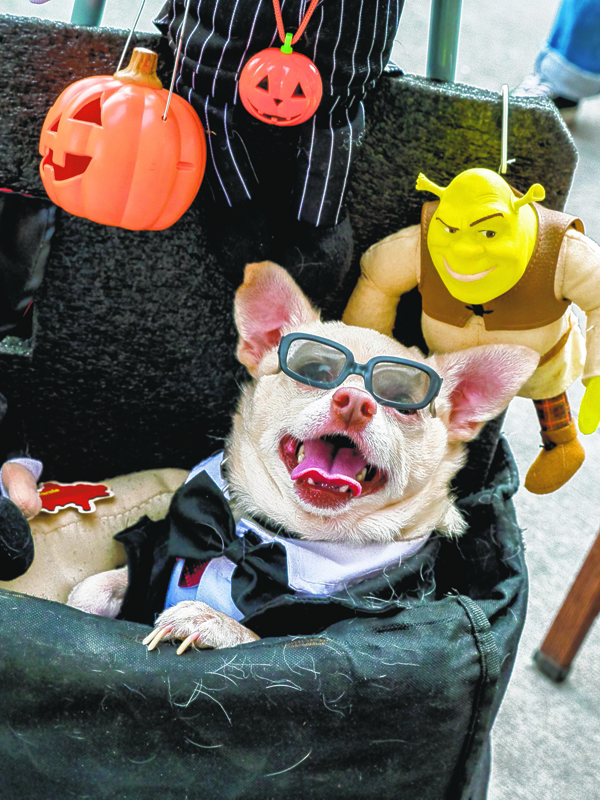 HOWL 'O WEEN… More than 50 dogs had their day along with their two-legged escorts and partied like a pack of crazy hounds at the 9th-Annual Salty Paw Halloween Party. Winning costumes included Aladdin, Harry Potter and a bunch of sailor and taco dogs. The Money raised went to the Humane Society and Social Tees Animal Rescue. You can still help out the rescue group — just pop round to the Paw where they're selling Grounds & Hounds coffee beans to raise money. For more on the canine costume contest, see our full coverage — with more pics.
MORE SCARY MADNESS… The annual frightfest isn't just going to the dogs… two-legged terrors had a good time too. The neighborhood partying began on Friday night with a nighttime jaunt — "A Dark Tour of the Wickedest Ward."  The South Street Seaport Museum hosted its first adults-only walking tour of 19th-century Downtown's most infamous district of vice and depravity: the Fourth Ward — a place of murder, mayhem and misery. Oh my! Intrepid walkers joined museum history buffs to see former rat pits, bordellos, and haunted saloons in the hood.
On Saturday bands rocked the costumed fun at Nelson Blue and the Paris Café, for two fun parties, then Sunday saw more family friendly fright fun with the FiDi Families' annual daytime Halloween fest, supported by HHC, complete with a Mad Science show, a kid-friendly concert and a child-proof, non-carving pumpkin decoration station where kids could take their creations home. Then on Monday night nearly a hundred kids and companions made the annual candy trek through Seaport streets and winding up at Peck Slip Plaza for some fun and games.