More NYPD cops have called out sick than ever before as a result of the coronavirus, as the department revealed that a Police Plaza maintenance man died of COVID-19 and Deputy Commissioner John Miller was hospitalized with symptoms.
Commissioner Dermot Shea reported that, on March 26, 3,674 NYPD uniformed employees were on sick report which accounts for 10.1% of the Department's uniformed workforce.  Currently, 294 uniformed members and 57 civilian members tested positive for the coronavirus. 
This comes as many NYPD commanders are ordering social distancing; roll calls are being staggered so that fewer officers are together, and 12-hour shifts for healthy are being considered.
While the NYPD is changing to meet the coronavirus challenge, many the 24,000 officers on duty continue to stick to old habits including "clustering" at crime scenes.
"It's not surprising that so many cops are getting sick, habits are hard to break – cops are really social creatures," said one officer.
The NYPD lost Police Custodian Dennis Dickson of Brooklyn, who was a member of the headquarters maintenance staff. Dickson, a 14-year veteran of the department. He was best known for spending 17 days at headquarters during Superstorm Sandy, assisting with emergency clean-up operations.
Dickson was also at the forefront of cleaning and disinfecting One Police Plaza during this coronavirus outbreak, though it was not known how he contracted the virus.
Today we lost one of our own:

City Custodial Assistant Dennis Dickson, who faithfully served with the NYPD since 2006, has passed away from complications related to the coronavirus.

Our deepest sympathies & all of our prayers go out to Dennis' colleagues & family.#NeverForget pic.twitter.com/EOcWNsBAHY

— Commissioner Shea (@NYPDShea) March 27, 2020
It was also revealed that John Miller, Deputy Commissioner for Counterterrorism, was at Lenox Hill Hospital and diagnosed with coronavirus. Miller has served in the department for nearly eight years. He is the third executive-level NYPD official to get the virus.
Deputy Commissioner for Employee Relations Robert Ganley and NYPD Transit Bureau Chief Edward Delatorre tested positive the week before.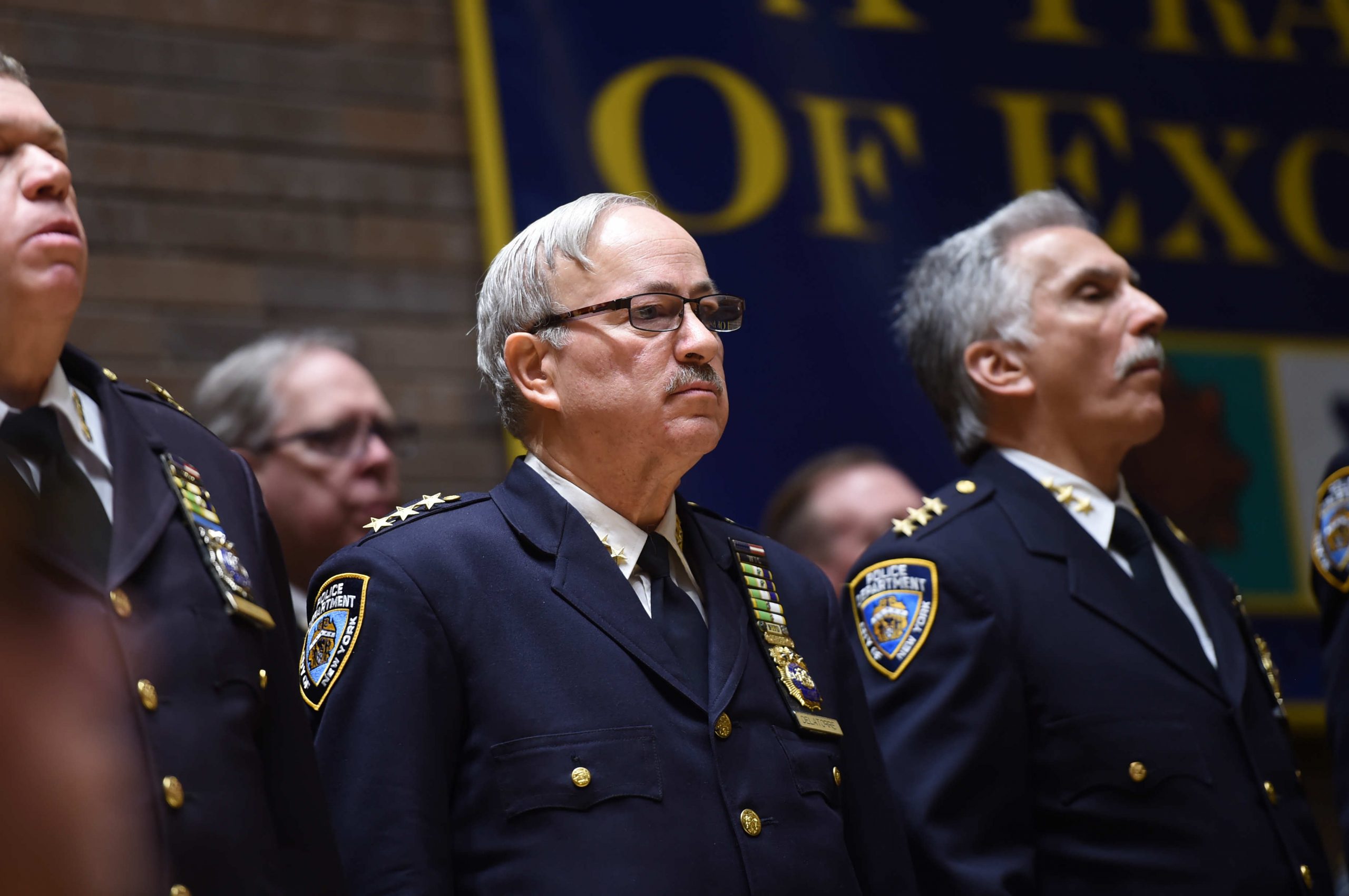 In the meantime, the NYPD continues to visit sites to make sure that establishments are closed and meeting places remain vacant. 
According to police, officers visited restaurants, bars, supermarkets, salons and public spaces to remind individuals of the ban on congregating in public spaces and to practice social distancing. They found that most of the 1,680 supermarkets in the city (1,173 in total) were closed.
Meanwhile, 4,455 bars and restaurants out of 5,292 locations visited citywide have also shuttered; the rest remain open for take-out or delivery services. 
During this time, police continued to deal with mayhem, including a marked increase in domestic incidents, including a homicide in the Bronx and a murder-suicide in Queens.
Police arrested Alakran Hammzeh, 34, of 200 West 147th Street and charged him with the Thursday stabbing death of Latoya Wright, 42, of 2730 Frederick Douglas Boulevard in Manhattan.
Hammzeh was charge after police from the 30th Precinct responded to a 911 call of an assault inside the lobby of 511 West 145th Street where they found Wright suffering multiple stab wounds to the body. She later died at Harlem Hospital.
Police in the 114th Precinct were investigating the murder-suicide of a 96-year-old grandmother by her 50-year-old grandson in their Astoria home. The grandson ended up killing himself before the police arrived.
Police were also investigating fires on the transit system, forcing officers to come together and deal with the death of a transit worker.