Yusef Salaam, a member of the "Exonerated Five," is poised for a monumental victory in the competitive Democratic primary for the 9th City Council District in Harlem Tuesday night, where he may have just overcome two experienced lawmakers.
Salaam finished with 50.14% of early and Election Day votes — counting absentee ballots — with 99% of scanners reporting, likely hitting the over 50% needed to avoid going to additional rounds of ranked-choice voting. But it won't be entirely clear until the remaining ballots are counted.
He is leading Assembly Member Inez Dickens, who represents much of the area in Albany, by 2,776 votes.
If he does win the race, Salaam will have gone from being imprisoned on a false conviction when he was 15 to the council chambers in City Hall at the age of 49.
While the results are still not final, Salaam — who went to prison for seven years after being falsely accused of raping a jogger in Central Park along with four others — triumphantly walked into his Election Night party at the Harlem Tavern and delivered a speech focussed on lifting up the Harlem community.
"I am here because Harlem, you believed in me. Harlem has spoken," Salaam said as he declared victory Tuesday night.
"This campaign has been about our Harlem community who has been pushed into the margins of life and made to believe that they were supposed to be there," he added. "What has happened in this campaign has restored my faith in knowing that I was born for this."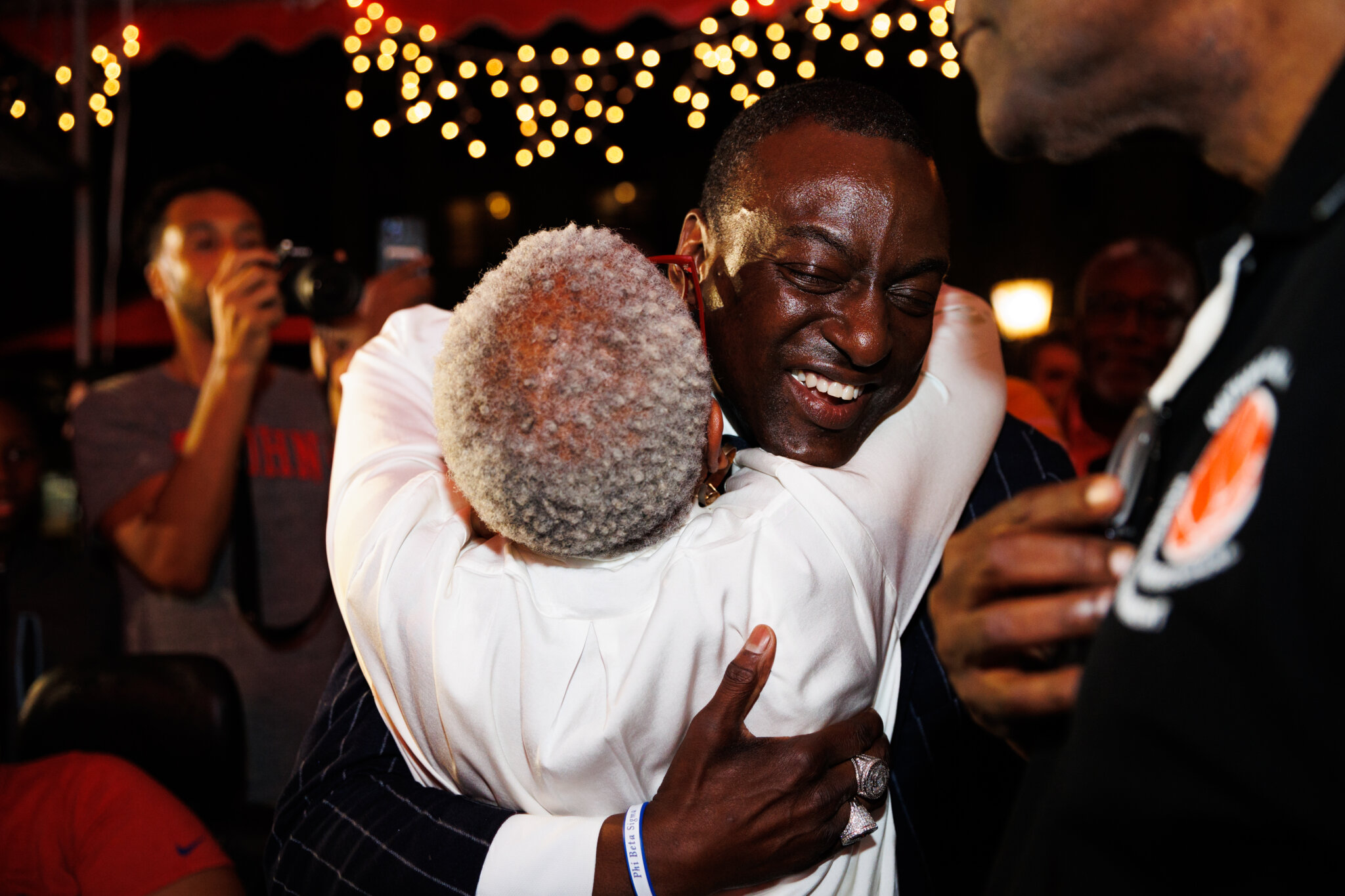 Dickens came in second place at 25.02% and Assembly Member Al Taylor (D-Manhattan) came in third with 14.39%. The area's current council member, Kristin Richardson Jordan, who dropped her reelection bid last month but is still on the ballot, came in last place with 9.42% of the vote. That means Richardson Jordan will be the first to be eliminated if the race goes to ranked-choice counting.
With no Republican candidates, whoever wins the primary will become the area's next council member.
If the contest goes to ranked-choice, the results will be tallied and released next Wednesday, July 5. Under RCV, the lowest vote-getter will be eliminated and their votes distributed to the candidate with the most votes.
Before abandoning reelection, Richardson Jordan drew criticism from all three competitors after effectively killing the proposed One45 development that would have seen the addition of 458 income-restricted apartments to an underused section of 145th Street, because she determined it didn't contain enough affordable units. All the other candidates have said they wouldn't have left the negotiating table like Richardson Jordan did.
Since then, the contest has become increasingly competitive, with Taylor and Salaam cross-endorsing each other — each one asking voters to rank themself first and the other second, while Dickens got the backing of Mayor Eric Adams earlier this month.
Taylor — who has served on the Assembly since 2017 representing northern Harlem, Washington Heights and Inwood — acknowledged the results "are not what we hoped for." But he congratulated Salaam and said hopes to work together with him in the futrue.
"I am so grateful to our community, to all of our supporters and volunteers, and to my team and my family for all that they have done," Taylor said in a statement. While the results are not what we had hoped, I am proud of all that we have accomplished. We have seen such a massive outpouring of support and passion for our message of hope. The fight continues for building affordable homes, funding our schools, and strengthening our communities. I wish Yusef all the best, I believe in this young man and I hope that together we can uplift Harlem and the whole city."
Dickens' campaign did not immediately respond to a request for comment.
An outsider candidate
Salaam was born and raised in Harlem. His campaign captured national attention with his inspiring backstory, and the candidate seemed to overcome criticism that he is a political neophyte and isn't in touch with the community after spending the last six years living in Georgia.
In fact, Salaam appears to have leaned into his status as a political outsider to great effect. He argues that his experience as member of the Exonerated Central Park Five makes him the perfect person to represent an often overlooked district like Harlem.
"Every single thing that happens to you, happens for you," Salaam said. "Having to be kidnapped from my home as a 15-year-old child, to be lodged in the belly of the beast, I was gifted to turn that experience into the womb of America."
Salaam also campaigned on the idea that his perspective as political newcomer, as opposed to a longtime Harlem political insider like Dickens, means he'll bring fresh ideas to City Hall for solving some of the area's most intractable problems. His status as an alternative to the machine politics that have dominated the area for generations won him the backing of progressive stalwarts like activist Cornel West.
While Dickens led the field in endorsements and fundraising, it seems she couldn't ride those advantages back to the council. Dickens was often dinged for her status as a fixture in Harlem politics for the past few decades, representing the community in council and Albany since 2006 and as a state committee member and district leader before that.
While Taylor picked up a couple of big endorsements, from Assembly Member Eddie Gibbs (D-Manhattan) and the Carpenters Union, his campaign seemed to have failed to gain enough traction to overcome his competitors.