For more than a year, Texas Gov. Greg Abbott has been busing migrants from the southern U.S. border to places like New York, Washington and Chicago, prompting angry complaints from Democratic officials in those cities.
The local authorities have said the influx of homeless, jobless newcomers is unsustainable.
Speaking in New York Wednesday, the Republican Abbott agreed it was "unsustainable," but said he's not the person most to blame.
"The lead importer of migrants to New York is not Texas, it's Joe Biden," he said at a breakfast event held by the Manhattan Institute, a conservative think tank. Abbott said he began the busing program in response to the plight of the small border towns in his state who do not have the resources to deal with border crossers.
"It's a crisis. It's chaotic and it must stop," he said, urging the president to enforce laws he said gives the White House authority to "repel" migrants at the border.
"Until that time comes," Abbott said, "Texas is going to continue to use every tool that we can to secure the border the best that we can."
Those steps have included placing buoys — a "floating border wall" — in the Rio Grande to make it even harder to cross the turbulent river, where many migrants, including children, have drowned. Razor wire has also been uncoiled along the border. And the state has paid for many buses to transport migrants to New York and other big cities run by Democrats.
By Abbott's count, Texas has given bus tickets to about 42,000 to start new lives elsewhere — with 15,800 sent to New York City since the spring of 2022. Many thousands more people, though, have gone to the northeast U.S. on their own, or been sent by social service organizations or municipalities.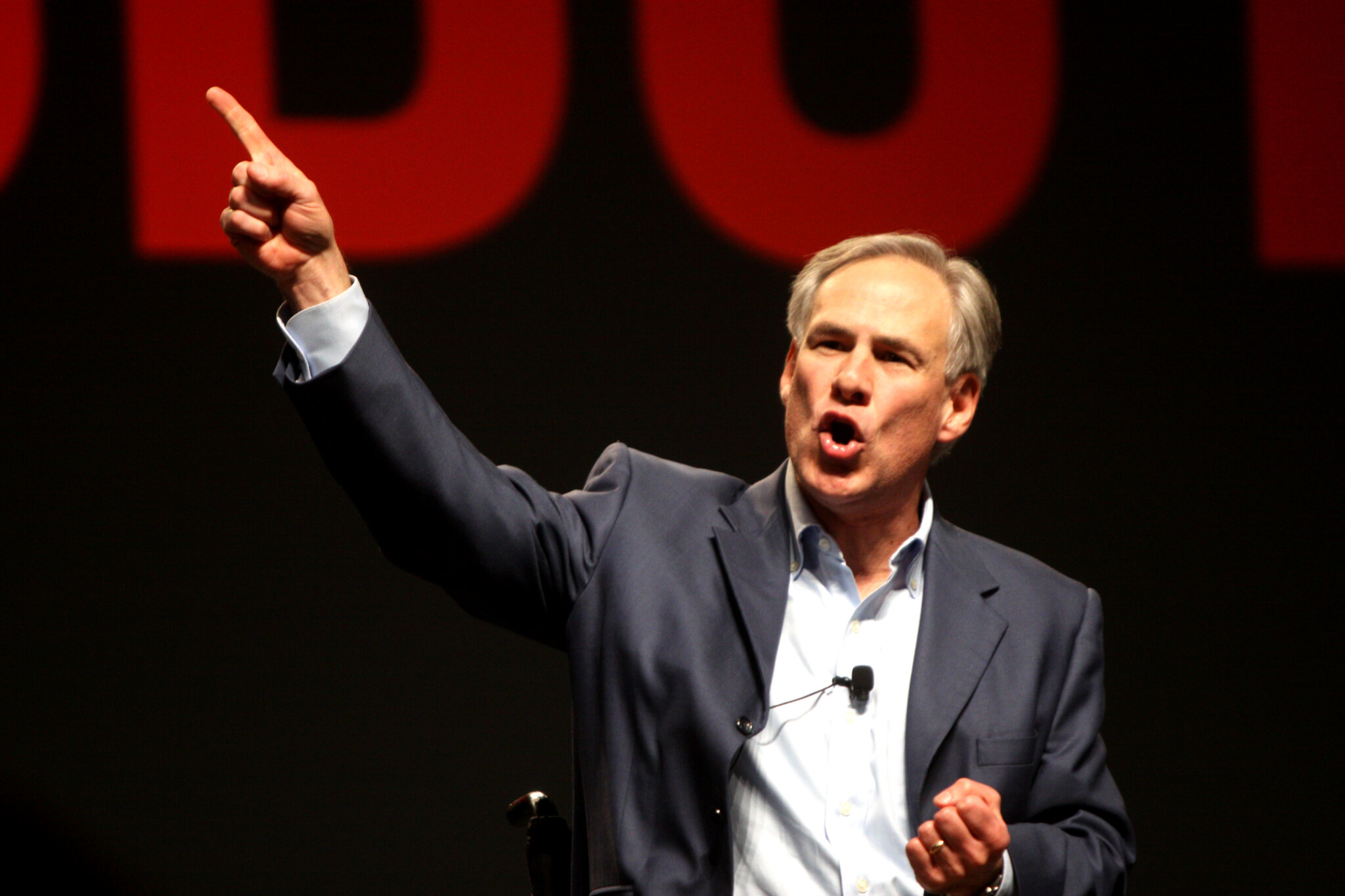 New York City Mayor Eric Adams, a Democrat, has also been critical of the federal government, saying it hasn't done enough to help with the cost of absorbing the wave of nearly 120,000 — and counting — that have arrived in the city. But his spokesperson on Wednesday also blamed Abbott.
"New Yorkers deserve better than being trapped between a vicious game of political hot potato," said Kayla Mamelak. "So let's stick to the facts: When thousands of asylum seekers arrived at Governor Abbott's doorstep in pursuit of the American Dream, he chose to use them as political pawns."
Abbott said unlike New York, which sometimes has advance notice of bus arrivals, his state gets no such warning. "What is going on in New York is calm and organized compared to the real chaos of what we see on the border," he said, adding that New York is seeing only a fraction of the multitudes Texas has had to deal with over the years.
Last week, White House press secretary Karine Jean-Pierre again accused Abbott of turning the border crisis "into a political stunt."
She said the White House has given the city $140 million in aid — though the city wants more. Last week, Biden's administration gave hundreds of thousands of asylum seekers ffrom Venezuela temporary protected status, which would expedite their ability to legally work in the United States.
Other U.S. cities have also dealt with an influx of migrants trying to escape poverty, violence or oppression in their home nations.
In San Diego, the county's board of supervisors declared border crossings by asylum seekers an "urgent humanitarian crisis" and pleaded with the White House for more aid.
Since Sept. 13, U.S. authorities have been dropping off migrants at transit centers in San Diego and the suburbs of El Cajon and Oceanside. "Migrants are being released across the county with little direction and few resources," the county statement said, calling on the federal government to limit releases or provide more financial support.
San Diego, like other border cities, is generally only a temporary home for asylum-seekers, who fan out across the country to join other migrants, family and friends.
On Wednesday, the International Organization for Migration appealed to Mexico and Central America to help address the "unprecedented numbers of vulnerable migrants transit through the region," adding that long-term solutions are needed to solve the underlying problems that drive people from their own countries.