Cats tend to be chill pets that often don't seem to have a care in the world. But in reality, they're prone to physical and mental health issues that cause them to engage in unwanted behaviors or make it difficult for them to go about their daily business. Modern veterinary medicine has come a long way in terms of being able to treat these conditions, but they can have unwanted side effects that your cat may not tolerate well.
The pet industry is seeing a rise in CBD oil for cats, which is a homeopathic remedy that's been shown to alleviate the effects of these chronic conditions. This can improve your cat's quality of life without the side effects of traditional medication. It can also help him feel nice and relaxed during your cuddle sessions. 
But there are so many CBD oils formulated for cats that it can be tough to pick the right one if you aren't sure what to look for. The best CBD oil for cats is one that is consistent in its results, palatable for cats, and easily administered.
You might be wondering if it's safe to give your cat CBD oil, since it's technically a compound in marijuana. But reputable pet CBD oil products will only contain small amounts of THC that won't get your cat high or result in toxicity — and some don't have THC at all. Read on to learn more about our recommendations for the best CBD oils for cats and what makes them so great.
Top Five CBD Oils for Cats
Best CBD Oil for Cats
Not every cat CBD product is the same in terms of effectiveness. Each manufacturer of CBD oil for cats creates their own formulation to deliver results. These differences are based on achieving a desired effect and ingredient sourcing. 
The best CBD oil for cats contains quality ingredients, produces consistent results, and is highly palatable to cats. And we love these five pet CBD oils so much because they meet these standards and deliver on their promises with excellent results.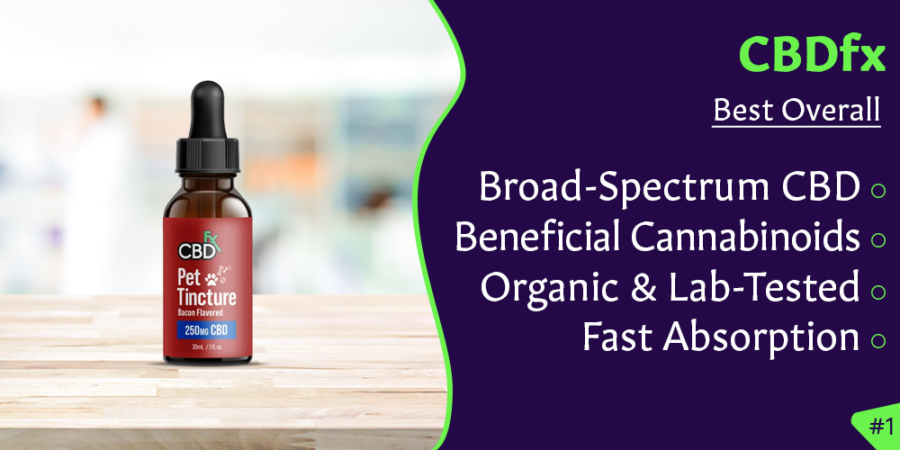 What we love:
The CBDfx CBD Oil for Cats is a lab-tested, broad spectrum CBD oil tincture that relaxes your BFF's nervous system. It has a total of three ingredients that include CBD hemp oil, MCT oil, and natural bacon flavor to ensure your cat consumes a full dose.
Since this CBD oil tincture is broad spectrum, it also utilizes other beneficial cannabinoids in addition to CBD. That means this hemp-derived CBD oil will be more effective and act more quickly.
CBDfx's CBD Oil for Cats is good for treating anxiety, but it can also provide pain relief. The company offers a 60-day guarantee, and is made from 100% organically grown hemp. The CBD oil uses human grade MCT oil as a carrier for fast absorption. 
Pros:
Human grade, vegan, non-GMO, and organic ingredients

Natural bacon flavor

Calms the nervous system
Cons:
Can't be shipped to all 50 states
Specs:
CBD type: Broad spectrum CBD

Size: 30 mL

Strength: 250 mg CBD/bottle

Flavor: Bacon
Learn more about CBDfx CBD Oil for Cats today
What we love:
Penelope's Bloom CBD Oil for Cats is a full spectrum CBD formula that's all natural and lab tested. It's made to be digested without upsetting your cat's stomach, all while delivering fast-acting relaxation.
This cat CBD oil tincture has a tasty salmon flavor that your cat will be sure to love. The main purpose of this CBD oil is to increase your cat's relaxation, but it's also intended for use with mobility issues.
The Penelope's Bloom CBD hemp oil is third-party tested for quality, potency, and quality. It uses MCT oil as a carrier for fast absorption and quick results. It also contains omega-3 and omega-6 fatty acids that help your cat produce natural oils that he needs, which is why it's one of the best CBD oils for cats. 
Pros:
Vegan, organic, all-natural, non-GMO ingredients

Reduces pain from chronic conditions

Rich in omega-3 and omega-6
Cons:
Specs:
CBD type: Full spectrum CBD

Size: 30 mL

Strength: 150 mg CBD/bottle

Flavor(s): Salmon
Learn more about Penelope's Bloom CBD Oil for Cats today
What we love:
Green Roads Small Dog & Cat CBD Pet Drops has all the calming effects of a broad spectrum CBD oil, but it's specifically designed for small pets. The Green Roads CBD oil is ideal for cats under 15 pounds (so if you have a bigger chonk you'll want to give a different product a try). Each dose has 2 mg of CBD, which is an appropriate dose for smaller cats. 
It's made with MCT oil, hemp seed oil, and hemp derived cannabidiol extract for fast absorption and maximum effect. Green Roads has this cat CBD oil tested by a third party laboratory to guarantee quality and effectiveness.
And for pet owners on a budget, this cat CBD oil is a great value because it's super affordable compared to similar products from other CBD brands.
Pros
No artificial flavors or colors

Gluten-free

Made with hemp seed oil

Pharmacist-formulated
Cons
Not for cats over 15 pounds
Specs
CBD type: Broad spectrum CBD

Size: 30 mL

Strength: 60 mg CBD/bottle

Flavor(s): No flavor listed
Learn more about Green Roads Small Dog & Cat CBD Pet Drops today
What we love: 
Honest Paws CBD Oil for Cats is a full spectrum product that contains top-tier ingredients to promote relaxation and calmness. The product is organic, uses MCT oil for a carrier, and is indicated for all sizes of cats. You can administer Honest Paws CBD oil by mixing it into your cat's food or dropping it directly under his tongue.
While there's no flavor listed, reviewers comment frequently that their cat has no problem taking this supplement. Honest Paws CBD Oil for Cats undergoes third party testing for purity and strength, ensuring that each bottle is as effective as the last. 
Pros:
USDA-certified organic

Non-GMO ingredients with no artificial flavors

Made in the USA
Cons:
Lab tests don't show results for pesticides or solvents 
Specs:
CBD type: Full spectrum CBD

Size: 30 mL

Strength: 125 mg/bottle

Flavor(s): No flavor listed
Learn more about Honest Paws CBD Oil for Cats today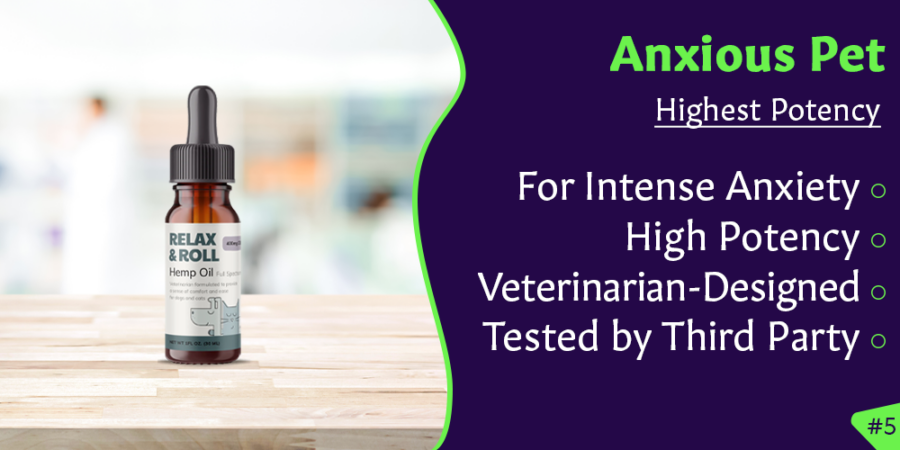 What we love:
The Anxious Pet has formulated a CBD oil for cats who have moderate to severe anxiety and exhibit related behaviors. It reduces inflammation that's caused by anxiety and also addresses other inflammatory conditions that cats experience.
The Anxious Pet Organic Hemp Oil for Cats comes in two high potency strengths, which is good for cats who need a little extra help. The full spectrum formula is designed to:
Promote calm

Reduce anxiety

Support immune health

Boost brain function

Provide seasonal allergy relief
Relax and Roll was formulated by a veterinarian for maximum effectiveness at a safe CBD oil dosage. Each batch is tested by a third party laboratory to guarantee potency and reliability. It's a broad spectrum CBD oil that can be administered sublingually or mixed with food. 
If you're looking for the best CBD oil for cats with intense anxiety, this is it.
Pros:
High potency 

Veterinarian-formulated

60-day money back guarantee
Cons:
Scent that may be too strong for some cats
Specs:
CBD type: Full spectrum CBD

Size: 30 mL

Strength: 400 mg/bottle

Flavor(s): No flavor listed
Learn more about The Anxious Pet Organic Hemp Oil for Cats today
How We Picked the Best CBD Oil for Cats
To find the very best CBD oil for cats, we looked at a few factors:
Quality
There are no official guidelines from the Food and Drug Administration or other agencies that have jurisdiction over the quality of animal health products. Therefore, we looked at the lab reports published by each manufacturer to judge their commitment to delivering a high-quality and safe product to pet owners. All of the CBD brands we selected are transparent about their testing, and have a strong reputation for making a safe, palatable, and effective CBD oil for cats. 
Ease of use
Cats are notoriously picky eaters, and getting them to consume something new can be a challenge. That's why we wanted to feature CBD brands that make products cats actually like. There will always be an individual who turns their nose up at the texture, flavor, or smell of CBD oil, but the majority of cats find no issue with consuming these CBD oil products. 
Effectiveness
The effectiveness of these CBD oils has exceeded the expectations of pet owners. They're made with carrier oils that allow fast absorption of the CBD oil into the digestive system and from there into the bloodstream where it starts doing its work of reducing inflammation. All of these products have been shown to provide long-term relief of symptoms when used correctly and help improve your cat's quality of life. 
Customer reviews
A majority of the customers report seeing positive results because of these CBD oils. They frequently talk about how their cat was restored to a youthful state of play and energy, had less restriction in their movement, and stopped exhibiting anxiety-related behaviors. 
It's worth noting that sometimes cat owners leave a comment that a CBD oil tincture didn't work for their cat. But if a cat isn't responding to CBD oil, there may be another issue at play, or his brain may not be receptive to cannabinoids.
Cats have an endocannabinoid system that allows them to receive the molecules that cause a high or reduce inflammation. However, not all cats have an endocannabinoid system that works as it's supposed to. A cat with impaired receptors can't connect with the active ingredient in CBD oil and experience the benefits it delivers. In this case, your cat may need to go on traditional pharmaceuticals to treat his condition. 
What is CBD?
CBD, or cannabidiol, is an oil that's derived from hemp plants. CBD oils are non-addictive and non-psychoactive. It's an organic chemical that's found in both the marijuana and hemp plant. The oil that comes from hemp plants is rich in CBD and has trace amounts of THC. The levels of THC in hemp are so low that it won't get your cat high. 
To date, there have been few studies regarding the active ingredient or mechanism that makes CBD oil effective. What is generally accepted is the fact that CBD oil is effective at reducing inflammation that is caused by various different mental and physical health conditions.
Hemp, along with marijuana, is notoriously difficult for replicating effective strains. Commercial cultivators do an excellent job of growing hemp plants with reliable percentages of the important chemicals, but it doesn't take much to upset a hemp plant.
A slight shift in temperature, too much or not enough fertilizer, and a little too much water can cause a hemp plant to under or overproduce. This is why it's important to buy CBD from a reputable brand, as they work to maintain high quality and have the capacity to create a consistent product.
Types of CBD Oil for Cats
There are three main types of CBD oil for cats:
Full spectrum CBD
If a product is labeled "full spectrum CBD oil," that means it contains several components found in hemp plants, including tiny amounts of THC. Full spectrum CBD oil can sometimes have more benefits than other CBD products because those different components are working together.
Broad spectrum CBD
If a product is labeled "broad spectrum CBD oil" then it shouldn't contain any THC at all. But broad spectrum CBD extract will still contain other parts of the hemp plant, so it won't be just CBD.
CBD isolate
If a product is labeled "CBD isolate," that means it's pure CBD. On the one hand, CBD isolate products won't have the added benefit of different cannabis components working together because it's just CBD oil. But CBD isolate products could be a good choice if you don't want a strong earthy taste — or if you just want to avoid THC altogether.
Benefits of CBD Oil for Cats
CBD oil is useful for treating a variety of chronic conditions and pain, providing stress relief, and improving quality of life. Some of the health benefits of of pet CBD oil for cats include:
Anxiety relief
Cats can suffer from anxiety in the same way people do. The causes are many, including abandonment at a young age, starvation, abuse, and illness to name a few. Anxiety causes a cat to engage in behaviors such as:
Constant vocalization

Trembling

Food aggression

Excessive grooming that results in hot spots
The best course of action for anxiety is to bring your cat to the veterinarian for evaluation and medication, but anxiety medications can be too strong or leave your cat in a foggy mental state. Medications can also mask the symptoms to the point where your cat can't be shown how to not be so reactive to her triggers. CBD oil for cats can alleviate the anxiety as well as help your cat maintain a level of clear-headedness that shows her she doesn't have to be afraid of her triggers.
CBD oil offers a natural alternative that breaks the cycle of inflammation that's caused by anxiety. Anxiety and inflammation are linked together, and it's known that anxiety makes inflammation worse, and vice versa. Inflammation reaches the brain and increases the level of inflammation, which causes anxiety to increase or sustain. CBD oil serves to reduce inflammation and help break the inflammatory cycle of anxiety. 
Chronic pain relief
Cats are very good at concealing their pain, and you don't usually know how much they're hurting until they can't hide it anymore. A veterinary evaluation and diagnosis gives you access to medications that help you manage your cat's chronic pain condition, but there can be drawbacks to using the medication in the form of side effects.
CBD oil can give your cat relief from pain on a long-term basis, and doesn't require a prescription for its use. Some tinctures have additional ingredients that can help your cat heal or have an easier time with movement. The side effects of CBD oil for cats is minimal and easily addressed if they happen to appear.
Overall health improvement
As cats age, their bodies undergo changes that are normal, if painful or achy. They usually respond to these changes by slowing down, sleeping or resting more, and not leaping as high as they once did. A majority of the time, these changes cause inflammation, and while some age-related health issues are inevitable, CBD helps reduce the resulting inflammation. Many cat owners report their pets have regained their range of motion and have more energy after using CBD oil. 
Reducing allergic reactions
Cats sometimes experience allergic reactions to various irritants including flea bites, seasonal changes, food, and the environment. The allergy symptoms can show up as irritated skin, digestive upset, sneezing, and constant scratching. When a cat's immune system goes on alert, it sends out histamines to deal with the problem. Unfortunately, this helpful response also causes inflammation that results in irritation in or on the body. 
CBD oil's anti-inflammatory properties are effective against the histamine response. Reducing inflammation allows the body to heal areas of irritation, reduces or stops itchiness, and helps the stomach not react so strongly. What it doesn't do is mask allergies as your cat is still going to have a histamine response to an allergen regardless. Instead, CBD oil turns down the volume of inflammation and prevents the body from reacting so strongly to an allergen. 
Supporting brain function
The ingredients in CBD oil for cats have neuroprotective and antioxidant properties that may be able to help with your cat's brain function. Older cats get the most benefits from CBD oils, as their aging bodies have a more difficult time supplying what the brain needs for cognitive functions.
CBD oilsare rich with helpful ingredients that aid your cat's body in protecting the brain. Cat owners frequently report seeing their cat's attention and playfulness sharpen after the use of CBD oils.
Potential Side Effects of CBD Oil for Cats
CBD oil is generally well tolerated by cats, but it could cause mild side effects. For example, you may notice your cat has some gastrointestinal upset or diarrhea if the dose is too high, or if his digestive system isn't capable of absorbing the oil.
If your cat experiences mild side effects from using CBD oil, you'll want to keep an eye on him until he returns to normal. And if these reactions persist, you should discontinue using that particular brand of CBD oil.
FAQs
Will CBD oil make my cat high?
No, CBD oil won't make your cat high, although they may act like they're high due to the relaxing effect. You may find your cat is a little less responsive and has a lower rate of respiration, but that's because they're experiencing relief from pain or stress, not THC. 
How much CBD oil should I give my cat?
Typically, an appropriate CBD oil dosage is 1 to 5 mg per 10 pounds of body weight. It's worth noting that there's a wide range for dosing, and you should check the label of the product you're using for the appropriate amount. The potency of CBD oil varies from manufacturer to manufacturer, and it's best to follow the dosing amount on the label before administering. 
Is CBD oil safe for cats?
Yes, CBD oil is safe and readily tolerated by cats. If you're concerned about finding a CBD oil safe for cats, make sure to read customer reviews of the product you're considering as well as its laboratory reports. Lab tested CBD oil for cats shows you what was found in the batch sample that you're buying from.
In Conclusion
CBD oil for cats has been shown to deliver excellent results when it comes to addressing inflammatory conditions caused by anxiety, aging, chronic health conditions, and stress. Cat owners who administer CBD oil to their cats frequently report seeing excellent improvement in their cat's quality of life. Cats that were once lethargic, achy, or anxious began to exhibit positive behaviors and regained their quality of life after being given CBD oil for cats.
CBD oil for cats varies in quality from brand to brand, and you should be sure to always look for a CBD oil that's specifically formulated for cats. It's true that CBD oil works the same on just about any mammal, but the best CBD oil for cats is one that's made with a cat's peculiarities in mind. You should also check that the CBD oil you're considering has a guarantee or refund policy if your cat decides they don't like the taste of the product.
The best CBD oil for cats is one that has reliable potency, is easily administered or mixed into food, and delivers the same results bottle after bottle. When looking at how much CBD oil your cat needs, you'll find that a little goes a long way in terms of making your cat feel great.