Reverse phone number lookups can be an invaluable tool for protecting your safety and well-being. With an overabundance of spam calls, telemarketers, ever-evolving scammers, and overwhelming access to cell phones, it is more important than ever to be aware of who has access to your contact information. Caller ID is a simple solution to many of the issues that arise from these unlisted phone numbers. More and more, however, people want further information on the individuals with whom they share close contact, not just of strangers. 
Background checks have long been commonplace in the public sector. They can be required at any time—from hiring processes to dating profiles—as well as anywhere in between. Now, the same personal background profiles that many private companies have access to are being made more readily available to the consumer. It is important, though, to ensure that your preferred reverse cell phone number lookup service provides only the most accurate information. If you're wondering which company provides the best service for your needs, read on and discover the best reverse phone lookup service for you.
Our Ranking of the Best Reverse Phone Lookup Services
Intelius

– Editor's Choice

Peoplefinders

– Best Value

Spokeo

– User Accessible
Best Reverse Phone Lookup Services Reviewed
1.
Intelius
– Editor's Choice: Best Reverse Phone Lookup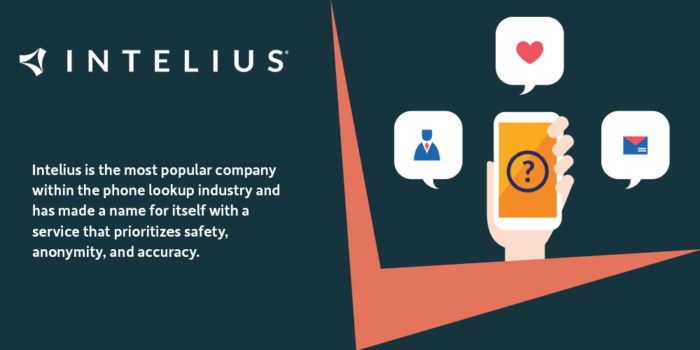 Intelius is the most popular company within the phone lookup industry and has made a name for itself with a service that prioritizes safety, anonymity, and accuracy. Their speedy search engine can easily reveal information about old friends, partners, and business associates, and can even suggest further personal connections with Intelius Connect. Their best reverse phone lookup services are a bit more expensive than some in the industry, but a one-time payment allows you unlimited access to their databases and reverse phone lookup services.
What Makes it Stand Out?
Intelius boasts an A rating from the Better Business Bureau, denoting an excellent history of customer service and satisfaction. The company also partners with some of the largest databases available in order to quickly and accurately cross-reference personal information. As one of the largest players in the reverse phone number lookup industry, Intelius has some of the best resources available to the consumer. 
While accessing the required reports can be time-consuming, Intelius does offer a "fast-pass" solution that provides instantaneous reporting. For a small fee, the collection and the downloading process of a reverse cell phone lookup can be streamlined. This can be extremely useful when dealing with time-sensitive information, such as in cases of over-the-phone scams or potential safety concerns.
Accuracy and Service
Refining questions throughout the reverse phone number search allows Intelius to ensure the accuracy of the information provided. Intelius presents several potential hits for each phone number searched and allows the consumer to sort through results based on the precision and accuracy of each potential result. 
Unlike its competitors, Intelius does not display consumer reviews directly on its website, but a large number of customers have submitted service reviews on third-party sites. Many consumer reviews laud Intelius' direct customer service line and ease of use as reasons for their satisfaction. There are some issues of overlapping reports, specifically when two individuals with the same or similar names are found which is a fairly standard issue for reverse any reverse phone number lookup site.
Bottom Line
With almost twenty years of service offering cell phone and personal history searches, Intelius is one of the most reliable brands for quickly and accurately obtaining reverse phone lookup results. The company consistently ranks among the best reverse phone lookup services. There are, of course, challenges that come with every instance of personal information investigation, specifically during automated processes such as those offered by phone lookup websites. A phone lookup is not an exact science, even with modern filtering technology.
Intelius' customer service support, however, ensures easy access to real, human resources that most other best reverse phone lookup sites do not provide. Overall, their encrypted databases allow the consumer knowledge of their friends, romantic partners, or colleagues and allow control over one's own safety.
Pros:
Access to the largest database available, with over 20 billion public records.

Guaranteed anonymity when searching public records and phone numbers.

Offers unlimited reverse cell phone lookups and public record searches for a standardized membership price.

Obtain information with personal cell phone numbers, or other criteria.

Collects information on potential aliases and nicknames for further research
Cons:
Downloading and receiving the results of a reverse phone lookup can be tedious.

Does not offer one-time record searches, but does have an unlimited subscription-based plan.
Peoplefinders is a simple, easy-to-use website that allows for both standard and advanced searches. Using either landlines or cell phone numbers, you can find basic information surrounding the unknown caller such as first and last names, phone carriers, and even locations. An advanced search can dig deeper into the identity of an unknown caller and reveal important information to protect your own safety.
What Makes it Stand Out?
Peoplefinders offers its service at a seriously discounted price point, allowing anyone to take their knowledge and safety into their own hands. The site's simple layout means that conducting a reverse phone lookup is easy and user-friendly while still offering important personal information and public records to the consumer. The basic report from Peoplefinders is not as comprehensive as those offered by other companies but can be useful for finding generalized information.
Accuracy and Service
Real customer reviews are featured prominently on the Peoplefinders' web page. These reviews reveal excellent service with an average 4.7-star rating. Some reviews note inaccuracies in search results and an inability to review information for accuracy before purchasing the reverse phone lookup summary.
There is, as with any compilation service, the possibility of error and inaccuracy. Peoplefinders' customer service hotline, however, works to alleviate the potential of customer frustration or dissatisfaction and, ideally, provides a solution that includes accurate and verified information.
Bottom Line
For simple results at a low price, Peoplefinders remains the best reverse phone lookup for its overall value. Conducting a reverse number lookup is easy, quick, and cheap, with an overall excellent customer service experience. While more accurate and comprehensive information likely necessitates a larger investment, Peoplefinders is a legitimate alternative to free reverse phone lookup sites that rarely, if ever, provide good results and offers the convenience of satisfying your curiosity.
Learn more at Peoplefinders.com
Pros:
Specifically designed for reverse phone number searches.

Offers one-time payments for individual reports at affordable prices.

Guarantees 100% privacy and security when utilizing their phone number search service.

Featured on numerous media shows and broadcasts such as CNN, The Washington Post, CBS, and NBC.

Large, searchable databases provide more information directly to the consumer.
Cons:
Phone numbers can be potentially disconnected, yielding no results.
3.
Spokeo
– User Accessible
Spokeo brands itself as a public data aggregation service, with over 12 billion searchable results available to the brand. Instead of individually combing through thousands of potential search hits, Spokeo filters through publicly-available records to narrow down the information that is useful to you. From there, important personal information is summarized in a way that is easy to understand and utilize.
While not as universally recognized as other phone number lookup sites, Spokeo boasts a searchable database that rivals the largest in the industry. This, combined with available information filters, means that the consumer has access to more information while excluding inaccurate or extraneous details.
What Makes it Stand Out?
Compared to other phone number lookup sites, Spokeo's generated reports update continually as new information is found and categorized. This means that the consumer receives only the most recent information so long as their Spokeo account is active. These updated results are sent via e-mail notification, so you will never miss out on a new aspect of your report. 
This does mean, however, that the consumer must continue to pay for a Spokeo membership account to gain access to any updated reports. A generated one-time report will not automatically update without the use of a Spokeo account, and multiple reports would need to be generated in order to assess any updated information gained from further reverse phone lookups.
Accuracy and Service
Customer reviews address a wide range of utility and purposes for engaging in a reverse phone lookup search inquiry. Many customers were able to accurately identify contact information for their intended search subject, and emphasize the ease with which Spokeo's service operates. Spokeo also offers varying tiers of reverse phone number reports, ranging from names and location history to criminal arrest records.
Users seem to greatly enjoy the services offered by the Spokeo site, and share many anecdotes that detail their original desire to perform a reverse cell phone number lookup. The vast majority of these customer reviews resolve themselves positively, with the information gained from Spokeo utilized to connect with old friends, protect their families from scams, and identify potentially harmful callers.
Bottom Line
For quick searches into the backgrounds of potential partners, questionable marketers, or unknown callers, Spokeo offers a relatively straightforward process to collect information. Spokeo offers a free trial membership and reduced cost for your first reverse cell phone lookup, and tiers of membership for those who require more in-depth information. 
Businesses can also benefit from a more inclusive tier within Spokeo's offerings. This tier allows a higher cap on search reports as well as more exclusive information such as criminal arrest records and history, although the information in the reports cannot be used for hiring decisions per the federal Fair Credit Reporting Act.
Pros:
Offers insight into social media and publicly-available photos.

Utilizes both the white pages and public phone directories for accurate information.

Receive in-depth personal information from a simple reverse phone number lookup.

Offers special filtering options and updates to previous cell phone reports.
Cons:
Paid subscriptions come with a maximum cap for the number of reverse cell phone searches available per month.

Some reviews list inaccuracies in generated reverse phone number search reports.

 
How Did We Select the Best Reverse Phone Lookup Sites?
Our team wants to ensure the best customer service and utility for the consumer, as well as provide you with information to form your own judgments based on what you value as an individual. Reverse phone lookup sites deal with issues of privacy, safety, and personal information, so it is more important than ever that consumers have trustworthy and reliable brands to depend on. It is for this reason that we strive to be objective in our rankings, and utilize several sources to ensure each brand is represented fairly and accurately when ranking the best reverse phone lookup services:
Our recommendations come straight from consumer reviews. We take into consideration

every

review for a brand's service, not just those from satisfied customers. We want to be confident that the brands we review are simple, useful, and accurate in their information. 

We research the opinions of industry professionals and those who are most familiar with the services offered. Brands are compared to industry standards, and publicly-available services are rated along the same guidelines as privately operated resources.

Our reviewers test the usability and value of each prospective phone lookup service to accurately depict the entire user experience. Everything from accessibility, price, and accuracy to customer service is taken into consideration.

Company claims are verified through independent third-party research and assessed for accuracy. Any rating, claims, accreditation, or association listed on a brand's website is thoroughly reviewed. Many accreditations carry no real guarantee of quality.
What is a Reverse Phone Number Lookup Service?
A phone number lookup service functions as a search engine wherein you do not need an individual's name or personal details to obtain information. Instead of starting with an individual's first and last name and looking for contact information, reverse phone number searches begin with a potentially unknown caller and use the given phone number to determine who was last tied to that phone number using public records. 
This is specifically helpful for identifying unknown phone numbers that have contacted you in some way; the only information needed to conduct a reverse phone number search has already been made available to you. Traditionally, these services were used to identify scam calls and anonymous harassers. The industry has now, however, shifted to providing records more akin to background checks, namely for those interested in learning more about acquaintances or potential romantic partners.
Who Can Use a Reverse Phone Lookup Service?
Anyone can use a reverse phone lookup service with the caveat that the information provided can only be used for personal reasons. The U.S. Fair Credit Reporting Act stipulates that phone lookup information cannot be used to make hiring, credit, leasing or similar decisions. That is why law enforcement, leasing agencies, and employment agencies use professional background check services that have access to more data than the publicly available sources accessed by reverse phone lookup services. 
A reverse cell phone search is simply a more efficient way to skim millions of public records, social media accounts, and arrest records at once. The only things required to access the services of a phone lookup site are an accessible internet connection and a standard 10-digit landline or cell phone number that is currently in use. Many companies now advertise the ability to conduct searches on any given device, from phones and tablets to desktop computers.
Many people utilize reverse cell phone searches to confirm the identities of unknown callers, especially those who may be committing fraudulent scams over the phone. Similarly, those actively dating can see the personal histories of potential romantic interests, including any past marriages or arrest records. For individuals such as these, reverse phone lookups can be a matter of personal safety. 
On the other end of the spectrum, many individuals use reverse phone number searches to learn about friends and family; specifically, those of whom other means of communication or contact are unavailable. Even something as simple as an unknown phone contact can warrant the curiosity needed to investigate further. 
How Do Reverse Phone Lookups Work?
Most reverse phone number searches work by cross-referencing billions of public records and looking for overlapping information. The phone number you input on any given company's website may appear as contact information on a social media page, or as personal information within a loan application. When information like this is recognized as a match, the company can add the additional information found into a summarized personal information report. 
For the consumer, searches are as simple as inputting a standardized 10-digit phone number with an area code. If applicable, you can also narrow down your search with additional details just as first and last names, last known addresses, and relatives. The reverse cell phone service will then compile all known records that fit your inputted criteria and present them as a report. From there, the consumer is free to conduct more research or simply utilize the information they paid for. 
What Information Can I Get From a Reverse Phone Lookup Service?
The exact information provided by a reverse phone lookup site can vary slightly depending on the public records that are accessible to each company. Generally, however, services provide reports that detail an individual's name, location, social media information, and potential relations. Certain companies also offer more in-depth reports that contain criminal records, financial and debt-based information, and even information on their asset wealth. 
Some companies offer search reports which give explicit contact information like an e-mail address or a place of work. These services typically advertise themselves as useful for those wishing to connect with old friends or long-lost family members. Sometimes, a cell phone number for a single person can result in a long list of potential mutual friends and business colleagues. These services typically fashion themselves in the way of genealogical searches or databases.
How Accurate is a Reverse Phone Lookup Service?
Any company that advertises reverse phone number searching is utilizing publicly available records. These records can come from any number of sources: including courthouses, jails, loan agencies, banks, social media, employment firms, and even hospitals. These records, at their core, are entirely accurate. What online personal information companies do, then, is gather the available records from their primary sources (such as an individual's last known voting address), and compile them into a consumer report. 
The difficulty lies in accurately compiling thousands of records without including accidental or extraneous information. For this reason, phone number searches can be more accurate than typical personal information databases. There is a significantly higher chance of including incorrect information when, for example, a common name is input into the search terms as opposed to a standardized telephone number
Nevertheless, overlap in personal records searches is all but inevitable with so many people living in relatively common situations. Similarly, records can be outdated. Moving, changing jobs, and, of course, getting a new telephone number can all obfuscate the information gleaned from reverse phone lookup sites. Typically, then, the consumer assumes some responsibility for ensuring that the report received was conducted on the correct individual.
Can People Conduct Reverse Phone Number Lookups with My Information?
All records generated by reverse phone number services are publicly available and span numerous databases. This does mean that if an individual used your phone number to conduct a search, any public records of arrest, loans, relationships, or other public matters would be made available to them. 
While this may cause anxiety for some, it is important to remember that phone number lookup services do not own, or even store, your information. There is no more issue of privacy when utilizing phone number lookup services than one might find in the intake records of a county prison; the information provided, while potentially sensitive, is already freely available.
Nevertheless, our digital footprint is a very personal one. There are steps you can take in order to prevent services from accessing your personal information. Most reputable reverse phone lookup services will, in fact, detail the process of removing your information from their searchable databases. In addition, you may be able to look into online services which deal specifically with erasing the majority of your digital footprint. These services, similar to reverse cellphone lookup services, compile thousands upon thousands of public records and attempt to remove them from the pool of internet accessibility. 
It is important to note that reputable reverse phone lookup companies prioritize consumer safety, privacy, and anonymity when conducting searches. Legitimate companies will not alert an individual that their phone number or personal information has been searched within their directory, nor will a customer's name be attached to any particular search inquiry. To ensure the utmost privacy and protection, make sure that your lookup service encrypts its databases to prevent potential misuse. 
Are There Any Free Reverse Phone Number Lookup Services?
Free reverse phone lookup services do exist. In fact, a quick internet search will likely provide you with countless companies and services that guarantee completely free use of their reverse cell phone search databases. Again, all reverse phone search companies access publicly available records in order to compile their personal information profile reports. This means that, yes, free phone lookup services are available. These companies, however, do not represent the best reverse phone lookup sites available.
The difference lies in the scope of the searchable database and exactly how many public records a service has access to. For many free reverse phone lookup services, their filtering process may look at several hundred or thousands of records in a local area. These records, however, cannot fully encompass the information needed to compile a complete search report. Well-known brands with reliable information and customer reviews typically have access to billions of records, not thousands. 
Access to these records, while public, is not free. Many agencies, hospitals, clerks, and the like require a small fee each time an internal database is searched. The cost of any given reverse phone lookup, then, goes towards the nominal fees that accrue with each request for data. While these fees are rarely more than a few dollars, maintaining access to multiple billions of potential record databases adds up. In cases such as these, you are paying for the convenience of a one-time retrieval fee as opposed to several.
While free phone lookup services may be options for satiating a curious mind, it is generally safer to pursue companies that provide verified information and those that guarantee consumer anonymity and privacy while searching. As with any product or service, a low-cost option may not always be the most accurate or reliable. Especially in cases of personal safety—the very situations that can prompt a reverse phone lookup—it is important to consider the sources of gathered information. The best services pay for their data, and are typically more reliable in the information they collect, an important aspect of their overall customer experience.
Informational errors, however, happen even with the most advanced automated filtering systems. For this reason, reputable companies likely offer a customer service hotline. This convenience also factors into the overall cost of a reverse phone number search, as the wages of staffers and phone operators must be taken into consideration. While price is a major factor among similarly competing brands and services, within an industry as sensitive as personal information retrieval, a customer's primary concern should always be the accuracy and comprehensiveness of any collected information.
Conclusion
Human curiosity is boundless. Whether you want to identify the blocked number calling your family's cell phones or find the financial history of a potential employer, information can be found with only a phone number and a handful of minutes. Reverse phone lookup sites are quickly becoming more mainstream, especially as so much of our day-to-day life is accessed digitally. Companies are striving to make information more accessible to the public with quicker wait times, lower search costs, and more relevant personal data. 
Where the white pages may have once dominated, online services are now picking up the slack left from a near-complete digital overhaul with the advent of cell phones. Phonebooks, and all of their invaluable information, have now turned digital with the availability of phone lookups. So, then, have our methods for accessing them. Instead of investing in time-consuming, overwhelming, and potentially frustrating online searches, reverse phone lookup sites have provided a way to maintain the flow of public information with little consumer effort.
If you are in need of the best phone lookup service, accurate information at a reasonable cost is an important factor in determining the correct company for you. Reverse phone number sites are perfectly legal, and only compile publicly available information into an easy-to-review report. At the core of this process, the consumer is paying for the service of sorting through public records, all or many of which contain the given cell phone number. 
Nonetheless, certain reverse search companies offer more reliable information and customer service than others. Typically, those with greater access to public records or those who pay for access to private records will charge a greater fee for their service. Free reverse phone lookup services do exist, but can be illegitimate or inaccurate. Be sure to do your own research before relying on the information provided by a third-party site, and utilize the resources within this article to ensure your own safety and peace of mind throughout the process of finding the best reverse phone lookup service.