As the NBA prepares for a finals showdown between the Denver Nuggets and Miami Heat, much of the offseason discussion has centered around the New York Knicks and what they're going to do with Julius Randle. Given that any trade could potentially involve multiple teams, the ripple effects from such a move would be widely felt. 
Of course, the most important question right from the start is: should the Knicks even trade Julius Randle?
At the moment, the discourse seems to be filled with people believing the best course of action for the team is to move on, which is not surprising given that Randle is coming off yet another disappointing playoff performance.
During the 2023 postseason, Randle finished 30th among all players with a 27.4% usage rate. Of that top 30, he had the lowest effective field goal percentage at 43.2%. In fact, only Bones Hyland and Jordan Poole had lower effective field goal rates among the top 50 players in usage rate. 
While Randle was clearly hobbled by the sprained ankle that he reaggravated in the Cavaliers' series, part of the negative attributes that are front and center at the moment is his inconsistency in adjusting his game to fit in with larger offense, and the way in which he can actively hurt the Knicks if he's not contributing on offense.  
Given his inability to take defenders off the dribble on a bad ankle, the Knicks would have been helped by Randle using his post-up game more or using a pick-and-roll or pick-and-pop game to open up more opportunities for himself and his teammates. 
None of that happened, which is either an indictment on Randle himself or the coaching staff for not getting him to adjust. However, it's hard to shake the knowledge that the offense was unquestionably humming more consistently in the postseason when Randle wasn't on the court. 
He also closed the regular season with some of his worst on-court performances of the season, in particular when Jalen Brunson was out with his own foot injury. 
The Knicks lost three games in a row from March 20th to March 26th, including a 111-106 loss to the Magic in what should have been an easy win. In that game, Randle was 7-for-20 from the field for just 2-of-9 from beyond the arc, but the biggest issue was that he picked up a technical foul (his third in three games) and then got into teammate Immanuel Quickley's face when Quickley tried to pull him away him from the ref.
It was exactly the type of loose-cannon behavior and lack of mental focus that ruined his performance last season. Given that Randle, Brunson, and RJ Barrett are all poor defenders and the Knicks also lack floor spacing, the added questions of Randle's mental make-up only add to the legitimate questions about whether the Knicks can build a true title contender around Randle, Brunson, and Barrett. 
Given that Randle is signed for two more years at a combined $53.22 million, plus a player option for $29.46 million in 2025-26, the Knicks are on the hook for a lot of money with Randle while also having to pay both Brunson and Barrett $23-plus million a year. With Barrett's improvement in the playoffs and status as a much younger player, building around him and Brunson makes far more sense for the Knicks than keeping Randle. 
However, that's only if the team believes one of them needs to go. 
The Knicks are also coming off of a 47-win regular season that was, without a doubt, helped by Randle, who averaged 25.1 points per game, 10.0 rebounds, and 4.1 assists. His 25.1 points per game is the 10th highest in Knicks history, behind only Hall-of-Famers and Amar'e Stoudemire, who was a five-time All-NBA selection.
Given the success of the team and the clear desire to build off of that next year, it's unlikely the organization would unload Randle just to do so. The front office would need to feel they are unquestionably strengthening their team in the long run while also remaining competitive this season and that can be a tough needle to thread. 
However, with Randle coming off of yet another All-NBA selection, it does make sense for the Knicks to see what they can get for him as they try to build a complete roster to complement Brunson. 
There are a few options but none are overly likely.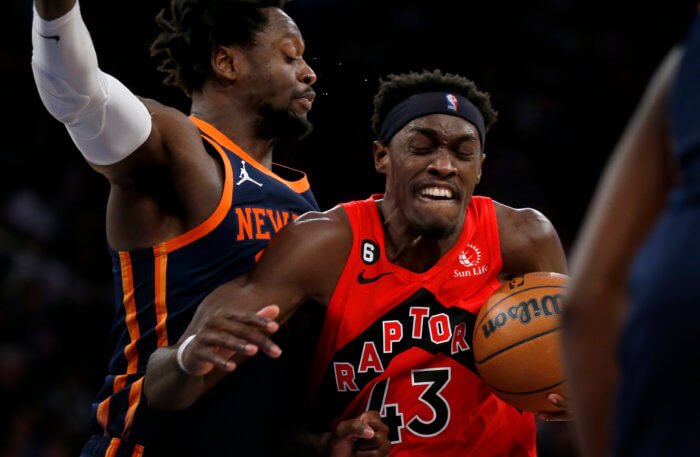 One is the Knicks working out a sign-and-trade with Portland, who could be trying to build a win-now team around Damian Lillard. Perhaps the Trail Blazers would be willing to give back Jerami Grant and the 26th overall pick in the 2023 NBA Draft. However, would that be enough? Grant spaces the floor better than Randle and is a better defender, but he's not the player he was two or three years ago. 
Another option would be to trade Randle to his home state of Texas and make a deal with the Rockets, who are reportedly going after James Harden and have more than enough cap space to also add Randle. However, Houston doesn't have much to give the Knicks and is certainly not trading the second overall pick, so that potential deal would require a third team. 
Perhaps, the Knicks could take advantage of a Toronto team that looks to be trying to rebuild and could make a swing for Pascal Siakam who is on an expiring contract. He would certainly give the Knicks better defense than Randle and would allow the team to play small at times with Siakam as the center. 
New York could also take advantage of Boston's Game 7 collapse against Miami and try to move Randle for Jaylen Brown. Brown is only signed for one more year and likely couldn't re-sign with Boston, so perhaps the Celtics would look to add Randle to a core of Jayson Tatum and Marcus Smart and replace the aging Al Horford? 
At the end of the day, while there are compelling cases to be made for moving Randle, his contract and the Knicks' success this season make it unlikely. It's far more likely that the Knicks try to add a "star player" at shooting guard or run it back next year with the same team, except perhaps a bench addition, and see if they can get everything to click in the playoffs. 
That might not be the answer that fans want, but it feels most realistic.