ELMONT — Toronto Maple Leafs defenseman Erik Gustafsson couldn't have been served on a more sterling silver platter.
With his team having just taken a 1-0 lead over the New York Islanders just two minutes earlier in the first period of Tuesday night's game at UBS Arena and largely dominating play with seven minutes to go in the frame, he was listing toward goalie Ilya Sorokin's right post uncovered when he received a pass from a streaking Mitch Marner.
Sorokin was at his left post near the top of his crease and Gustafsson had the entire 6×4 net gaping for an easy conversion. 
"I don't like these moments," Sorokin said. "I lose my position and I have a small chance [to make the save]."
Gustafsson got his shot off clean, it was destined for twine, but chances be damned, Sorokin lunged in desperation with an outstretched stick and got the paddle on it to keep it out.
"I saw the player," Sorokin said as even he couldn't provide an explanation to how he pulled it off. "I don't have time to move in those pads."
SOROKIN WITH THE SAVE OF THE YEAR 🤯

📺: @ESPNPlus ➡️ https://t.co/7vlpaZHuIL pic.twitter.com/aGmMpHp8bF

— NHL (@NHL) March 22, 2023
His teammates couldn't quite come up with much more on it, either.
"It was just ridiculous," Islanders captain Anders Lee. "It wakes up everyone on the bench. I think that turned the tide a little bit there. We needed that."
Consider that save the match that lit the Islanders' fuse. They scored seven goals over the next two periods to romp over the Maple Leafs 7-2 with Sorokin making 23 saves — which also included a point-blank save on the dangerous Auston Matthews and a vital sliding pad save on a short-handed David Kampf breakaway in the second period.
But it was that lunging denial that saved the Islanders' skins on Tuesday night.
"Who knows what happens from there?" head coach Lane Lambert speculated. "But that's just a goaltender that never gives up on any play."
"You almost feel like you got one for free," Cal Clutterbuck, who scored twice in the win, added.
Lambert lauded Sorokin's lateral movement as the reason why he's able to pull off such acrobatic moves, but the goalie modestly suggested it's more luck — though everyone in the NHL knows it's more than that.
When asked if he practices such saves, he simply chuckled.
"No."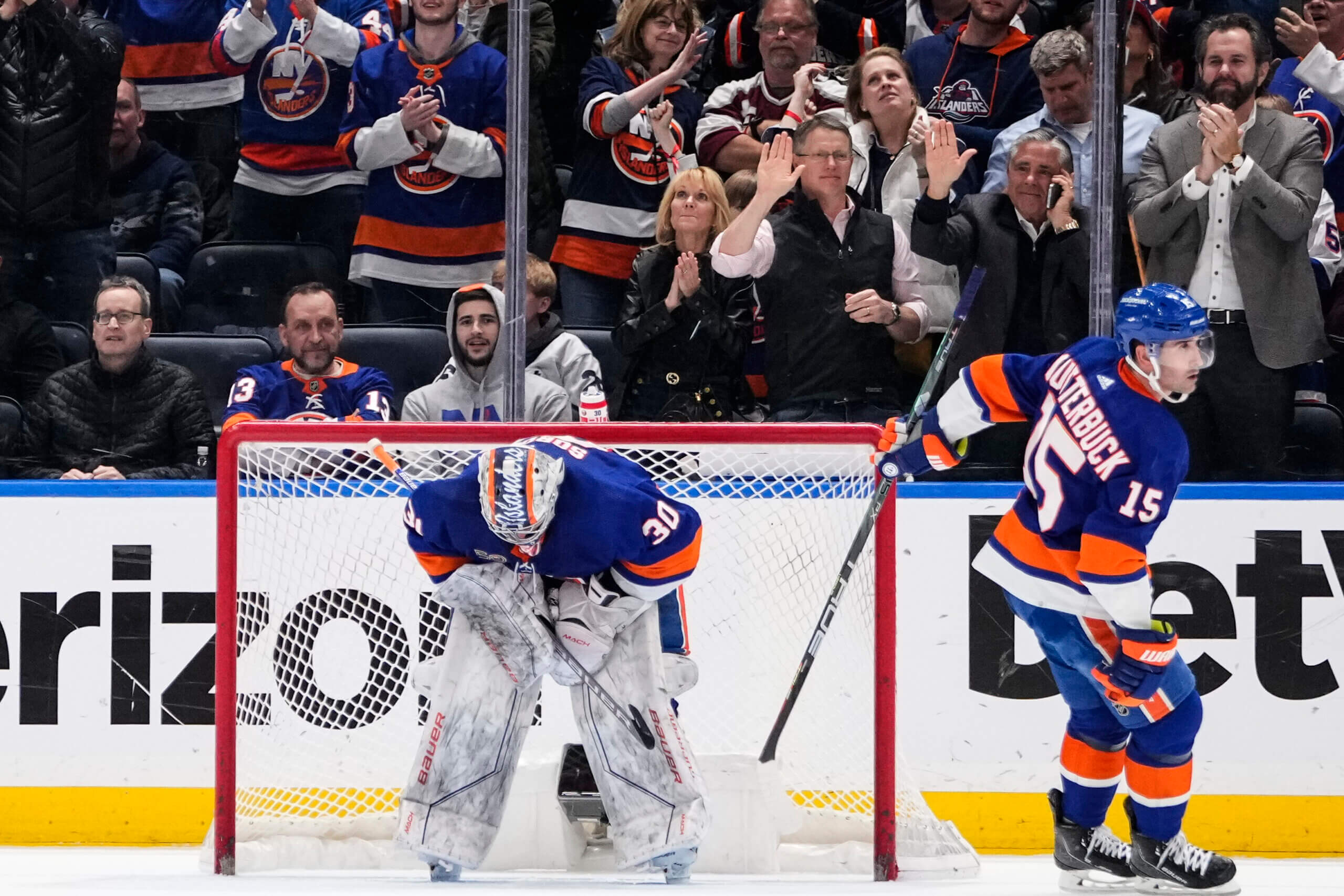 For more on the Islanders and Ilya Sorokin, visit AMNY.com