EAST RUTHERFORD — Robert Saleh and the New York Jets aren't acting like this is a make-or-break season for them in their third year at the helm. If they were, their questionable coaching decisions on the offensive side of the ball may be vastly different. 
Through three weeks of the NFL season, the 2023 Jets offense has averaged under 15 points per game and has not totaled over 200 yards once. Sure, the combination of the Buffalo Bills, Dallas Cowboys, and New England Patriots defenses are all considered elite, but those numbers are among the worst in the history of football. 
Yet through two weeks, the lack of any legitimate adjustments has been startling. 
When Aaron Rodgers went down with his Achilles injury, the Jets could have started working out free-agent quarterbacks to see if they could help in the locker room, and on the field if needed. The coaching and front office staff decided not to, citing their belief in the improved play of backup-turned-starter Zach Wilson. 
In fairness to them, Wilson has improved based on the first two years of his NFL career. The issue is that the improved play from Wison hasn't been nearly enough for the Jets to come away with wins on Sunday.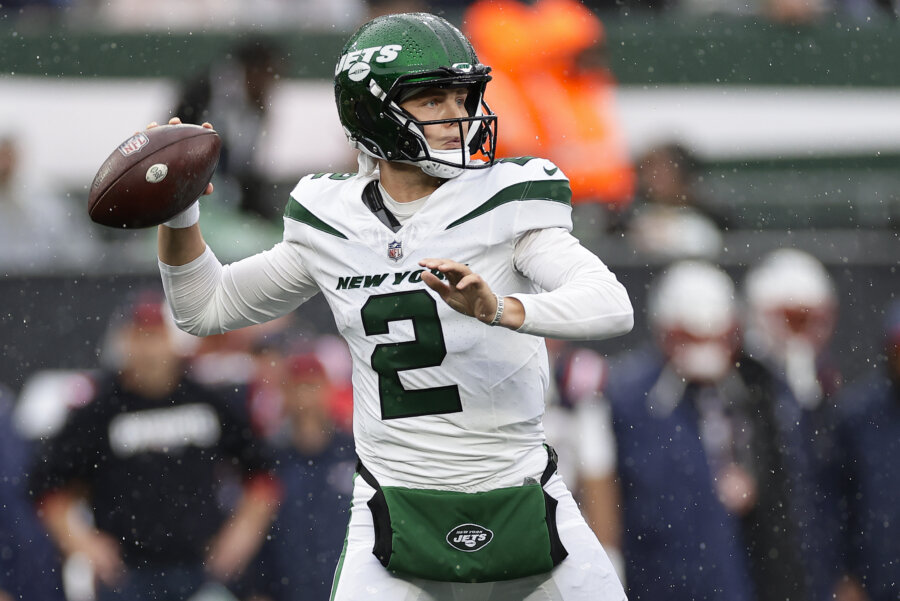 So now the Jets are stuck. 
If they were to sign a free-agent quarterback now, they would essentially have to wait a couple of weeks before even thinking about putting him on the field due to learning a new playbook and teammates. Wilson would need to be the starter anyway. 
It doesn't even appear the team wants to go that route though. Instead, with all the potential solutions that a new leader in the locker room could bring, the coaching staff is digging themselves into a do-or-die hole with their current quarterback. 
"Right now, he's who gives us the best chance to win," Saleh said. 
They don't have to do this. They don't have to continue to fool themselves into thinking they'll win with a backup quarterback like Wilson. There are moves to be made that can give them a better chance to succeed too. Colt McCoy has veteran experience, Carson Wentz has won before with a big arm, and Matt Ryan MAY have something left in the tank. All have better tape in the last three years than anything Wilson has put on. 
The fact that the organization continues to trot out the same offense is a sign that not only do they feel their jobs are safe, but that their system will work eventually. Their delusion in the locker room has already caused friction amongst players due to the offense's inability to score consistently. 
There is only so many times a defense can lose a game by giving up less than two touchdowns before their frustration boils over. When that eventually happens, the target turns to the coaching staff. 
Where are the adjustments? Why did you throw out Wilson with a loaded roster around him instead of maximizing the group?
Saleh and his staff can continue trying to say that they believe in Wilson and that they can win with this current team, but as the weeks go by, the opposite is becoming true. 
If this coaching staff truly wants to hitch their wagon to the Wilson train, that's their perogative. It's definitely surprising considering their job isn't exactly safe. There's not many general manager's that survive failing with the second overall pick. There's not many coaches that survive three seasons of inept play on the offensive end. 
This staff may be delusional on their quarterback, but they may be even more delusional when it comes to their standing for the future. 
Things aren't going well for the Jets, and they might be able to get much worse. 
For more New York Jets news, turn to AMNY.com