The Knicks are in the midst of a tense stretch run and are putting the finishing touches on one of their best seasons in years, but that hasn't stopped many from speculating on what the future of the team might be.
Last week, ESPN's Brian Windhorst discussed the Knicks' future on his podcast and mentioned a possibility that had many Knicks fans dreaming of the possibilities. (Full transcript of Knicks' portion posted on Real GM)
"Here's what I think about the Knicks," said Windhorst. "In my view, they can trade for two star-level players if they needed to… They have the expiring contract of Evan Fournier, which can act as ballast in a trade. They have a bunch of younger players that people are interested in. And they have something like nine tradable first-round picks."
While the Knicks were unable to move Fournier during this year's trade deadline, his $18.86 million contract is now expiring money, which makes him a far more attractive trade chip as a salary filler. Just last season we saw the Hawks use Danilo Gallinari's contract to pair with three first-round picks in order to get Dejounte Murray from the Spurs.
They could also pick up Derrick Rose's team option for $15.6 million and give themselves even more expiring money to use in trades.
The young players Windhorst is referring to are almost undoubtedly Immanuel Quickley, Quentin Grimes, and Mitchell Robinson.
While Robinson's recent social media posts would make it seem likely that the Knicks would feel comfortable parting with him, centers are not valued as highly around the NBA in the modern game, and his $15.68 million contract is much higher than what Quickley and Grimes will make next season. 
Knicks fans, and the team itself, were hesitant to include Quickley and Grimes in trade possibilities for Donovan Mitchell last offseason, and the two have only increased their trade value since then, so parting with either one would likely be a tough pill to swallow, especially with Quickley in the middle of a breakout year and proving that he himself might have All-Star upside.
Quentin Grimes can't negotiate an extension until 2024, so he will be a cost-controlled asset if a team decides to trade for him, but he has shown himself to be a valuable two-way player for the Knicks this season, which makes him hard to give up. 
You could also include Obi Toppin, who is set to make $6.8 million next year and seems to have fallen out of favor with Tom Thibodeau. However, another team may be willing to take a chance on the athletic former 8th overall pick. 
Yet, Windhorst threw an interesting wrinkle in the mix as he continued. 
"In my opinion, they can hold Jalen Brunson, they can hold Julius Randle, and they can make two giant trades," he continued. "Now, whether they can hold Brunson, Randle, and Barrett and make two giant trades, that would depend on the players. But there is even a window that they can hold all three of those and make two giant trades."
His suggestion appears to be that if the Knicks were to part with RJ Barrett, they would be far more likely to land two "star-level players." While Barrett has been inconsistent, he has improved his play of late and is just 22 years old, so teams could view him as a solid gamble, even on his new contract. 
If that were the case, moving Barrett makes sense for a multitude of reasons. We've covered the defensive inefficiency of Barrett, Brunson, and Randle before, but Tom Thibodeau also currently has four wing players that can play significant minutes but only two spots for a starting wing or a "closing wing" depending on how you determine a player to be most valuable. 
Those four players are Barrett, Quickley, Grimes, and Josh Hart.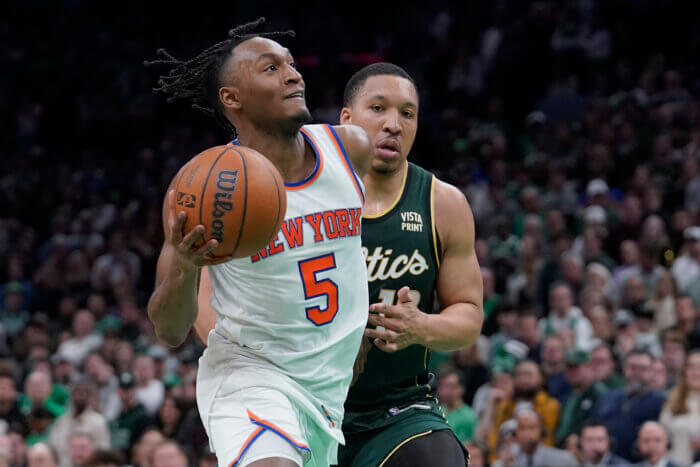 RJ Barrett will make an average of $26.75 million in each of the next four years. Quickley is extension-eligible this summer and no doubt will want to be a starter, and be paid like one, in the coming years. We covered that Grimes will be a cost-controlled player for two more years but then will likely command starter's money after that, and Josh Hart has already indicated that he plans to opt out of his $12.9 million player option and hopes to re-sign long-term with the Knicks that could be around in the $15 million a year.
The Knicks realistically cannot keep all four. 
If they were to decide to part with Barrett, a combination of Barrett and Fournier's contract would be $42.7 million in outgoing salary, which would mean the Knicks could accommodate about $52M in incoming money. That's enough to land any all-star player. 
However, the bigger question is who the Knicks would be able to get.
Jaylen Brown will be in the final year of his contract in Boston next year, but he seems far more likely to hit free agency than be traded. Same goes for Khris Middleton. Kyrie Irving has likely worn on his welcome in most places, and Joel Embiid seems like a long shot to be moved from Philadelphia. 
That would mean that the Knicks would have to set their sights on guys like Toronto teammates Pascal Siakam and OG Anunoby, or Bradley Beal, or perhaps Kawhi Leonard if the Clippers fail to deliver in the postseason again. They could possibly pry Karl Anthony Towns away from Minnesota to replace Robinson or, perhaps Damian Lillard is finally tired of losing in Portland and would be willing to win a title somewhere else. 
While the Knicks have the salary and draft assets to make a deal happen, that doesn't mean that locking one in is a certainty. 
"The Knicks are positioned," Windhorst said on his podcast, but "executing is the hard part."
"It's going to require, I think, a player to say 'Send me to New York.' And potentially another star player to say 'Oh, I'll go to New York too.' Or for New York to pull a big trade and a star player going 'Oh, man. They got this and they still got this. I want to do that.'"
Windhorst made it clear that the Knicks don't have to do these deals this summer, but "those deals can be made within the '23-24 season, they can be in '24." However, it does feel like the Knicks are primed to be active on the trade market as they look to upgrade their roster to be NBA championship caliber while also condensing the talent on their team.
While Windhorst's report didn't answer many questions, it did highlight that this will be a potentially franchise-altering offseason for the Knicks. 
BETMGM SPORTSBOOK
SIGN UP FOR $1K FIRST BET OFFER!
CLAIM NOW
21+ and present in Participating states. Gambling problem? Call 1-800-GAMBLER.
$1,000
FIRST BET OFFER!
CLAIM OFFER