The Mets are retooling for the future, which means the 2024 season might not carry the same sort of World Series hopes that the previous winter and spring might have held — though look how well that did them.
David Stearns is entering as the long-awaited president of baseball operations with Billy Eppler remaining as general manager under him. Most of the money they'll spend in free agency will be allocated toward the pitching staff with arms needed to support Kodai Senga and Jose Quintana. 
But the Mets still have some questions to answer, one that a crop of youngsters might not be able to answer just yet, especially when it comes to the designated hitter spot. 
Ronny Mauricio, Brett Baty, and Mark Vientos will be in the mix next season, but the newly-acquired Luisangel Acuna and Drew Gilbert — along with Jett Williams — aren't expected to make the jump to the majors yet.
Here's an early projection of how the Mets might look next season:
Projected 2024 Mets starting lineup
CF- Brandon Nimmo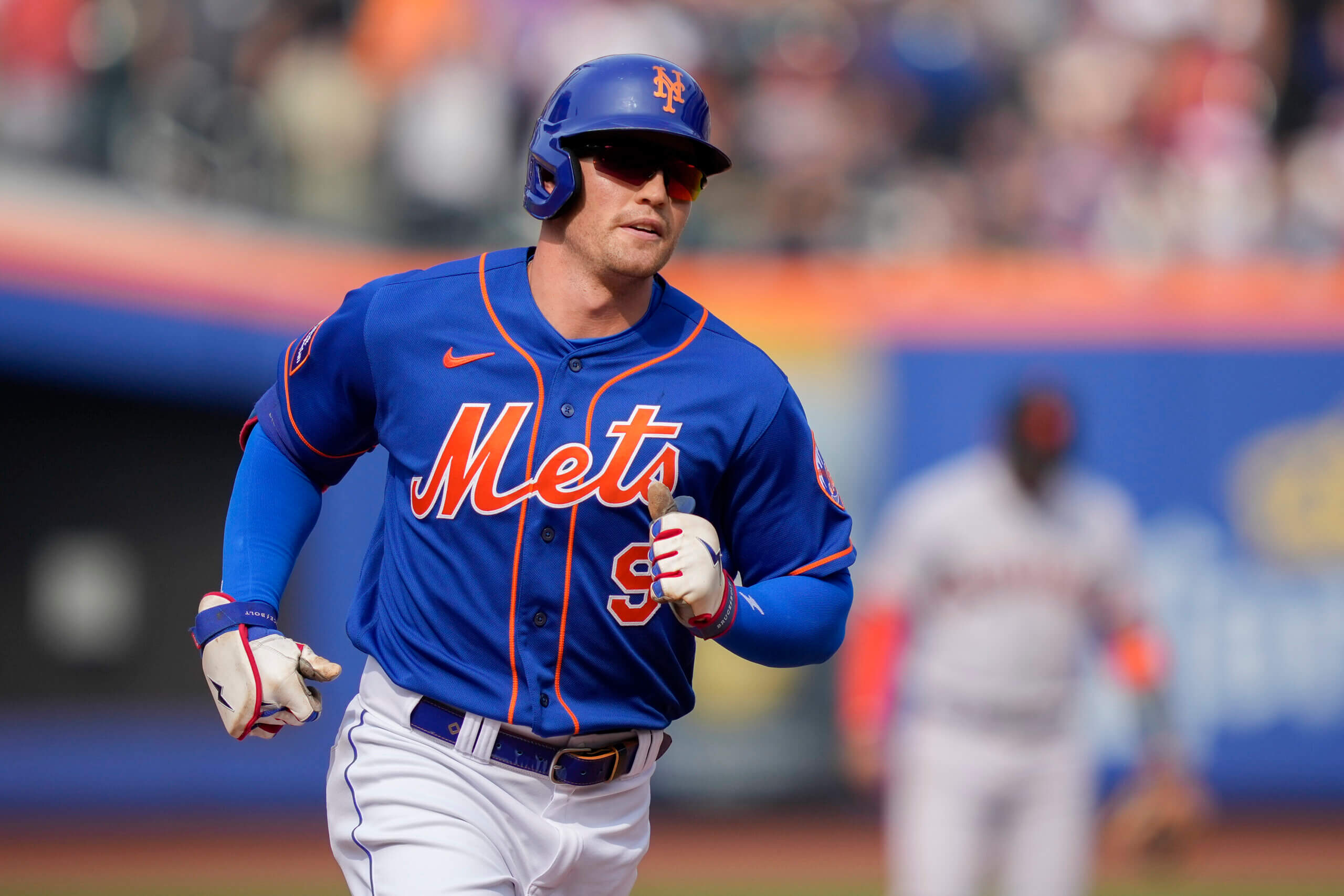 Entering the second season of his eight-year deal, Nimmo has the center-field and lead-off roles sewed up for the foreseeable future. He has shown an uptick in power in 2023, which has diminished his average and on-base percentage. Yet his .356 OBP and 69 walks still lead the team.
RF- Starling Marte
This is as close to a nightmare season as possible for the veteran right fielder, who was hindered by the pain stemming from offseason double groin surgery. On top of that, a neck issue and migraines also sidelined him throughout the season. When he was healthy in 2022, he was an All-Star and an anchor of the Mets' lineup in the No. 2 spot. With one years left on his deal in 2024, it appears that spot is waiting for him when he gets back.
SS- Francisco Lindor
One of the foundations of the Mets is one of the best offensive shortstops in baseball when he bats out of the No. 3 spot. He's having another great season for a player of his position, posting 26 home runs — as many as last season — and 87 RBI.
1B- Pete Alonso
The best power-hitter in baseball over the last five seasons continues to post gaudy numbers in his assault of the franchise's record books. He posted his third 40-plus-home-run season in five years, becoming the fifth player in MLB history to record three or more 40-home-run seasons in his first five years, joining Ryan Howard, Ralph Kiner, Eddie Mathews, and Albert Pujols. His future, however, is still unknown. The Mets have been non-committal about a contract extension and 2024 will be the last year under his current deal.
DH- Teoscar Hernandez
The Mets are in need of a legitimate designated hitter, even with Daniel Vogelbach's strong finish to the season. A veteran bat with pop that could be had on a short-term deal is exactly what the Mets need. Hernandez is batting .263 with 25 home runs and 89 RBI this season and has a 162-game average of 32 home runs since 2018.
C- Francisco Alvarez
Alvarez is having a prolific season for a rookie catcher with 23 home runs. At 21 years old, there's an abundance of promise, especially in his ever-improving defensive game. There have been some consistency issues. He's had three months batting over .275 and three months where he's batted under .200. 
2B- Ronny Mauricio
The early returns for the young second baseman have been solid, both at the plate and in the field. The Mets will continue to reach versatility with him as they try to give him more looks at third base and perhaps even left field. His bat is too promising to leave out of the lineup and the versatility of Jeff McNeil allows for him to be a legitimate option on Opening Day.
LF- Jeff McNeil
McNeil has become a super-utility man, but his ability to provide sustainable defense in left field makes him a viable option here for 2024. After a difficult start to the season, things have been looking up. In his last 51 games, he's slashing .292/.339/.441 with six home runs and 22 RBI.
3B- Brett Baty
Baty's first full season has been a difficult one. He lost his way at the plate and was demoted to the minors in the process to try and figure things out, but it hasn't come yet. He's batting .177 since his recall from Triple-A and is batting .212 this season, but the Mets should give him at least another shot to prove that he could be the future at third base.
For more on the Mets, visit AMNY.com