After a couple of weeks of thrilling basketball action, we have arrived at the NCAA Championship. The highest seeds to qualify for the final four also advanced to the title game as UCONN will take on San Diego State
#5 San Diego State Aztecs (32-6) vs #4 UCONN Huskies (30-8)
How to Watch:
DATE: Monday, April 3rd 
TIME: 9:20 p.m. ET
CHANNEL: CBS
Betting Odds:
MONEYLINE: UCONN (-360) SDSU (+285)
SPREAD: UCONN -7.5
TOTAL: 132
Final Four Tale of the Tape:
San Diego State leaders: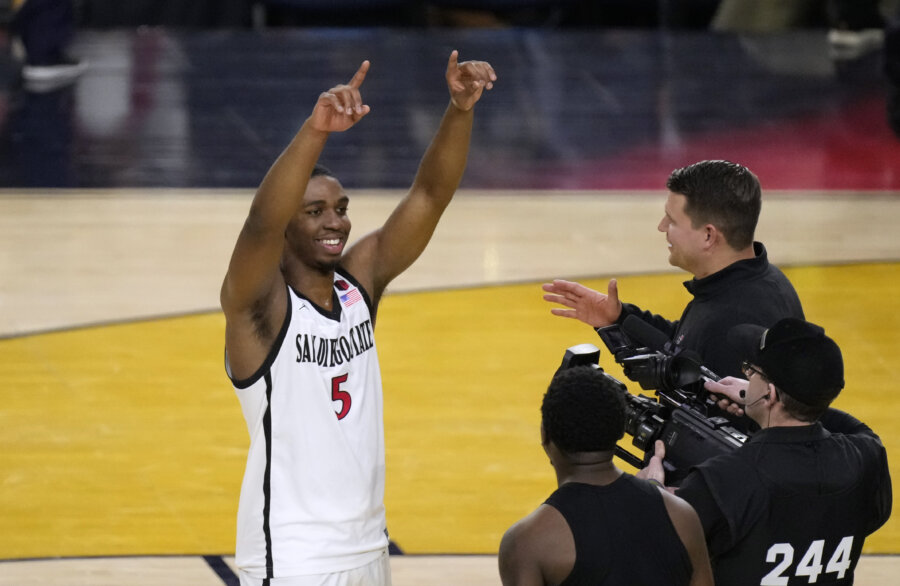 Matt Bradley, G: 12.5 PPG, 3.8 RPG, 2.1 APG, 35.8% 3PT
Lamont Butler, G: 8.7 PPG, 2.7 RPG, 3.3 APG, 1.5 SPG
 
UCONN leaders: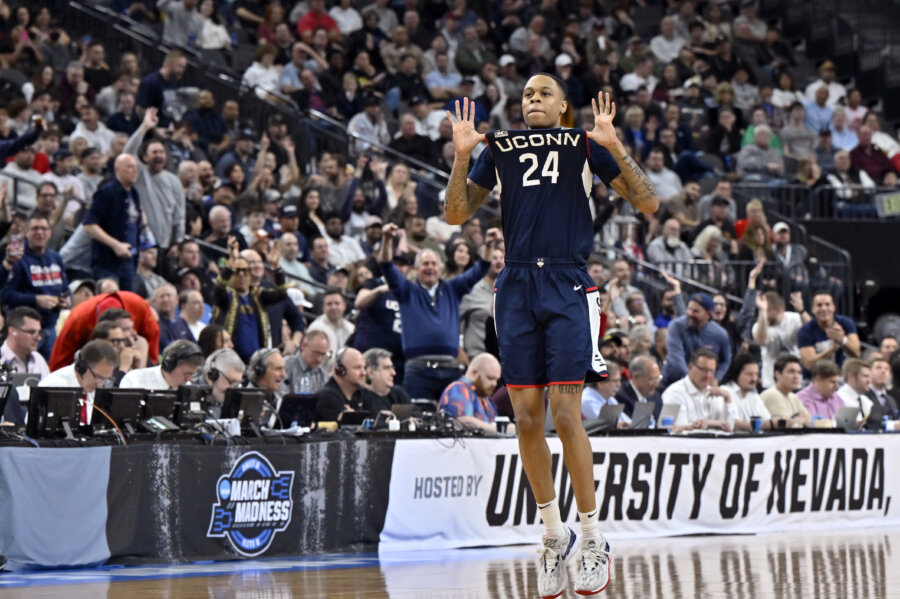 Adama Sanogo, C: 17.1 PPG, 7.5 RPG, 1.3 APG, 60.2% FG
Jordan Hawkins, G: 16.3 PPG, 3.8 RPG, 1.3 APG, 38.5% 3PT
 
Preview:
The UCONN Huskies are no stranger to the NCAA championship game, as they are seeking the fifth title in program history, while the San Diego State Aztecs are looking to bring home their first. 
Monday's matchup should be a bit of a defensive battle with UCONN ranking 11th in effective field goal percentage allowed and San Diego State ranking 46th. Both teams also like to slow the pace down, work inside and out, and get good looks, knowing that methodical offense pairs well with their solid defense, so don't look for a track meet to break out on the court. 
However, with both teams playing a slower pace, that means a key for the game could be three-point shooting. 
UConn is shooting 40% from deep during the NCAA tournament, even with a poor performance Saturday night, going just 9-for-26 against the Hurricanes. They will be tested again in the NCAA championship game since San Diego State's greatest strength is defending the three. The Aztecs are 3rd in the nation allowing opponents to shoot just 28% from beyond the arc on the season, and they have improved on that in the tournament, holding opponents to 22%. 
They locked down the Owls late on Saturday, allowing just one three-pointer in the final 15 minutes as they came back to win, so if they key in on the Huskies' shooters, they could make this ugly enough to grind a win in the NCAA championship.
Even if the Aztecs stop shot from falling from deep, they need to have an answer for UCONN center Adama Sanogo, who was electric against Miami. He has dominated teams inside throughout the tournament and then, when Miami chose to sag off of him on the perimeter, he knocked down two threes in the early going on Saturday. When Gonzaga double-teamed him, he dished out a career-high six assists. It's going to be incredibly hard for San Diego State to find a way to stop him, which gives UCONN a big advantage. 
One issue for UCONN could be turnovers. They rank 234th in the nation in turnover rate on offense and had 15 turnovers against Miami on Saturday in another sloppy outing. Against a defense like San Diego State, they are not going to get away with being that careless with the ball. 
However, UCONN has been historically dominant in this tournament. Their 20.6 average point differential is among the largest we've ever seen heading into the NCAA championship. With their defense holding elite offenses like Gonzaga and Miami to under 60 points each, it's going to be hard to see San Diego topping that. 
We know San Diego State has the experience to prevent them from being rattled late in the game, but this is not a team that can rely on its offense to make a comeback. Even against FAU, they won because of defense and rebounding down the stretch. If they need to get hot from the field to top UCONN in the NCAA championship, it's going to be a major challenge, which is why I'd still take UCONN -7.5, but I will take the OVER in a game where I think San Diego State gets desperate at the end. 
For NCAA tournament coverage like this NCAA championship preview, visit amNY Sports
MA and OH only. 21+. New users and first wager only. Must register with eligible promo code. Bet amount of qualifying wager returned only if wager is settled as a loss. Maximum bet credit $1,500; must be used within 14 days of receipt. See caesars.com/promos for full terms. Void where prohibited. Know When To Stop Before You Start.® Gambling problem? Call 1-800-GAMBLER