FLORHAM PARK — There hasn't been a more successful quarterback on Monday Night Football than Aaron Rodgers over the last decade. The New York Jets hope his dominance continues in Week 1. 
Rodgers enters his first game as a member of the Jets sporting a 9-0 mark on ESPN over the last 10 seasons with a 23:3 touchdown to interception ratio. Simply put, there hasn't been a better player in this spot than him. Of course, his 12-8 overall record on prime time glosses over the fact that the new franchise quarterback in New York is not unbeatable on that stage.
Monday night will be different than what the future Hall-of-Famer is used to. He makes his debut as a member of the Jets in front of the raucous crowd. As with any exciting start to the season, the quarterback has a message for his new fans. 
"I just want them to show up early and be as loud as possible when we are on defense. There is a lot of excitement for the right reasons, and we will hopefully put a good product on the field starting Monday."
It will be the culmination of many things when Rodgers takes the field. It concludes an offseason full of excitement and hype following a disappointing 7-10 season. It also signals the end of the old Jets mantra where struggles become commonplace. 
With Rodgers, the Jets expect to win. The team has consistently touted that the goal is a Super Bowl title, and for the first time in a very long time, that goal seems attainable.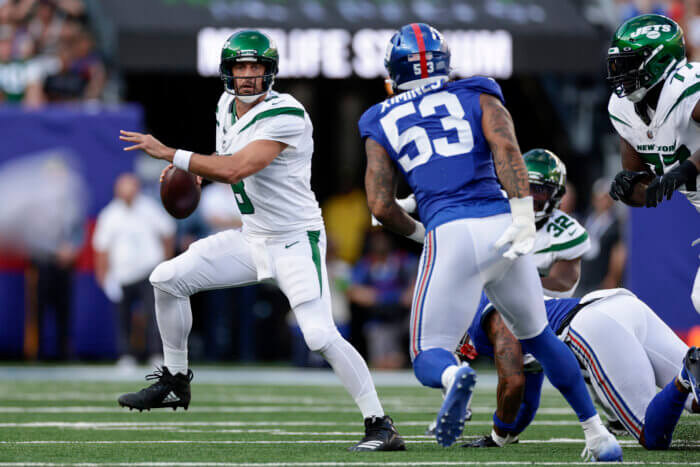 It won't be easy. As good as Rodgers has been, he's coming off one of the worst seasons of his career with highs in interceptions and the lowest passer rating since his first season as a starter. With a chip on his shoulder, and a newfound love for the game with his new team, the quarterback that ended last season in Lambeau Field, may not be the same one that takes the field at MetLife Stadium Monday night. 
"I just got to play the way I know how to play, I have to work my ass off for the last six months to try and put a better product on the field than last year, and I expect to," Rodgers said. 
New York has done enough to help their quarterback put that better product out there. The Jets added Dalvin Cook to an already-loaded offense and have the reigning Offensive Rookie of the Year in Garrett Wilson. With Breece Hall, Allen Lazard, and other weapons at his disposal, Rodgers can win with one of the deepest cores he's ever had.
And that's not even counting the top-three defense as well.
Of course, perfection cannot be expected from a team that underwent such a transformation shift through the offseason. New York will have its fair share of hiccups on both sides of the football. 
According to Rodgers, that is to be expected and should not deter anyone from the kind of season the Jets could have.
"It takes a few weeks to figure out kind of your identity on both sides of the ball so we are going to be a work in progress, but we got some good tests out the gate, and we got to start fast on Monday," he said Thursday. 
Rodgers' debut couldn't have come at a more interesting time. Monday night, against a divisional arch-rival, with a chance to change the narrative on the state of the franchise. It's the chance many quarterbacks could only dream of getting. 
He may try to tamper expectations before the game, but it's clear that New York's new quarterback is ready to get the season started in prime time. 
For more Aaron Rodgers and New York Jets news, turn to AMNY.com