The Metropolitan Transportation Authority on Wednesday unveiled new survey results touting improvements in on-time performance and customer satisfaction on its Access-a-Ride paratransit service, but riders with disabilities say the survey findings fail to tell the real story.
On-time performance for Access-a-Ride's primary "blue-and-white" vans climbed from 90% in September 2021 to 98% last month, said MTA Chair Janno Lieber on Wednesday, while performance in its fleet of for-hire "broker" services went from a nadir of 84% in November 2021 to 95% last year, according to the MTA's January "Pulse" survey of paratransit riders. Customer satisfaction is at an all-time high of 76%, the chair said.
To bring Access-a-Ride's operations further into the 21st century, the MTA updated the MyAAR smartphone app, which is used to book trips, check trip status, and manage a rider's paratransit subscription. The patch aims to provide clearer information on arrival and departure times, while also making it compatible with screen readers for blind riders.
"We're making it much, much more user-friendly and comparable to other rideshare apps out there," Lieber said. "Our customers deserve a seamless, first-class experience on every MTA mode, and we're determined to give it to them."
But the stats are misleading, say some advocates for disabled riders.
Joe Rappaport, executive director of the Brooklyn Center for the Independence of the Disabled, told amNewYork Metro that what's considered "on-time performance" for Access-a-Ride only means the van showed up within 30 minutes of its scheduled time, an "extremely generous" window that would likely not be taken kindly by subway and bus riders.
Lieber said on Wednesday that, with the high on-time stats under the current model, the agency is in the process of changing the time threshold for "on-time" performance from 30 minutes down to 20.
"We support the MTA's plan to narrow that window to 20 minutes, and expect the MTA to require brokers to meet its 15-minute requirement," Rappaport said in an email. "So far, it is quite far from that goal — nothing to brag about, for sure."
Access-a-Ride was created in 1991 after the passage of the federal Americans with Disabilities Act the year prior. It exists to meet the needs of nearly 1 million New Yorkers with disabilities who are shut out of much of the region's transit system, with only about a quarter of subway stations considered ADA-compliant. Last June, the MTA settled a lawsuit with advocates wherein it agreed to make 95% of stations accessible by 2055.
For the intervening 30 years, disabled straphangers will still have to rely on Access-a-Ride. But regular riders say the service's shortcomings effectively keep them as second-class citizens, in contravention to the ADA's goals.
For instance, Access-a-Ride requires customers book any trip 1-2 days in advance, unlike subway and bus customers who can walk to their stop at whim. Reservations can only be made during business hours from 7 a.m. to 5 p.m., by phone or on the app.
And unlike subways and buses, which operate on fixed lines, paratransit operators pick up passengers from set locations within generous geographic boundaries. That means riders often find themselves taken well out of the way of their destination as vans detour to other passengers, significantly increasing trip times.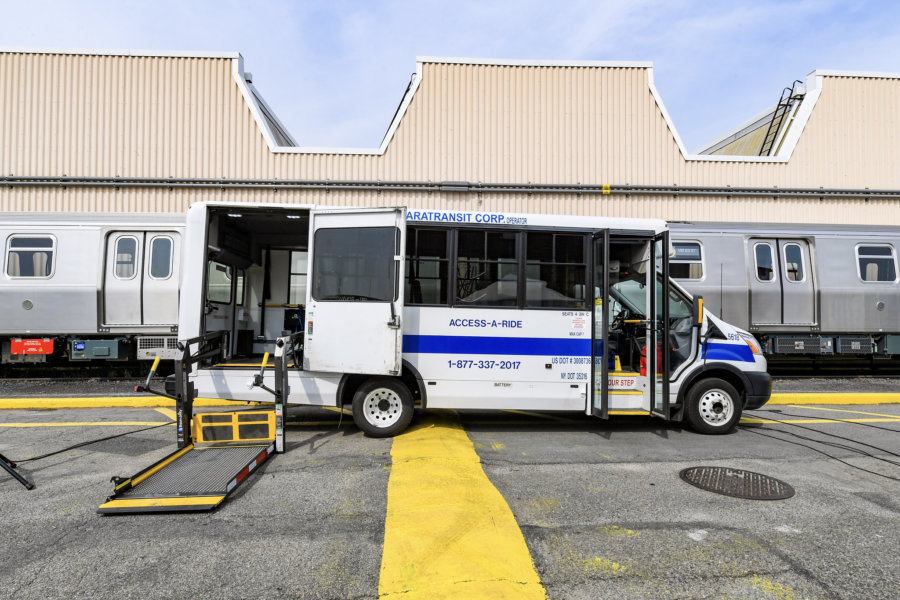 Oftentimes, that ends in two distinct ways: riders are very late or, if they built in a big cushion of time that ultimately wasn't needed, very early.
Jean Ryan — a former college professor, wheelchair user, and president of Disabled In Action of Metropolitan NY — told amNewYork Metro in an interview that when she went to last month's MTA Board meeting in lower Manhattan, as she often does, she left home in Brooklyn at 6:30 a.m. only to arrive in about a half hour and wait in the lobby until the meeting started at 8:30 a.m. Her trip back home took 45 minutes, though the app had advised her to expect up to an hour and a half.
That unpredictability effectively discourages people with disabilities from living their best life, Ryan posits.
"All this kind of stuff, too late, too early, or too long of riding around, that discourages people from using the system," Ryan said in the interview. "Access-a-Ride is too slow, or too early, just too many things like that that discourages people."
Riders are not alone in noticing the shortcomings. In October, the Department of Justice sent a letter to the MTA outlining myriad ways it considered Access-a-Ride to not be in compliance with the ADA.
"[The New York City Transit Authority] has failed to provide paratransit services at a level of service comparable to the level of service provided to individuals who use the fixed-route system," reads the Oct. 17 letter to New York City Transit general counsel Paige Graves, signed by US Attorney Damian Williams of the Southern District of New York.
The letter highlighted "substantial numbers of significantly untimely pickups or drop-offs; substantial numbers of trip denials or missed trips; and excessively long trips" as "capacity constraints" put on riders in violation of the ADA.
The federal investigators found that 9.9% of Access-a-Ride drop-offs were more than five minutes late, while nearly 40% of riders were dropped off more than a half-hour ahead of their requested time.
DOJ also found the MTA to use excessive "travel time guidelines" for Access-a-Ride, with a 50-minute ride to cover just three miles and nearly two hours to go 9 miles considered to be on-time performance. That's because the mileage of any given trip is often a misnomer, as riders are taken on circuitous routes well out of the way of their destination so vans can pick up other riders.
DOJ's analysis found that 72% of trips originating in Queens, 78% from Brooklyn, and a whopping 91% from Manhattan were considered "generally excessive" compared to subway or bus trips; Bronx and Staten Island-originating trips did not see substantial numbers of excessive trip times. Excessive trips are considered those that are at least 15 minutes longer than would be a comparable trip by subway or bus.
The letter identifies broad recommendations the MTA must undertake to "reform the operations of its paratransit system to address the identified capacity constraints." To comply, the agency must "establish performance standards" ensuring untimely drop-offs are not operational practice, collect and analyze data on requested drop-off times, and reduce the number of "excessive trips" and collect and analyze data on trip length. The MTA must also establish incentives for contractors to meet new performance standards, and consequences for failing to meet those.
On Wednesday, MTA paratransit chief Chris Pangilinan said the DOJ's underlying data was outdated, from "a different period at MTA, a different period at Access-a-Ride when service was a little more difficult," and that service has improved markedly in the interim, even claiming that many of DOJ's recommendations are already in place.
"We've come a long way since then, especially in the last couple of years," said Pangilinan. "And I'm very happy to say that a lot of the recommendations in that letter, we've already taken care of, even before we received it."
The two Assistant US Attorneys who wrote the letter, Lara Eshkenazi and Lucas Issacharoff, did not respond to a request for comment.
Despite the MTA's touted improvements, this spring may see paratransit riders become the unwilling subject of political jockeying over funding the financially-beleaguered authority. Last week, Governor Kathy Hochul proposed a plan to rescue the authority from the edge of a "fiscal cliff," which included among other things a call for the city to contribute $500 million more annually to, in part, fund Access-a-Ride.
This week, Mayor Eric Adams threw cold water on the request, arguing the city does not have the fiscal resources to make such a colossal contribution and grumbling that other municipalities were not being asked to do the same. Negotiations are ongoing for the state budget, which is due April 1.
On Wednesday, thirteen disability advocacy groups sent a letter to Hochul calling for increased state funding not just to save the authority from collapse, but to expand capacity with more frequent service, joining a broader push from elected officials and advocacy organizations which are calling for Albany to guarantee 6-minute train headways.
"The public transit system makes it possible for us to access work, education, healthcare and other essential opportunities and services," reads the letter. "Frequent transit is essential to improving access because elevators are small and accessible seating areas are limited."
"All New Yorkers benefit when as many people who can use transit opt to ride rather than drive, including disabled passengers," the missive continues. "We accordingly urge you to adopt a sustainable MTA funding model and fund more frequent transit service in your budget this year."
Reached for comment, MTA spokesperson Eugene Resnick said that 6-minute headways are not pie-in-the-sky idealism but the lived reality today of most MTA passengers, though he did not lend support to the advocacy campaign.
"Most transit customers are benefitting from better than 6-minute headways already, and on-time performance hit a 10-year high in January," said Resnick. "The mission to provide faster, cleaner, safer service has already seen success in improving customer satisfaction."