E-bike rules unfairly target low-income, immigrant delivery workers, and the city should instead support their efforts to legally comply with regulations, transit advocates said in a rally outside City Hall Monday.
Currently, only pedal-assist e-bikes, which include a motor and ease pedaling, and limit speeds up to 20 mph, are legal to operate in the city, according to an announcement made by Mayor Bill de Blasio with the city Department of Transportation on April 3. Most delivery workers, however, use e-bikes with throttles, which allow them to go faster but are currently prohibited under city law, transit advocates said.
Calling the legalization of a certain kind of e-bike a good first step, Councilwoman Margaret Chin said, "We need the city to be a part of making sure a majority of delivery workers can convert their e-bike affordably," adding that it's unfair for the NYPD to issue tickets to delivery workers and in some cases, confiscate their e-bikes "just for doing their jobs."
Transit advocates, with the Asian American Federation, the Biking Public Project, Transportation Alternatives and Make the Road New York, released five recommendations that they want the DOT to consider, most of which stress giving delivery workers time, money and support to convert their e-bikes with throttles into legal pedal-assist e-bikes. They want the NYPD to implement a moratorium on policing delivery workers with illegal e-bikes.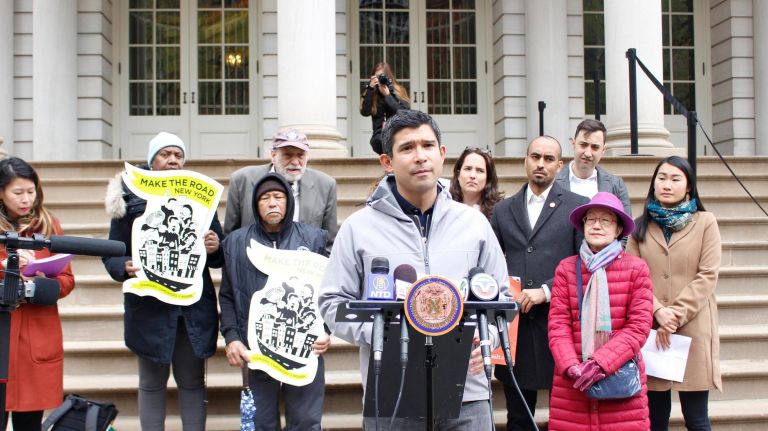 "The majority of our e-bike riders are immigrants, the people who live in our neighborhood, who want to be able to make a paycheck, go home and help their family with food, with college, with medicine," Councilman Carlos Menchaca said. "A moratorium allows us to push the pause button and get this right."
Other recommendations ask the city to provide information, support and financial assistance to those who currently use illegal e-bikes, so as to aid in a smooth conversion process. Some possibilities to convert e-bikes, as outlined in a statement released by rally organizers, include disabling the throttle that allows e-bike speeds to increase over the allowed 20 mph. Other ways to do that include uploading software to the e-bike that curbs speeds, or attaching an add-on device that monitors the speeds of the motor.
A 43-year-old delivery worker, Clemente Martinez, voiced support for the recommendations after the rally. Having used regular bicycles and e-bikes for 14 years in the city, he recalled several instances when he was fined by the NYPD.
"It could be for turning right on red or not yielding to pedestrians and that's what [the NYPD] said the ticket is for. Sometimes if I've done that it's because I feel a lot of pressure from work or from customers to get their food as fast as possible," Martinez said.
There are currently no statistics available regarding accidents related to e-bikes, as the NYPD does not record them, according to Lt. John Grimpel.
"How can the mayor make a policy based on information we don't have?" Persephone Tan, associate director of immigration and policy at the Asian American Federation, asked, adding that delivery workers need a "clear and affordable pathway to compliance." Decisions like these need to be made with more public outreach, and need to incorporate the needs of those it affects, she added.
As of April 1, the NYPD has issued 238 moving summonses for e-bike riders and seized 48 e-bikes, Grimpel said.
Instead of policing e-bike riders, "police resources must be spent on known dangers," Marco Conner, legislative and legal director at Transportation Alternatives, said during the rally, adding that speeding cars and trucks pose more of a danger to public safety than e-bikes.
While e-bike operators have been fined for years, de Blasio announced a focused plan to reduce the use of e-bikes on city streets beginning Jan. 1. The new enforcement tactics also fine the employers of those riding e-bikes, with penalties of $100 for a first violation and $200 for every additional violation. Riders themselves get fined up to $500 for riding e-bikes and run the risk of their e-bikes being confiscated.
Throttle-equipped e-bikes are legal under federal law, but banned under state and city laws. Previous legislation has fizzled out in Albany due to a "gridlock of legislation" and hasn't been given any priority, Conner told amNewYork in December.
Advocates want to change that. They called for supporters to attend a DOT hearing at 1:30 p.m. May 29 at 55 Water St., where the city agency will listen to testimonies by those involved in and affected by e-bike legislation. Advocates hope to get their recommendations considered.
"The draft rule has been published and the comment period is open," a DOT representative said via email, adding that the agency will review submitted comments at the public hearing.