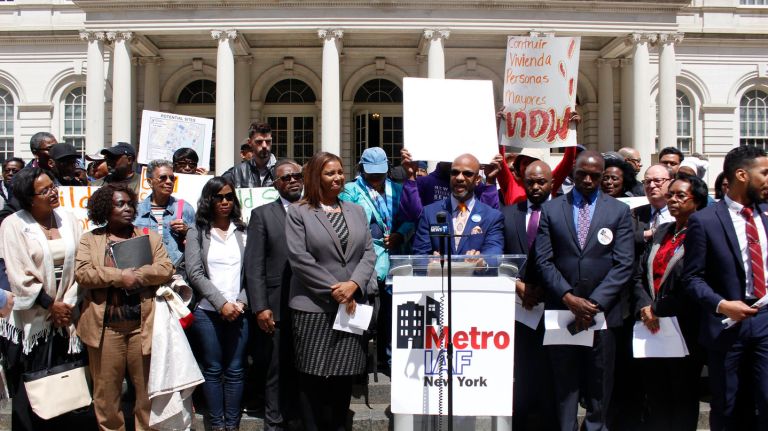 The New York City Housing Authority's beleaguered state of affairs has once again led residents to take to City Hall to demand more money.
Hundreds gathered, "Build Senior Housing Now" signs in tow, on the steps of City Hall Tuesday to urge Mayor Bill de Blasio to consider allotting more money for repairs and capital projects in public housing, as advised by the City Council under the leadership of Speaker Corey Johnson.
On April 10, the City Council released a Fiscal 2019 budget response, which included recommendations to allot $2.45 billion in new funds to NYCHA repairs and development — $950 million for boiler repairs, $500 million for senior housing to be built on vacant NYCHA land, and $1 billion for other capital projects.
"We had trash and roaches and mice for weeks. Birds have made their home in our home. Every morning, it's like a journey through a wild kingdom," Pia Horton, resident of Breukelen Houses in Canarsie, Brooklyn, said. She outlined problems within her home that scores of NYCHA tenants have complained of for years — water leaks leading to puddles in hallways, power outages, mold, lead paint, etc.
"Stop treating us as second-class citizens," Horton said.
The rally, which was organized by Metro Industrial Areas Foundation, mainly focused on asking elected officials to commit to keeping at least $500 million in the 2019 budget to be finalized in June, which organizers plan to use to build 15,000 affordable senior homes in the city.
Comptroller Scott Stringer outlined the steps the city would have to take to bring the plan to fruition — establish a land trust, identify vacant NYCHA properties, entrust the building of the senior homes to community organizations and finally, rent them out as permanent affordable housing.
In a show of solidarity, council members Antonio Reynoso (D-Brooklyn), Inez Barron (D-Brooklyn) and Barry Grodenchik (D-Queens) voiced their commitment to pushing for the group's demands in budget negotiations and promised to hold Johnson and de Blasio accountable. Public Advocate Letitia James also restated her commitment to advocate for public housing tenants and the city's older residents.
One such resident, Marilyn Charles, 68, said, "I don't want free housing. I want something I can afford, something I can pay my bills with," adding that she pays $1,400 in rent and is left with $200 for all her bills and food. "I am not asking for a handout. I am just asking for a hand."
NYCHA has remained a point of contention between de Blasio and Gov. Andrew Cuomo. While Cuomo has repeatedly criticized the de Blasio administration for not managing allocated funds for NYCHA efficiently, the mayor has assailed Cuomo for not following through on a promise of $250 million for NYCHA. The funds from Albany will be withheld until the City Council and de Blasio choose an independent contractor to oversee repairs in NYCHA, according to an executive order signed by Cuomo on April 2, which also declared a state of emergency for the housing agency.
"All that's far away right now. We have not even gotten that far," the Rev. David Brawley, one of the leaders of Metro IAF, said, adding that a complete revamp of the city agency will take time. "Right now, we need a commitment from the City Council, we need a commitment from the mayor, we need that $500 million to stay in this budget so we can build immediately."
The mayor's office did not immediately respond to a request for comment regarding the group's demands.