NEWARK — Perhaps it has been a coincidence that the Devils' fortunes have turned around since Akira Schmid took over in net. Maybe the change in goal was the kick in the rear the Devils needed to wake up after dropping the first two games to the Rangers. 
But there's no denying the impact Schmid has had on the series and the fact that the Devils are headed to Madison Square Garden with a chance to eliminate the Rangers on Saturday night in their first playoff series against New York in more than a decade. Schmid has been unflappable in net through the last three games, giving up just two goals over that span and posting a .976 save percentage. 
BETMGM SPORTSBOOK
SIGN UP FOR $1,500 FIRST BET OFFER!
CLAIM NOW
21+ and present in Participating states. Gambling problem? Call 1-800-GAMBLER.
$1,500
FIRST BET OFFER!
CLAIM OFFER
He became the first Devils goaltender since Martin Brodeur to post a shutout in the postseason and became the first New Jersey goalie to win his first three career playoff games.
"He's making it look so easy," Nico Hischier said. "We were joking, 'check his pulse after the game.' It seems like he's never losing his mind or never losing his focus and just makes those saves look easy and that obviously gives a push to the team and that gives confidence to the team. We know mistakes are going to happen and we know he's got our back. It's definitely, huge what he's doing right now."
Schmid made a number of key stops in the Game 5 win over the Rangers. While New York didn't test the 22-year-old too much over the course of the night, the chances they did get Schmid was able to turn away. 
In the first period, the Devils' netminder made a glove save on a 2-on-1 opportunity for Artemi Panarin. In the second he made a nice stop first to turn away a shot from Filip Chytil and then grabbed the puck out of the air after Kaapo Kakko put the rebound on net.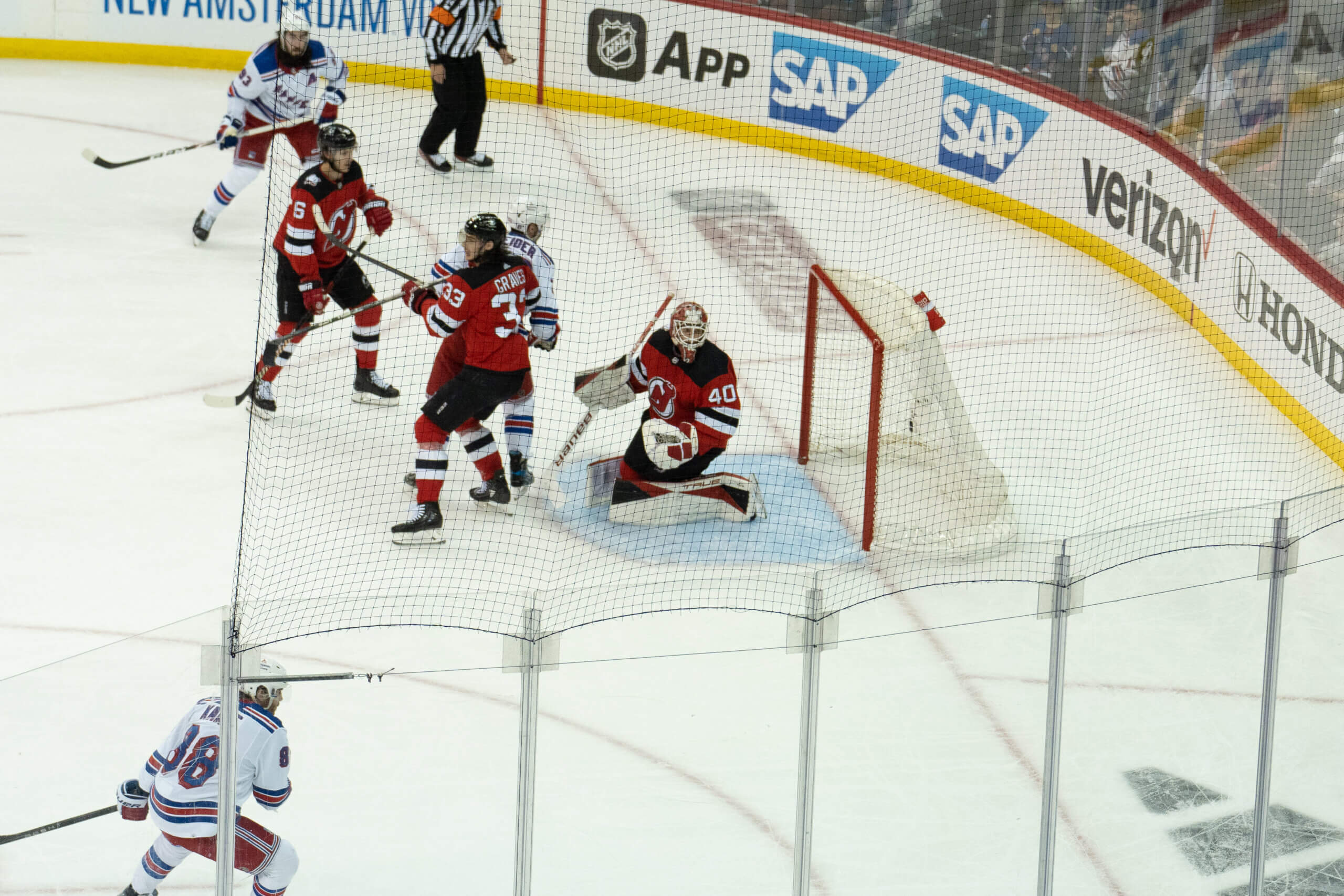 Schmid made another impressive play to save a goal late in the third by diving to swipe the puck away from the goal line as it looked like it might trickle in while a pile-up occurred in the net.  
"I mean you got to get lucky too to win games sometimes," Schmid said about the third period save."Today we got lucky two or three times and then I got lucky with having (Erik Haula) there as well. The boys have been helping me out a lot."
There's no doubt that the Devils as a team have turned things around, playing a more confident game and getting back to their style of play. They've played a fast-paced game, which has been successful all season, but they have paired it with a better defensive effort that has given Schmid the chance to succeed. 
That was a point that Devils coach Lindy Ruff emphasized after the Game 5 win.
"Realistically we took a shot at it for Game 3," Ruff said about the goaltending change, switching to Schmid from Vitek Vanecek. "And the whole group realize that, you know, in defense of Vitek we needed to play better. We needed to handle the puck. We need to play our game and I really feel the group did."
Still, Schmid has shown the ability to handle the pressure better than most. The Swiss goalie admitted after his first start that he was quite nervous and on Thursday he said the nerves had gotten better, but were still a little bit more than the second game he played in because Game 5 was in Newark. 
The Devils crowd surely put him at ease as the night went on and chants of Schmid echoed throughout the Prudential Center. 
"I mean, it's amazing. You know, you kind of dream of that as a little boy," Schmid said. "It gives you so much energy when you're on the ice." 
For more Devils coverage, visit amNewYork
BETMGM SPORTSBOOK
SIGN UP FOR $1,500 FIRST BET OFFER!
CLAIM NOW
21+ and present in Participating states. Gambling problem? Call 1-800-GAMBLER.
$1,500
FIRST BET OFFER!
CLAIM OFFER