Finally recovered from a string of illness, tenor Jonas Kaufmann rose from one of 62 neatly ordered hospital beds at the Park Avenue Armory to perform a collection of Schubert songs in "Doppleganger."
For 80 solid minutes, the spotlight shone on Kaufmann, whose voice was in fine form as he portrayed a wounded World War I soldier. Surrounded by beds sat Helmut Deutsch's Steinway in director Claus Guth's New York debut.
After a string of cancellations, Kaufmann said in early July he had a multi-drug resistant germ infection that caused congested lungs. He was prescribed a high dosage of antibiotics, recuperated at his home in Salzburg, Austria, and returned for performances last month in Australia and Italy.
"My physical strength is maybe at 98% or something, but almost there," he said before the New York run that began last week and ends Friday. "The side effects of the antibiotics were really, really strong. I had lots of problems with the joints and muscles and really aching."
The infection came after Kaufmann said he had his fourth bout of COVID-19.
Kaufmann has known Guth since they both attended Munich's Hochschule für Musik und Theatre. Guth directed Kaufmann in Schubert's "Fierrabras" at the Zurich Opera in 2002 and staged Schubert's unfinished "Lazarus" at Austria's Theatre an der Wien in 2013.
Pierre Audi, the armory's artistic director since 2015, asked Guth to create a project with Kaufmann. Working with designer Michael Levine, Guth scheduled "Doppleganger" for October 2020 only for the coronavirus pandemic to force a postponement.
"Schubert is like a friend of mine in the heart since very early," Guth said. "This kind of Schubert bell was ringing again." "Doppelganger" presented challenges with performing in a 100-meter long space, but he was attracted to "the theme of loneliness and being lost in the world and not being able to hook to the things he's actually desiring."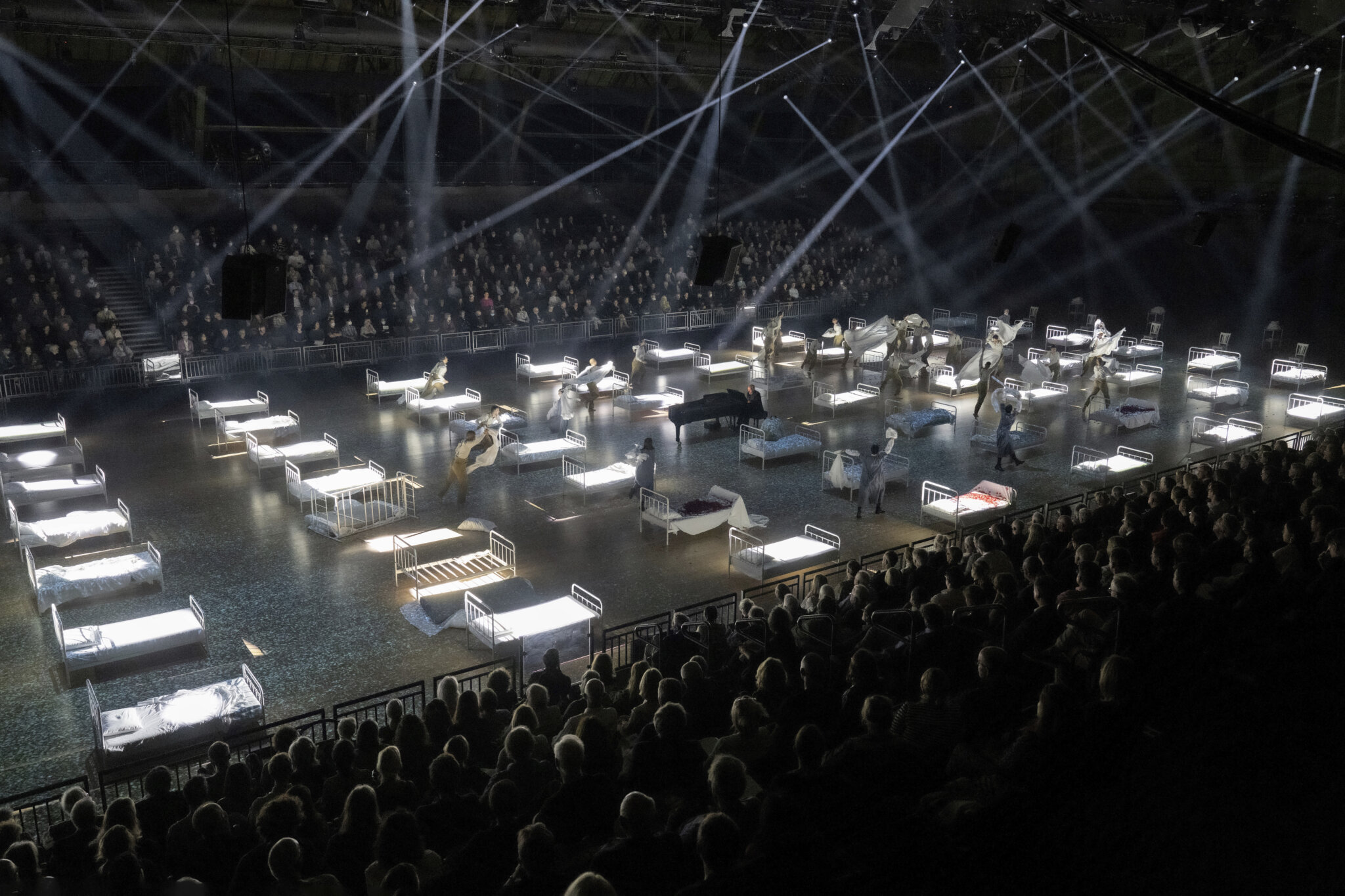 Schubert's mournful final songs, to texts by Ludwig Rellstab and Heinrich Heine, were published after the composer's death in 1828.
Performing before an audience of about 1,200, fellow soldiers and six nurses with IV poles scurried across the 170-by-70-foot rectangle formed by the beds. The props are moved, leaves fall and projections by rocafilm transform the set into a giant ward and battle trenches. Deutsch played a Schubert sonata portion between the Rellstab and Heine texts.
Red light signified the splattered blood at the end of "Das Fischermädchen (The Fisher Girls)." Kaufmann was carried on a bed by six pallbearers in a funeral procession in "Am Meer (By the Sea)," followed by a stroll onto the Lexington Ave. sidewalk as he was silhouetted by lighting designer Urs Schönebaum with a brilliant 18k Ari Fresnel fixture in "Die Stadt (The City)." Kaufmann fittingly returned with a double in the concluding number, "Der Doppelgänger."
The armory, a landmark building dedicated in 1880 and turned over to a conservancy in 2006, presents ambitious projects. David Pountney's 2008 production of Bernd Alois Zimmermann's "Die Soldaten" included a 974-seat bleacher containing the audience that slowly rolled down train tracks over a football field-length runway. Heiner Goebbels' 2017 staging of Louis Andriessen's "De Materie (Matter)" featured 100 sheep.
"Those things unfortunately will never happen again in New York," Audi said. "The money that used to be there in those years is not there anymore. So at best we can do something with one singer and a piano. But to do a whole opera with a moving orchestra and chorus and sheep on stage, I don't think that that's ever going to come back."
Given the size of the venue, Kaufmann was miked. Schubert's music was spliced with Mathis Nitschke's original composition that included electronics.
Kaufmann's concerts took place just after the release of his latest Sony Classical recording, "The Sound of Movies." His appearance was part of an armory schedule of 80-130 events annually, including drama and dance.
"We had sort of built up a beautiful line in our programing of working with major directors in this space where there was no competition in New York for that to happen with theater," Audi said. "We have to rethink a little bit of programing. We won't be able to risk on long runs of plays. That's where the risk-taking is difficult because we can't rely on the audience, and even a good review in The New York Times today does not work the way it did four years ago, five years ago.
"The machine is broken and it needs to slowly repair itself."