Environmental advocates and progressive politicians are accusing the Adams administration of "dragging its feet" on implementing Local Law 97, the landmark climate statute requiring large buildings across the city to slash their carbon emissions, which is set to go into effect next year.
The 2019 law requires buildings over 25,000 square feet to meet tough new emissions standards starting in 2024, and by 2030 they must have reduced their emissions by 40% compared to 2005 levels to be in line with climate goals. The law requires landlords to retrofit their buildings to meet the mandates.
When passed in 2019, politicians and advocates portrayed it as one of the most ambitious local climate laws on Earth, a crucial component of the city's toolkit to fight climate change. But with less than a year to go before the law's implementation, the complex rules governing it are still not finalized, and advocates have expressed concern that the administration may yield to an intense lobbying campaign from the real estate industry to weaken it.
The long rulemaking process is under increased scrutiny after several weeks of chaotic weather events, including the wildfire smoke that blanketed New York in an apocalyptic orange haze and made the city's air the most toxic in the world in June, and the "thousand-year" flooding that deluged the Hudson Valley earlier this week. Globally, July 4 and 5 were tied as the hottest days in recorded history, breaking a record set on July 3.
Of particular concern is rulemaking around "renewable energy credits" (RECs), which are essentially a token landlords can buy that offsets their building emissions by funding new clean energy production elsewhere. RECs are included in the original law, but the rules governing their use must be concretized by the Department of Buildings (DOB).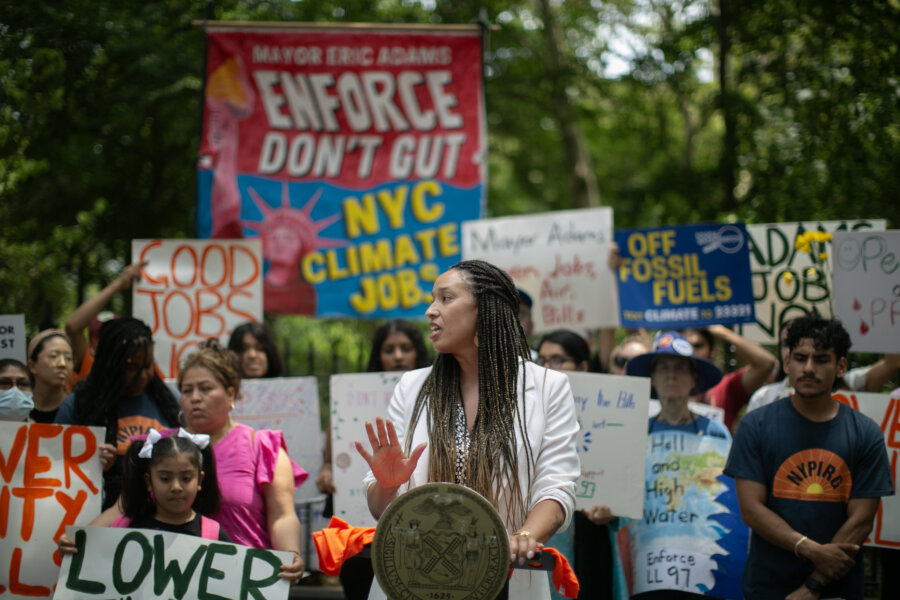 Advocates sounded the alarm last year when DOB published a preliminary set of rule proposals that did not place any limits on the number of RECs a landlord could purchase, which would effectively enable deep-pocketed property owners to buy their way out of compliance. Studies around the world have questioned the effectiveness of clean energy credits in actually leading to a reduction in carbon emissions.
"This year has shown the climate crisis is accelerating. We are going to be experiencing impacts that we don't even understand yet. And we need to be prepared," said Brooklyn City Councilmember Sandy Nurse at a rally outside City Hall on Thursday. "We need to ensure that there are no loopholes. We don't want the money, we want the carbon reduction."
Advocates have proposed capping RECs landlords can buy, specifically at 30% above a given building's emissions limits.
The Urban Green Council says RECs are a potential "major compliance path" with the law, but warns they could torpedo positive impacts on air quality in the city. Widespread use of RECs would also prevent the law from creating the thousands of union jobs retrofitting buildings that proponents of the bill touted when lobbying for its passage.
New York's approximately 1 million buildings are the city's largest source of emissions, with the biggest buildings belching an outsized amount of carbon into the atmosphere.
City Hall deferred a request for comment to the Department of Buildings, which is responsible for the rulemaking process. DOB press secretary Andrew Rudansky said that the rulemaking process is on schedule, with some rules already being finalized and others governing, among other things, penalties for noncompliance set to be crystallized this summer.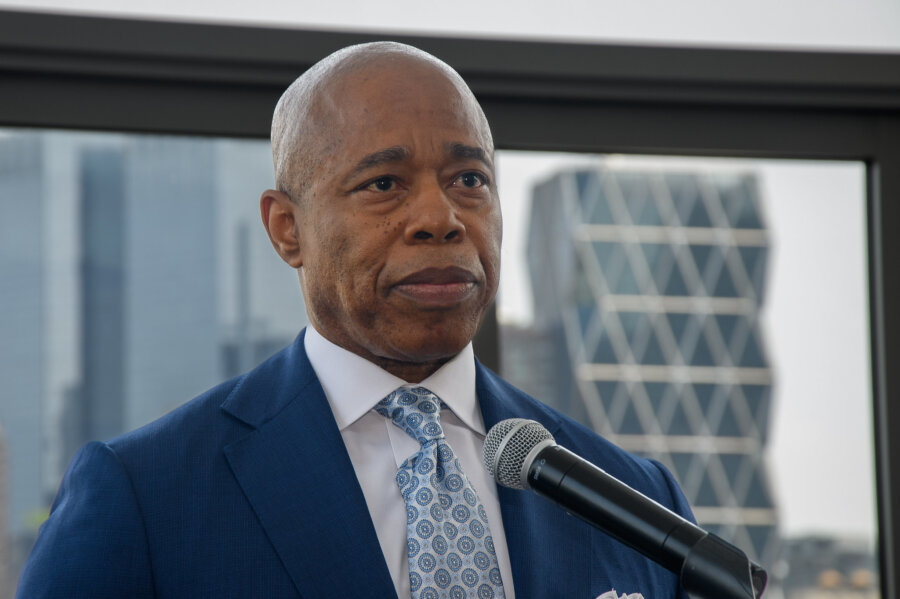 "The City is fully implementing Local Law 97, and we have been working with large buildings across the five boroughs to reduce carbon emissions as we face the climate crisis," Rudansky said. "Since we published our first major rule back in January, building owners have had all of the information they need to meet their emission reduction targets. We are continuing to urge owners to start this work as soon as possible and the City is helping them do so. Our rulemaking process is proceeding on time and in full compliance with Local Law 97, and we will continue the inclusive, collaborative approach we have been taking."
The city's Local Law 97 Advisory Board and Climate Working Groups have held a total of 363 meetings, constituting 682 hours, with reps for landlords, tenants, utilities, and environmental advocacy groups, Rudansky said.
Landlords must submit their first reports on compliance to the city by May 2025. 
Conservative city lawmakers have proposed delaying implementation of the law by seven years, while the real estate industry is backing a state bill providing property tax abatements for retrofits that make buildings greener.
A study commissioned by the Real Estate Board of New York, a developer trade group, found that noncompliance fines could reach $200 million next year and $900 million by 2030. Co-op owners, who own their units as shares of an often larger building, are also seeking exemptions from the law, and a well-heeled group called Homeowners for a Stronger New York has spent considerable sums of money on lobbying and television ads decrying the mandate.
Some landlords have gotten creative in attempting to comply with the law, with owners trying in-house carbon capture, community solar panels, and even rooftop lithium-ion batteries, the Real Deal reported.
New York's supply of renewable energy is expected to ramp up considerably in the coming years after the passage of the Build Public Renewables Act, requiring the New York Power Authority to supply all its electricity through renewable energy and to build publicly-owned green energy infrastructure to support the state's climate goals. New York law requires the state's emissions to be reduced (below 1990 levels) by 40% come 2030 and 85% by 2050.