Spread mulch, it's the Brooklyn way!
Curbside compost collection will commence in Brooklyn starting Monday, Oct. 2, with the Department of Sanitation set to begin separately picking up organic waste from other refuse in the city's most populous borough.
Brooklyn is the second borough to join the city's universal organics pickup program, after it became permanent and year-round in Queens back in March. Compost collection will start in the Bronx and Staten Island in March of next year, and will come to Manhattan next October.
To Mayor Eric Adams, the move represents a new front in the War on Rats, right in his home borough.
"We promised to be the first administration to bring pain-free curbside composting to every block in every borough, and starting next week, we're taking a massive step towards delivering on that promise," Mayor Eric Adams said in a statement. "We're making it easy to compost in New York City, and we're cutting rats off from their all-you-can-eat black bag buffet. Brooklyn never looked so good."
Brooklynites can order a free, secure brown composting bin from the Department of Sanitation until Oct. 13; the streets of Brooklyn, long blighted by giant piles of black trash bags, have started to become dotted with brown bins. For those who don't order a brown bin, any container over 55 gallons is acceptable, as long as it is labeled with a DSNY decal and, importantly, contains a secure lid impenetrable to rats.
DSNY will collect waste from the bins on the same day as recycling.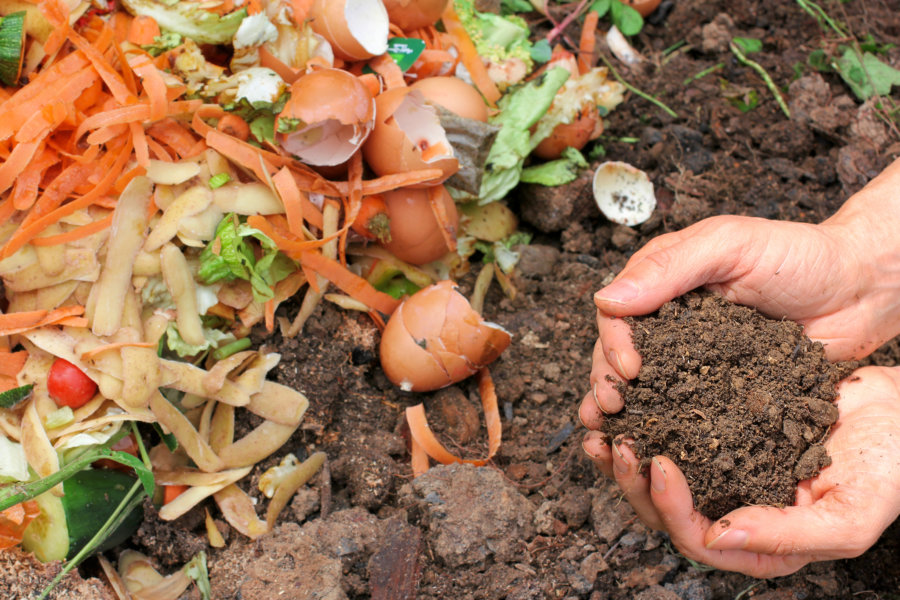 Organic waste that should be put in the brown bin includes both food and yard waste. Food waste can include unfinished meals and food scraps, as well as inedible byproducts like banana peels, avocado skins, and chicken bones. It also encompasses food-soiled paper products, like used napkins, greasy disposable plates, and pizza boxes.
Yard waste includes things like leaves, twigs, and grass clippings, and can go in the brown bin with food waste.
Things that shouldn't go in the brown bin include diapers, personal hygiene products, pet waste, plastic products, non-paper packaging, and recyclables, among others.
If sanitation workers discover compostable waste in regular household trash during collection, they can report it to their supervisor and DSNY can issue a ticket of up to $100.
The separately collected organic waste will be diverted from landfills to dedicated composting facilities, where it will be broken down over time into nutrient-rich soil for use in city parks. Compost can also be sent to "anaerobic digesters," like at Newtown Creek in Brooklyn, that convert organic waste into renewable energy called biogas.
In Queens, more than 200 million pounds of organic waste has been diverted from landfills since the start of the borough's composting program, according to City Hall.
Order a free brown composting bin from the Department of Sanitation at www.nyc.gov/assets/dsny/site/contact/curbside-composting.
Additional reporting by Isabel Song Beer