Eleven New York City restaurants have made OpenTable's 50 Best Restaurants for Vegetarians in America list.
The winners include restaurants that offer guests a variety of cuisines, ranging from American to Indian to Mediterranean.
"With more and more diners craving veggie-centric cuisine, we're thrilled to provide a list that spotlights restaurants serving standout vegetarian fare across the country," Caroline Potter, chief dining officer at OpenTable, said in a release. "Whether you're an affirmed vegetarian or someone looking to explore a sustainable, meatless diet, you can count on finding delicious vegetable-forward dishes at any of these honorees."
The list was generated from more than 12 million verified OpenTable diner reviewers from Sept. 1, 2017, to Aug. 31. Restaurants with a minimum "overall" score and number of qualifying reviews were included for consideration. Those that qualified were scored and sorted by the percentage of reviews of which "vegan" and "vegetarian" were selected as a special feature.
New York had the most restaurants on the list, followed by California with nine and Washington, D.C. with seven.
The list includes:
This contemporary American restaurant offers fresh organic and local ingredients in its food. Their menu consists of whole wheat pizzas and house-made pastas amid a wide variety of entrees.
"Both my sister and I eat plant-based diets and ABC Kitchen has many tasty appetizers and side dishes to accommodate our palettes. Every time we go to the city we eat there. Next time we will try their adjacent vegetarian restaurant," said an OpenTable reviewer.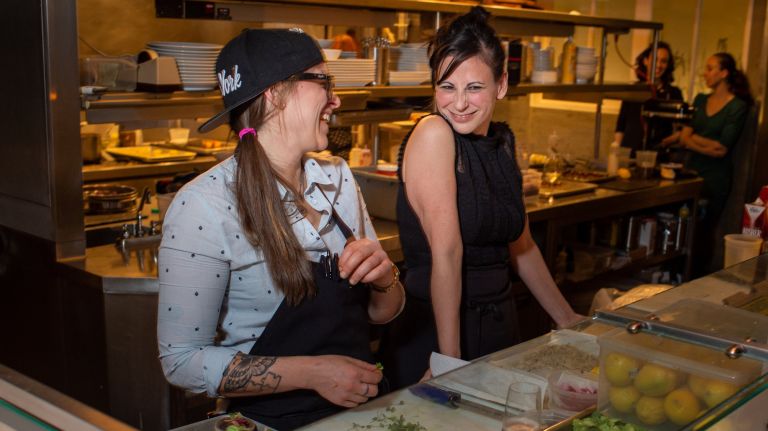 Location: 35 E. 18th St., Manhattan
With different locations around New York City, this vegan restaurant was created to bring animal-caring, health-conscious cuisine to food lovers. All ingredients are from local farms and completely animal free, offering a vegan diet with a wide variety of items such as hickory barbecue tempeh and pistachio and pepper dusted tofu.
"Delicious and creative dishes (even if you aren't a vegetarian and/or vegan, you won't miss the meat or diary!) Our server was very knowledgeable and made great recommendations. We started with the crispy artichokes and gnocchi, I had the rigatoni, my husband had the curry sweet potato (a lot of flavors in this one) and our cousin had the seitan scallopini. We closed with the chocolate ganache. Everything was great! We will definitely be back!," reads an OpenTable review.
Locations: 187 9th Ave., Manhattan, and 507 Columbus Ave., Manhattan
The elegant vegan cuisine here has been favorited by celebrities like Paul McCartney, Woody Harrelson and Alicia Silverstone. The restaurant offers brunch on the weekends and an extensive gluten-free menu.
"Candle 79 showed me the light!" said former New York Times restaurant critic Frank Bruni.
Location: 154 E. 79th St., Manhattan
Delice & Sarrasin takes a different approach to vegan food, with a French twist. Crepes and galettes fill up the menu, along with other vegan and organic items.
"In one word: amazing!" read an OpenTable review. "I have been a vegan for two years, and even I was skeptical of vegan French cuisine. But D&S is just exquisite. The menu had so many options, and is so creative. The Brie cheese appetizer is divine — I never thought I'd be able to enjoy my "Brie" again."
Location: 20 Christopher St., Manhattan
Dirt Candy, known for its award-winning chef, Amanda Cohen, offers a different take on vegan food. Guests have the option to choose for dinner items such as the Vegetable Patch, which features five courses, or a trip to the Vegetable Garden, where nine courses will be served.
"We thoroughly enjoyed our experience! We went with the 5-course meal and had plenty of food. If we would have had more time/room, I would have also enjoyed the bigger meal. It was so delicious and creative."
Location: 86 Allen St., Manhattan
Divya's Kitchen offers guests a different take on vegan dining, with influences from Italian, Indian, Mediterranean and Asian dishes. Their main entrees include carrot risotto, lasagna, seasonal khichari (grains and lentils stew), vegetable curry in cashew sauce and more.
"It was simply brilliant. Lovely atmosphere, nice staff, and the food was excellent. So simple, but the flavors really stood out. One of my best meals for a long time!"
Location: 25 1st Ave., Manhattan
This casual dining spot offers guests a plant-based pizza that is prepared in a wood-burning oven. Variations include basil sunflower pesto, creamy artichoke, truffle cashew cream and more.
"Went to New York on a small trip with my family and went here for the vegan pizza. If you like a good meal without animal products, this is an amazing restaurant to go to. The personal-sized pizza is without a doubt one of the best meals I have ever tasted. The service here was also very good; everyone was very nice and helped with any questions we had about the food," one OpenTable reviewer wrote.
Location: 65 2nd Ave., Manhattan
Little Beet Table offers guests a vegetable menu and whole foods. Everything on the menu is gluten-free, and offers items such as mint and pea cavatelli, arctic char, beet and chickpea burger and more.
"With delicious seasonal organic food, The Little Beet Table is a great spot for any paleo or vegetarian-friendly and health conscious dinners to eat without guilt. It is a little overpriced for the portion-sizes, but definitely worth a visit."
Location: 333 Park Ave. S., Manhattan
This vegetarian dining option features an array of dishes from Michelin-starred chef John Fraser. Roasted chayote, bamboo rice stir-fry, tandoor roasted beets, roasted sunchoke and cauliflower tempura are only a few items on the menu.
"Winner and still champion. If there's a finer vegetarian restaurant in Manhattan, I don't know what it is. Even without the vegetarian qualifier, Nix is in the top tier. The menu is inventive. The food is impeccably prepared. The wait staff is cordial and helpful. The vibe is buoyant. All-around, it's a great place."
Location: 72 University Pl., Manhattan
The former Blossom on Carmine is now Urban Vegan Kitchen, offering guests a wide variety of vegan and vegetarian food. Menu items include rainbow rolls, which feature shredded purple cabbage, bell peppers, watermelon radish, rainbow carrots, thai basil and peanut sauce; and an urban macro bowl, which features garlic mustard marinated tempeh, sauteed kale, herbed quinoa, arugula, roasted carrots, and creamy cashew beet dressing.
"One word — AMAZING! Went with two other friends for brunch on Saturday. Everything we ordered was good! Chickpea hush puppies, fried okra, mac and cheese, shrimp po boy, chick-un and waffles, breakfast sandwich, brownie and cookie bar. Highly recommend for vegans and non-vegans alike. You will not be disappointed," one reviewer wrote.
Location: 41-43 Carmine St., Manhattan.
XYST NYC is a Mediterranean vegetarian dining option that features food and cocktails by the Matthew Kenney Cuisine Team.
"We are always looking for high-quality, creative, healthy, vegetarian/vegan options. XYST caught our eye and we were super satisfied. The food was thoughtfully prepared and presented and tasted as good as it looked."
Location: 44 W. 17th St., Manhattan