Cornell University administrators dispatched campus police to a Jewish center after threatening statements appeared on a discussion board Sunday.
Cornell President Martha E. Pollack issued a statement explaining there were a series of "horrendous, antisemitic messages" threatening violence against the university's Jewish community, specifically naming the address of the Center for Jewish Living.
"Threats of violence are absolutely intolerable, and we will work to ensure that the person or people who posted them are punished to the full extent of the law," Pollack said. "Our immediate focus is on keeping the community safe; we will continue to prioritize that."
The Cornell University Police Department is investigating and has notified the FBI of a potential hate crime, she said.
Pollack said the website was not affiliated with the school in Ithaca, New York, about 227 miles northwest of New York City. It's the latest in a string of antisemitic incidents involving universities in the Empire State since the Oct. 7 terrorist attacks by Hamas upon Israel. 
"The virulence and destructiveness of antisemitism is real and deeply impacting our Jewish students, faculty and staff, as well as the entire Cornell community," Pollack said, noting antisemitism will not be tolerated at Cornell.
The content of the online threats appeared to be instigated by the ongoing Israel-Hamas war and sent chills through Cornell's Jewish community during the third week of the conflict in the Gaza Strip.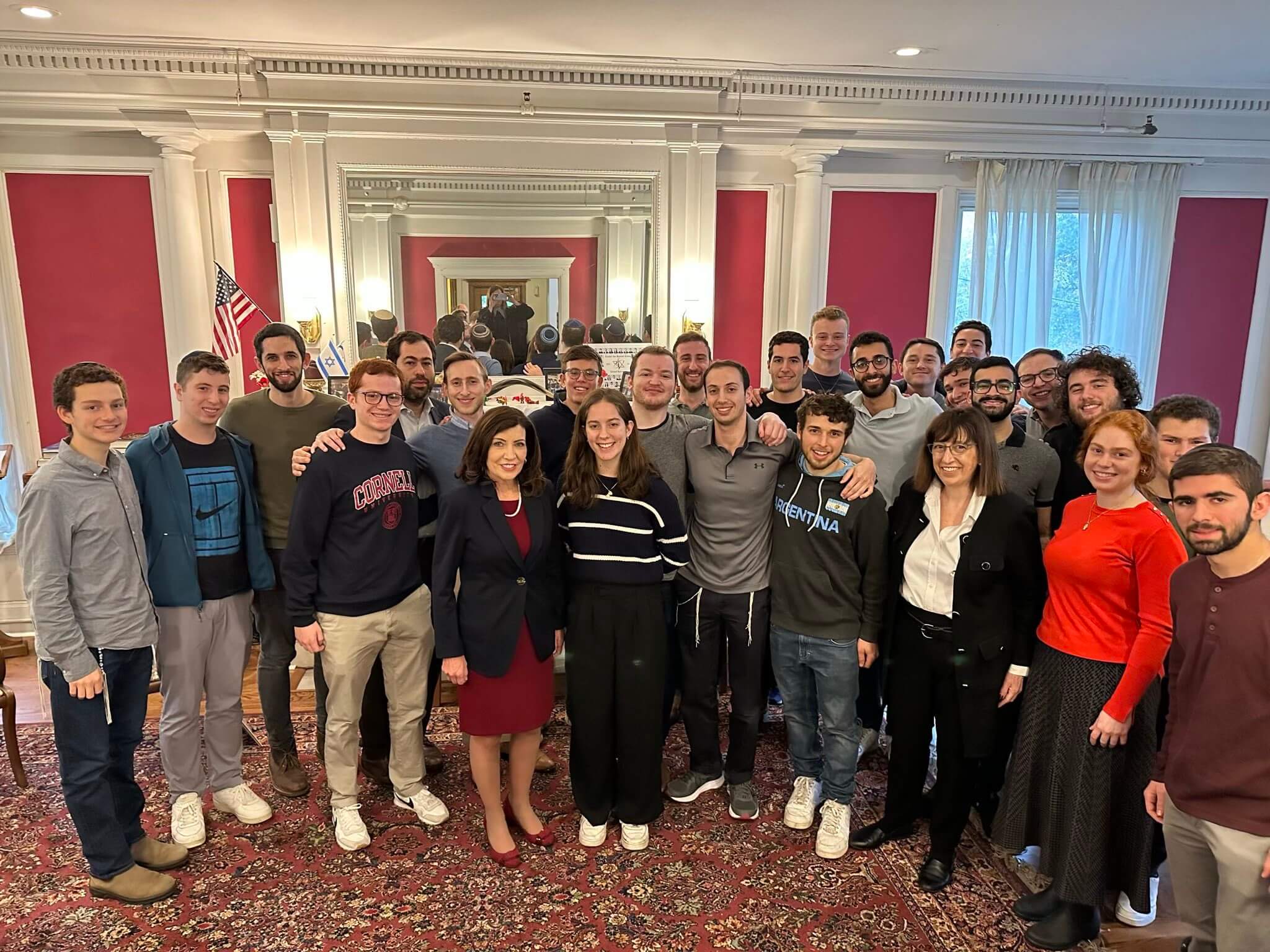 The menacing posts drew a swift rebuke from state officials.
Gov. Kathy Hochul posted a message on X, formerly Twitter, calling the "disgusting & hateful posts" the latest in a series of concerning events on college campuses. The New York State Police is taking steps to ensure student safety, although she said it was not immediately clear if the threats were credible.
Hochul said she spoke with university leaders across the state to assure them law enforcement and the state government will continue to support efforts to keep students and campus communities safe. 
"No one should be afraid to walk from their dorm or their dining hall to a classroom. That is a basic right that every New Yorker has outside of campus, but particularly on a campus because these are young people who are in an environment that is intended to protect them as well, and their parents need to know this," Hochul said following a Monday morning roundtable with university leaders at Cornell. She added that state police are working to identify "who made the threats, and [hold] them accountable because you want to let people know if you're going to engage in these harmful actions, hate crimes, breaking our laws, you will be caught and you will be prosecuted to the fullest extent of the law."
"This community will start to heal. It's been horribly painful," the governor added. "They will come together because the terrorists, the people who are threatening them will get no refuge here. They will find that this community is made stronger and defiant and will resist any sense that they'll change their way of life because they've been threatened by people with such hate in their hearts."
State Attorney General Letitia James called the threats targeting the Jewish community "absolutely horrific."
"There is no space for antisemitism or violence of any kind. Campuses must remain safe spaces for our students," she wrote in a post on X.
With reporting by Robert Pozarycki of amNewYork Metro