A formerly homeless man now spends his free time helping other unhoused individuals in the Lower East Side save their meager belongings from city agencies looking to put them on the trash pile.
Donald Johnson, who spent about six months living on the streets of the Bowery, has worked with homeless people impacted by the numerous sweeps of sidewalk encampments by a coalition of agencies including the NYPD, the Sanitation Department, and the Departments of Social Services and Homeless Services.
When the sweeps began in 2022 at Mayor Eric Adams' direction, the intent was to connect encampment residents to vital services to rebuild their lives, while getting the blighted camps off the streets. But according to Johnson, the sweeps serve as constant traumatic shadow that hangs over all who are experiencing street homelessness due to the threat of not only removal, but also having their belongings forcibly taken.
Those who have experienced these sweeps firsthand, Johnson noted, have become nomads within the city — altering even their own sleeping habits in order to ensure they're not caught in a sweep while slumbering.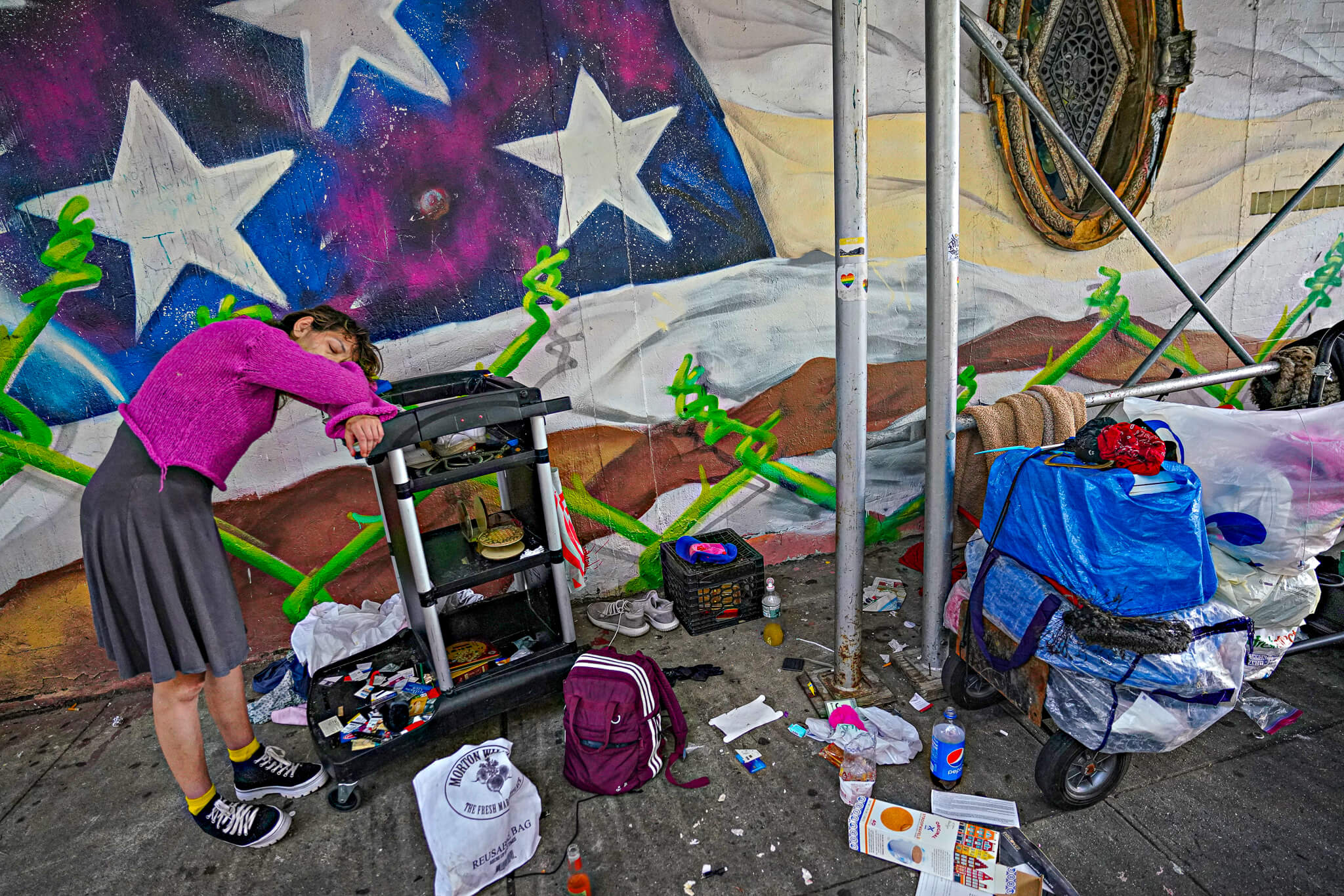 "They can't even sleep because if they go to sleep they will have to move, so they don't even go to sleep until like one o'clock in the afternoon," Johnson said.
Johnson told amNewYork Metro that he knows the emotional stress of living on the street and now looks to aid those still left to languish there, understanding that some handle the trauma better than others.
"I met a lot of these people, I see their problems and they just don't cope like I cope, so I try to help them out," Johnson said.
In an effort to prevent any loss of belongings, including essential items such as identification cards, Johnson says many of the homeless individuals living in the Lower East Side are forced to constantly relocate, arguing that the effort to "clean up" NYC is not working and only serving to spread the folks as they move from street corner to street corner.
But it is not an easy or straightforward process. The formerly homeless man stated that moving personal possessions can take several hours to merely transport them several blocks away.
"It can take two or three hours. They have a lot of things, they actually have homes in the street," Johnson said. We go like six or seven blocks. It is just like moving down the road."
In June 2023, Comptroller Brad Lander released the findings of an audit that showed more 2,300 homeless New Yorkers were forcibly removed from the streets yet only three people received permanent housing as a result. Following the damning report, the city's fiscal watchdog implored the Adams administration to call off the sweeps, dubbing them ineffective.
"[Some] 99.9% of them remain homeless. That is what we call, in the business, a policy failure," Lander said last June.
As the months have worn on, individuals such as Johnson say that those living on the streets not only still suffer without permanent housing, they are worse off than they were before the sweeps began.
"Well, they got hard times. This is not even a criminal thing, they just don't want to be cooped up," Johnson said.
amNewYork Metro reached out to DSS-DHS for comment and is waiting for their response.