BY TERESE LOEB KREUZER  |  Three City Council members and one former community board chair want to be the next Manhattan borough president. At a forum convened by the Lower Manhattan Marketing Association on June 27, they told the audience why they are running for this office, summarizing their credentials and indicating what they would like to do as borough president if elected.
Councilmember Gale Brewer said that she has been working 40 years — as a teacher at Barnard and CUNY colleges,  in the private sector and in government. She has been on the City Council since 2002. She said that these experiences have taught her how to create new jobs and foster development that works for the community.  She also said that she had "learned how to strengthen community boards" and make them "incredibly important to the neighborhood."
Julie Menin cited her seven years as chairperson of Community Board 1, her background as a small business owner and the founder of a major not-for-profit in Lower Manhattan and her experience as a regulatory attorney as the calling cards for her borough president aspirations.
"I have taken on the tough battles and won," she said, "whether it was winning a $200 million victory against Con Edison for this community or whether it was getting the 9/11 terror trials moved out of the neighborhood, which no one thought was possible."
She said that her vision for the Borough President's office is "to do a comprehensive, borough-wide master plan, which cities all across the United States have. We are one of the few major American cities that does not have a master plan" that would provide a blueprint for building more affordable housing, school seats and open space.
Councilmember Jessica Lappin introduced herself as a lifelong New Yorker and a lifelong Democrat, raised by a single mom. She mentioned that she had graduated from Stuyvesant High School and is raising two boys in the city.
"I understand many of the concerns and challenges that middle class families are facing," she said. "I'm running for borough president because we need a fighter for middle class and working people in this city — somebody who understands that we need to be focusing on housing, on public education, on creating jobs — and I intend to use the borough president's office, if I'm fortunate enough to be elected, to tackle those issues."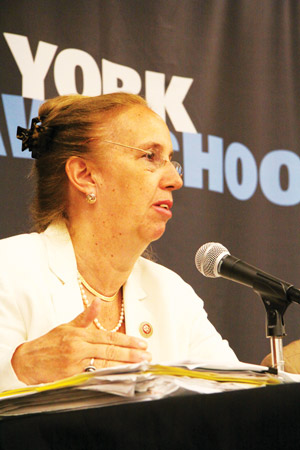 Councilmember Robert Jackson said that he had been born and raised in Manhattan. "I've been an advocate for our children and a fighter for our community. I want to continue to be an energetic leader on behalf of Manhattanites and all New Yorkers," he said.
The candidates agreed that the borough president's office was important because of its ability to affect land use and its role in appointing community board members and members of other influential boards.
"There is a lot of power in this office in particular to help people," said Lappin. "You have, through the land use process, a real, meaningful effect on what gets built in this city and where."
She said the borough president could "demand and create more affordable housing and public school seats and daycare centers and senior centers and really make sure that we are growing and evolving in the right way. You also have the power to appoint community boards where a lot of the local interaction with government happens in this city."
Lappin, Brewer and Jackson mentioned legislation that they had sponsored or worked on in City Council, indicating what issues and positions might be important to them if they were elected Manhattan borough president.
"I wrote a landmark law to regulate the state health clinics that are set up by anti-abortion extremists to deceive women into thinking that they're getting medical care when they're not," said Lappin. "I chaired the aging committee in City Council and when the mayor wanted to close 100 senior centers and cut funding for programs like Meals on Wheels, I led the charge to keep those centers and those programs alive." She said she was running "to continue to fight for tenants, for working families, to add classroom space, to protect our seniors."
Jackson talked about his lawsuit against New York State, filed because "we felt that they were not providing our children with the opportunity for a sound, basic education. After 13 years of litigation, we won $16 billion for the children of New York City."
Brewer said that she had authored the groundbreaking New York City paid sick leave law, overriding the mayor's veto.
"Starting in April 2014, one million workers who don't have a day off if they're ill or if their child is ill, will get paid sick days," she said.  She said she had always been focused on schools and quality of life issues such as graffiti and getting rid of bedbugs. "I swear to God, I'm the one who did it," she said. "I put in 28 agencies to meet on a regular basis and now we can go to the movies again." The audience laughed.
She also mentioned starting a composting program in the schools in her neighborhood that is now going citywide.
When it came time for questions from the audience, Barry Skolnick, a former Community Board 1 member, asked about the development projects that have been approved by City Council over the years.
"I don't know that the City Council has ever rejected even one of them," he said. "I wonder if you could comment on if that concerns you and what you could try to do to improve the Council's backbone in dealing with some of these development projects?"
Brewer replied that she hadn't voted for the recent South Street Seaport Pier 17 redevelopment and zoning change. "I was the only Council Member not to," she said.
Josh Rogers, editor of Downtown Express, moderated the forum. The Democratic primary election in which the four candidates will appear on the ballot takes place on Sept. 10.