Coterie, a new luxury assisted living community, recently opened in Hudson Yards — giving older New Yorkers the care they need in the big city, while ensuring a high-end lifestyle.
"We really are allowing New Yorkers and urban dwellers to continue to live to their degree of expectations, even though they're starting to require assistance," said ​​Coterie's General Manager and Senior Vice President Joanna Mansfield. "So, the sort of catchphrase that I use is: just because people need assistance doesn't mean they stop living."
Coterie Hudson Yards, located at 505 W. 35th St., opened earlier this year as a joint venture of Atria Senior Living and Related Companies, and provides residents with stunning living quarters, world-class amenities, five-star dining options, and a team of highly-trained professionals to care for their every need. 
Rather than forcing older city dwellers to leave the Big Apple, as they've typically needed to in order find such a high-quality community, Coterie Hudson Yards is located right in the heart of the bustling Manhattan neighborhood — where residents can continue experiencing all the benefits of New York City.
"We really do pride ourselves on keeping our residents integrated into the Manhattan community and being able to partake in activities: cultural events, concerts, access to restaurants, shopping — which is why people make the decision to continue to live here," said Mansfield. "It's about access. We want to ensure our residents maintain that access."
Featuring studios, along with one- and two-bedrooms, the community was designed by the firm MAWD, with a meticulous attention to detail and a focus on making the living spaces as functional as possible. 
The communal spaces in the building, too, were designed in an effort to promote community and social interaction between residents — with a bar, indoor and outdoor dining spaces, lounges and more. 
"In addition to that, because we're a cultural center of the world, you know, really drawing upon our access to Broadway, and bringing those folks on site," said Mansfield. "And we have live music here multiple times a week for a variety of different tastes. And so, I think that there's just a little something for everybody."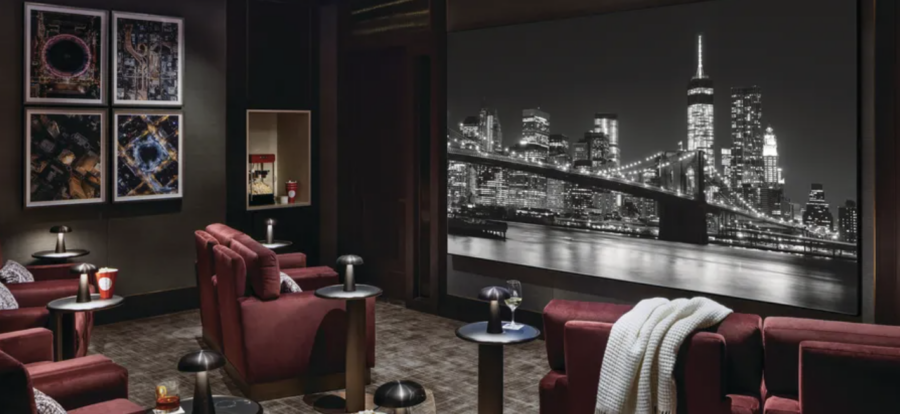 The staff are carefully selected and paid well, Mansfield said, so they do not need to work multiple jobs, as is typical in the industry. Therefore, she said, they are able to dedicate their full attention to caring for Coterie residents.
"Our employee benefits are pretty spectacular, in the sense that we've almost empowered a majority of our staff to not have to work two jobs, which is a common theme in assisted living," she said. "For all 105 of my employees, we take great care of them so that they take great care of our residents."
Their level of hospitality is unrivaled, Mansfield said, and their services are top-notch among any comparable assisted living community — particularly the food. 
"We really tried to redefine our culinary offerings, so our food and beverage program is pretty remarkable. We moved away from your staple meals, and having to follow cycle menus and really wanted to emphasize local partnerships," she said. "So, artisanal, local, fresh ingredients."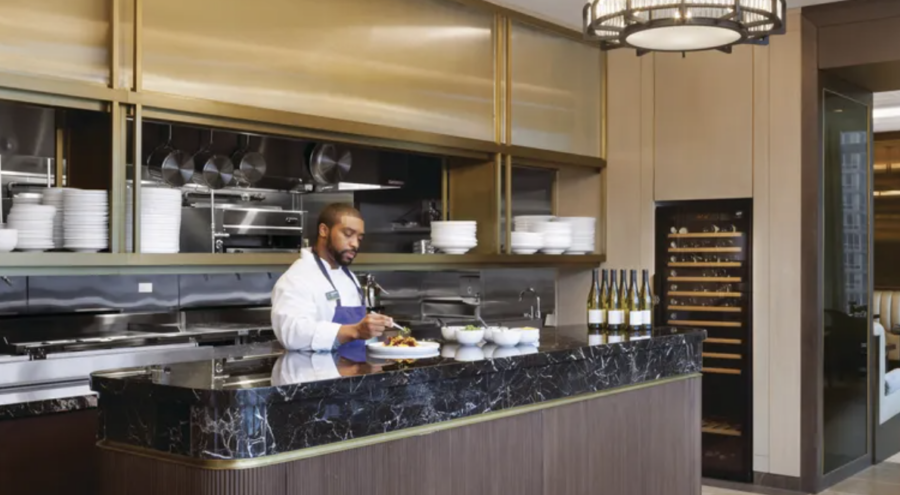 For residents with special healthcare needs, the building features a physician suite and physical therapy rooms, along with a Memory Care offering with around-the-clock care. 
And for residents who need to get around, or require help making reservations, transportation and concierge service is readily available for all residents of ​​Coterie.  
The community opened in January and the 126-unit building is currently about 40% occupied. New residents continue to move into the luxurious development, where apartments start at around $11,000 per month. 
"We do everything that we possibly can here to make sure that all of my residents' needs are met, and that they still feel valued," said Mansfield. "A lot of my residents have been here since the '60s and '70s and '80s, and have gone through some really grueling times. They deserve, in my opinion, to have the best quality of life in their golden years."