BY LINCOLN ANDERSON   |  It all happened in one horrific, violent flash.
Roberta Bayley, the famous punk rock photographer, was taking her little pug, Sidney, for her morning walk over to the Washington Square Park dog run last Saturday.
As they stepped out of Bayley's building on St. Mark's Place between Third and Second Aves. around 8 a.m., she noticed a young man sleeping on a couch out in front with an extremely large pit bull next to him. Bayley thinks the dog was on a loose leash, but she's not sure.
"Crusty punks" — also known as "travelers," if they migrate about the country — regularly hang out at the spot, since it's right next to a $1 pizza joint.
Bayley thought about snapping a picture with her cell phone, but then quickly dropped the idea.
"It was kind of cute," she said. "I started to reach for my phone. I know I'm a professional photographer, but I can hardly use my iPhone."
Within that split second, the pit bull — an unneutered brown giant — lunged off the couch. It went straight for Sidney's throat and, with its iron jaws, clamped down mercilessly.
As Bayley screamed her head off for help, five or six men jumped in and, along with Bayley, tried to free Sidney from the monster's grip.
"People were bashing the dog on his head with a stick," she said. "Someone screamed to me, 'Grab the balls!' and I squeezed that dog's balls as hard as I could. He didn't let go. I tried to pick up his legs, which I was told you're supposed to do.
"I was just screaming and screaming. Godlis heard me screaming — he couldn't see what was going on," she said, referring to her neighbor, another of the East Village's iconic punk rock photographers.
"I was hysterical," she said. "Every piece of my strength was trying to help her."
Sidney only weighed 20 pounds, the pit bull about 100.
"If all those guys hadn't been there," she said, "that dog would have been ripped to shreds."
After they had finally pulled the ferocious pit off of Sidney, the pug was left with a huge flap of skin hanging gruesomely from her ravaged neck. A man volunteered to drive Bayley and the wounded pooch up to the vet, Blue Pearl, at W. 15th St. and Fifth Ave.; but he couldn't go crosstown due to the Summer Streets program, which had closed Fourth and Lafayette Aves. to traffic, so cyclists and pedestrians could enjoy car-free streets.
"The guy was screaming, 'It's an emergency! The dog's dying!' " she said.
Bayley had to carry Sidney from Third to Fifth Ave. to the vet, where they told her she had to take the dog up to their branch at W. 55th St. for surgery.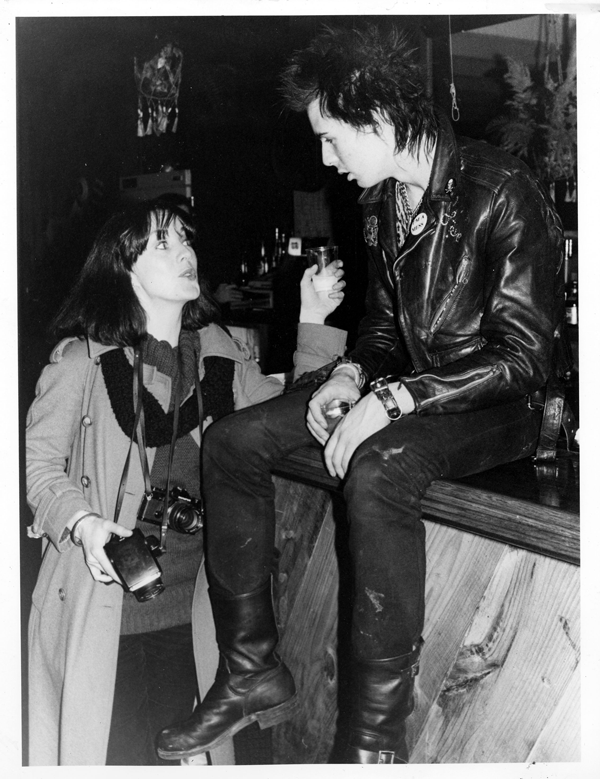 She spoke to The Villager on the phone on Tuesday. Sidney, who was 14, lasted the night after the attack, but unfortunately did not pull through. The vets said they were just going to cut off the mangled hunk of hanging skin and then stitch her back up. Bayley noted that pugs have loose skin, so Sidney likely could have survived that. The dog was intubated and put in an oxygen tent, but still had problems getting enough air. Bayley said pugs normally have trouble breathing, and that the attack and surgery apparently caused the dog's soft-tissue airways to swell up. The vet told her they were going to perform an emergency tracheotomy, but before it could be done, Sidney's heart gave out and she died.
Bayley was on her way in a cab to check on Sidney on Sunday afternoon when she found out the sad news.
The bill came to $6,000, but she said she would have gladly paid $20,000 if it could have saved her beloved canine companion.
She said that, even before the attack, she had been preparing for Sidney to go at some point, though pugs can live up to age 20.
"I had her since she was eight weeks old. Yeah, that's my whole life," she said, her voice cracking with emotion as she spoke. "That's the most important thing for me, and I don't know what I'm going to do. I was just really bonded with my dog. It's just really, really hard for me. I only wish I got to see her one more time. I saw her when she was dead."
Bayley filed a report at the Ninth Precinct where a woman logged it in as a "dog bite."
Last year, as reported by The Villager, to raise funds for the Washington Square Park dog run, Bayley allowed her classic Ramones photo from their 1976 debut album to be used as the cover image for a calendar for the dog run. However, for the calendar cover, the Ramones' heads were replaced with the heads of four pugs from the run.
Bayley stressed that she isn't out to bash crusties, travelers or the homeless.
She said that after Saturday morning's attack, the crusty travelers vanished from in front of her building. On Monday, she scoured the East Village looking for the man and his dog, and couldn't find any crusties anywhere. She figured that maybe after the attack on Sidney, plus a recent negative New York Post article about travelers camping and crapping behind Cooper Union on Taras Shevchenko Place ("It's Pooper Union: Vagrant camp at E. Village college"), they had all fled town.
But on Tuesday she finally found them back in front of her building — without any dogs this time, though with a different couch.
She said they told her that the man whose pit bull savaged Sidney isn't a traveler. Bayley said she could believe that since the man had pale skin — not tan and weathered like a true traveler — didn't have piercings, and his clothes, while black, didn't have the distinctive stitching of the travelers. (After the attack, she did research about crusty travelers on East Village photographer Steven Hirsch's Crustypunks blog and learned about these characteristics.)
They told her the man's name was something like "Naytoss," which, they said, is actually "his name backwards."
When she asked them to repeat his name, "they got paranoid."
"They said they already took his dog away," Bayley said, though it wasn't clear if other crusties now have the animal, or if the police took it away.
Bayley said she just feels Naytoss is an idiot, first of all, because he should have had the dog securely tied to him when he fell asleep on the couch.
"He probably wasn't a crusty kid," she said. "He was probably just a f—-d-up kid, wearing black. He was probably drunk and just saw a nice couch and went to sleep, but he should have tied the dog to him.
"I don't want to prosecute the guy," she said, "I want to kill the guy."
She said she is friendly with some of the crusties who camp out in front of her place and sometimes gives a couple of them $5. Some of them were sympathetic to her when she spoke to them Tuesday, but she said one woman was "nasty and snotty," feeling Bayley should have gotten over it by now.
Bayley said, so far, she hasn't shared the tragic story on social media. In fact, The Villager only found out about it by chance, because the paper's photographer Tequila Minsky happened to be doing a shoot of Godlis last weekend when he received a call about it from Bayley. She did send out a group e-mail to friends, including Debbie Harry and Chris Stein of Blondie fame.
"Debbie e-mailed me back and said she knows people who had the same thing happen," she said. "Debbie has Chins, little Chinese dogs."
Bayley reiterated that she doesn't want to demonize the crusty travelers — that the Post is already doing that more than enough — but that they have to take responsibility for their dogs, cats and rats, etc.
More to the point, she said, she now simply feels pit bulls are too dangerous to have as pets.
"There are good pit bulls," she said. "But I think they're too unpredictable. A lot of them are rescues, and you don't know what they went through. Some of them were bred to fight. If their ears are cropped, they were fighting dogs. You can never breed out of them what was bred into them. Everybody tries to make excuses for pit bulls. And there are good pit bulls. But if they're not trained properly, they're vicious — and that's what this dog was, I'm sorry. With pit bulls, I now feel, unless you know the owner and the dog, it's best to get out of the way."
At first, Bayley thought of just putting a brief mention of Sidney's death in The Villager, but then decided an article would help get the message out.
"I'm conflicted by the whole subject," she said, "but if an article could prevent just one dog's death, that would be enough for me."