A red ripple may be coming to the City Council this fall.
As Republicans have secured a stronger foothold in New York City and state politics over the past couple of years, they could gain as many as two City Council seats next year following the Nov. 7 general election. While an additional one to two seats, which would expand the six-person GOP conference to either seven or eight, won't be enough to push a major Republican agenda in the 51-member body, party insiders say gaining more ground could attract moderate Democrats to push some of their policy goals across the finish line.
Council Minority Leader Joe Borelli, who represents part of Staten Island, predicts his party's influence on the council will expand this fall.
"I anticipate growing in November, whether that be through picking up a seat or two, or attracting some moderate Democrats over to our side," he said in a statement to amNewYork Metro.
Borelli said moderate Democrats could band together with Republicans on issues including public safety, property tax reform, more stringent rules around e-bike usage and the city's handling of over 110,100 recently arrived migrants.
Growing the Common-Sense Caucus
According to Peter Giunta, a Republican strategist, the GOP most stands to benefit in the general election by growing the council's bipartisan "Common-Sense Caucus," which is made up of all six Republicans and two conservative Democrats: Robert Holden of Queens and Kalman Yeger of Brooklyn. The caucus was established in 2021 by Holden and Borelli, who serve as its co-chairs, to provide a counterbalance to the council's Progressive Caucus and place a greater focus on quality-of-life issues.
"Those governing coalitions can help really push, maybe not an ideological agenda that is leaning Republican or Democrat blatantly, but something that is more of a populist or everybody's agenda, so to speak," Giunta, who is also chief of staff to Assembly Member Mike Reilly (R-Staten Island), said in an interview.
The caucus often votes as a block in opposition to progressive legislation, like a package of bills to broaden access to city housing vouchers overwhelmingly passed by council Democrats in May. The group also penned a letter last month in support of Mayor Eric Adams' bid to suspend New York's right-to-shelter mandate, which legally requires the city to provide shelter to anyone seeking it, amid the ongoing migrant influx. 
Additionally, the caucus came out in opposition to a federal takeover of the troubled Rikers Island jails after visiting the facilities in early August.
Lucretia Regina-Potter, a GOP strategist who serves as chief of staff to Brooklyn Assembly Member Alec Brook-Krasny, agreed that if Republicans increase their numbers on the council, Democrats in purple districts may be, "compelled to listen to what they have to say, communicate, and maybe reach some sort of compromise going forward." 
Brook-Krasny, along with Republicans Michael Novakhov and Lester Chang, flipped three Assembly seats in southern Brooklyn last November.
 A swayable Dem?
One possible example of the politically moderate Democrats that Republicans think could be swayed with more GOP members in City Hall is Queens Council Member Linda Lee. Her district is made up of 60% registered Democrats, but 40% voted for 2021 GOP mayoral candidate Curtis Sliwa, a stronger showing than in many other Democratic districts. In fact, Lee says she has even been approached by Common-Sense members about joining the caucus.
But the lawmaker doubted the addition of a couple more GOP members would change her day-to-day because she already works with colleagues across the political spectrum. 
"I've tried to build relationships with all council members, whether they're on the far left or the far right," Lee told amNewYork Metro. "For me, it's really based on what makes sense for my district, for my constituents. And I'm not shy about partnering with folks if it makes sense."
Lee pointed to a couple of town hall events she held earlier this year in partnership with far-right Council Member Vickie Paladino — who represents a neighboring district — on Local Law 97, which caps carbon emissions for residential and commercial buildings. However, Lee said she hasn't joined the Common-Sense Caucus because she is already part of two other caucuses and nine committees. 
"For me, it doesn't mean that because I'm not part of certain caucuses that I wouldn't work with folks, but that it's really just capacity and time," she said.
Lee is facing a challenge from Republican Bernard Chow this fall.
Where the GOP could pick up seats
There are four competitive races this November, where the GOP has a chance to pick two seats, but also must defend another two. Republicans could potentially notch wins in District 13, which covers the east Bronx and is currently represented by Democrat Marjorie Velázquez, and District 43, an open seat in southern Brooklyn configured as an Asian-majority district. 
In the Bronx race, Republican candidate Kristy Marmorato is vying to take down Velázquez, in a district the current council member won by roughly 10% in 2021. In contrast, Sliwa beat Adams by one percentage point in the 2021 mayoral election, though the district is still 61% Democratic. Giunta expressed confidence about the GOP's chance of unseating Velázquez.
In the Brooklyn contest, however, both Giunta and Regina-Potter noted Ying Tan, the Republican running for the seat, will have a tough time overcoming Democrat Susan Zhuang as another Republican — Vito Labella — is also vying for the seat on the Conservative Party line. The two strategists expressed concern that Labella, who lost in the GOP primary to Tan by just 33 votes, could split the vote and hand the race to Zhuang. 
Yet Zuang did say in June, and confirmed through a spokesperson, she will join the Common-Sense Caucus if she wins — strengthening Republicans either way. The district is made up of 52% registered Democrats, compared to 14% Republicans, but it went for Sliwa in 2021 by 60%, in contrast to the 35% who voted for Adams.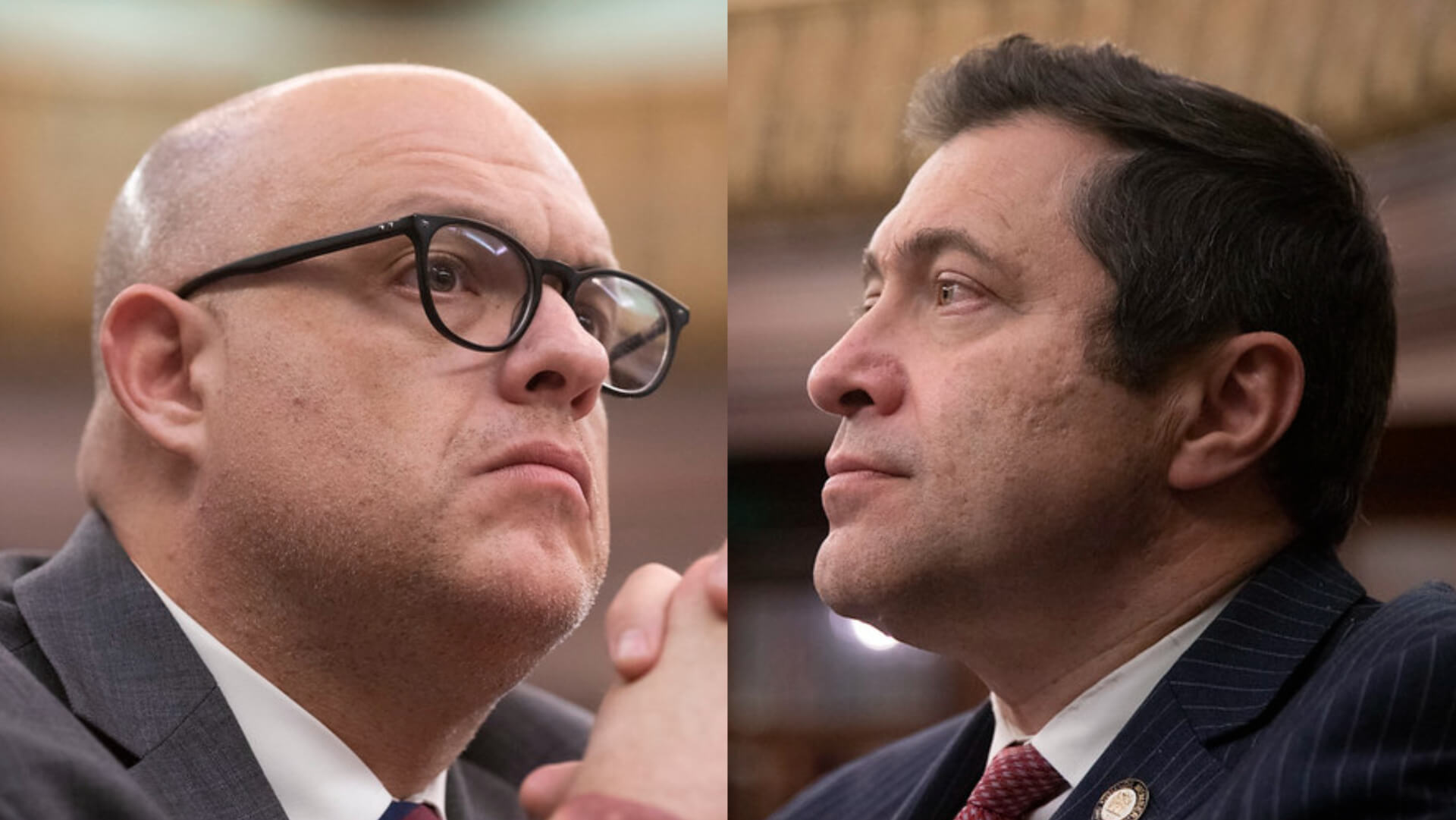 When it comes to seats the GOP must defend, Council Members Ari Kagan and Paladino, of Brooklyn and Queens respectively, both must overcome Democratic challengers. 
Kagan, who represents the 47th Council District covering areas like Coney Island and Bay Ridge, must defeat incumbent Democrat Justin Brannan — who chairs the council's powerful Finance Committee. Kagan defected from the Democratic to Republican Party and launched a challenge against Brannan last December, after their districts were combined in reapportionment. 
Both Giunta and Regina-Potter said they're optimistic about Kagan's chances. Kagan reportedly outraised Brannan by $10,000 during the latest campaign finance reporting period.
Paladino, who represents the 19th District covering Queens neighborhoods like Whitestone and Bayside, must stave off a challenge from Tony Avella, a former council member and state Senator whom she defeated in 2021. The district is 50% Democratic, compared to 20% Republican, and Paladino beat Avella by 400 votes two years ago.
Republicans could also end up without any new seats, or lose one seat and pick up another, which wouldn't be a net gain in either case.
A 'functional working relationship'
Even if Republicans gain a couple more seats, Democrats in council leadership don't think it would shift the dynamics of the chamber much, if at all. One council source practically scoffed at the idea. 
"The inflated sense of increased importance with a possible addition of one more Republican is just a projection of their own inferiority complex that has no bearing on how the council will carry on as a body," the source, who spoke on the condition of anonymity, said.
Keith Powers (D-Manhattan) — the council's Democratic Majority Leader — said even with GOP gains, his party will still have a significant "numerical advantage" in the body. Democrats will still have a supermajority, giving them the ability to override mayoral vetoes.
But he noted that what separates the council from other levels of government, like Congress and the state legislature, is that Democrats and Republicans often work together. 
"We have a functional and working relationship with the Republicans in the council," Powers said. "We pass their bills. They chair committees. We work together with them on bills. They often vote for the budget."
Every council Republican, with the notable exception of Kagan, voted for the Fiscal Year 2024 city budget in June.
One place another Republican or two could have an impact, Powers said, is in the next race for council speaker — a position currently held by Queens Democrat Adrienne Adams — because a "more formidable bloc of Republicans could help shape the race." However, the speaker candidate Republicans backed in 2021, Francisco Moya (D-Queens), was unsuccessful. 
They could also hold more sway on committees, "which always means you could have some changes of voting."
But Powers reiterated, "in any situation where you have an increase, I don't think it's gonna radically shift the dynamic of the City Council."