As Black History Month draws to a close, the City Council would like to remind us why we continue to observe it: to draw inspiration and learn lessons from those who struggled before us, and to continue fighting for a better future.
Last night, the City Council hosted its annual Black History Month ceremony. The event took place at 6 p.m. last night at the City Council chambers. Council Speaker Corey Johnson (D-Chelsea, Hell's Kitchen) hosted the event, along with Council Members I. Daneek Miller (D-Queens) and Adrienne Adams (D-Queens). Among the others in attendance were Council Majority Leader Laurie Cumbo (D-Brooklyn), Brooklyn Borough President Eric Adams (D) and Council Member Carlina Rivera (D-East Village, Gramercy Park).
At the ceremony, the City Council honored three individuals and one nonprofit organization for their contributions to racial and economic justice. The individuals in question were Kyle Bragg, president of the labor union 32BJ SEIU; Robbie Garrison, co-chair of the Olde Towne of Flushing Burial Ground Conservancy; and Dawn Pinnock, Executive Deputy Commissioner of the Department of Citywide Administrative Services (DCAS).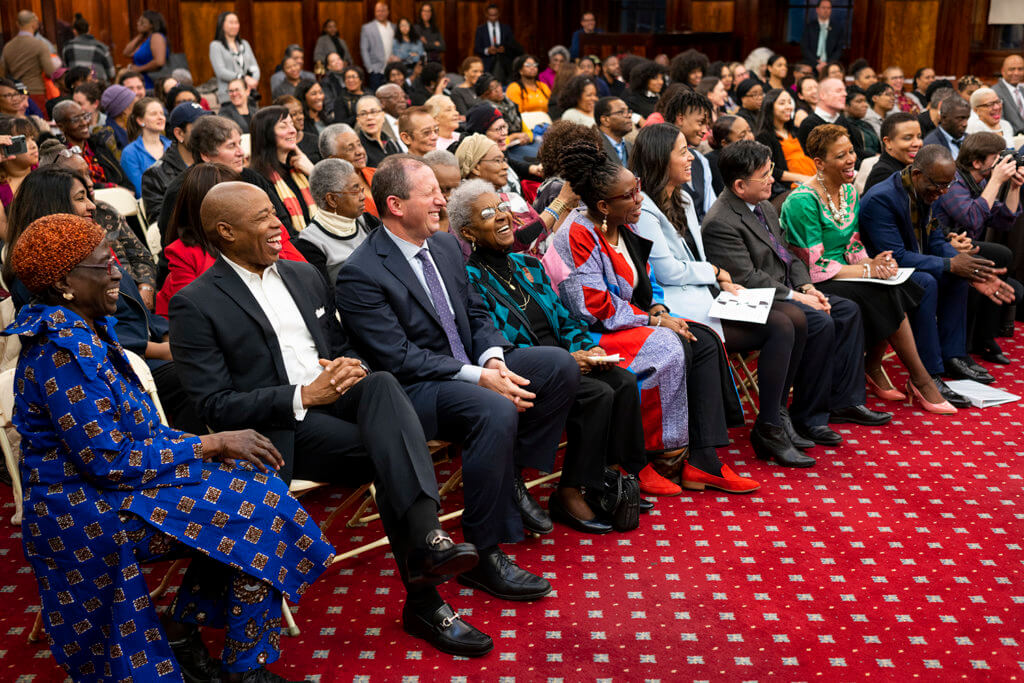 The organization in question was Butterflies By Blaq Inc., a company that provides free wigs to children with hair loss. Although it provides services to children of all ethnicities, company founder Erma Blackman said that she started the company to address the specific needs of African-American children.
"One time I was online and I read that someone wanted to donate her hair," said Blackman. "She was an African-American woman. And she called up one of the other organizations, and they told her, 'I'm sorry, miss. We don't have a program for your type of hair. Donate it to the oil spill.'"
Blackman wasn't the only speaker to recount a sobering anecdote of prejudice and bigotry. Eric Adams recalled a story about his mother, Dorothy, a house cleaner who spent years saving up money to buy a house for herself and her six children.
But when she went to her closing in South Jamaica, Queens, things took a turn for the worse.
"When she went to her closing, the attorney whose house she claimed was there, representing the bank," said Adams. "And he said, 'What are you doing here, Dorothy?' And she said, in a very humble voice, 'This is my house.' After the closing, she went and cleaned his house – and then he fired her. He said, 'Who do you think you are, that you're going to purchase a house?'"
What followed was a legal battle that Dorothy ultimately won; she still lives in that very house to this day.
After Adams said his part, Johnson explained what we can and should take away from stories like these. The stories of those who remained strong in the face of prejudice should inspire us to continue their fight long after they're gone. These stories, he said, are meant to inspire hope and determination – not bitterness and vengefulness.
"Too often we are gathered to commemorate tragedies, or to rebuke evil acts," said Johnson. "These days, we're confronted every single day by a sociopathic racist president, who we are glad does not live in New York City anymore. But as Martin Luther King said, let us not seek to satisfy our thirst for freedom by drinking from the cup of bitterness and hatred. And in the face of unapologetic bigotry, bitterness and hatred can sometimes feel like the only options in front of us. But we have an obligation to to what is right."
Abib Rashid, imam of Masjid Khalifah, echoed Johnson's sentiments during his invocation.
"These stories in our history book are an inspiration," said Rashid. "Let that inspiration touch us deeply, and cause us to inspire others. When we learn of injustice in our history, and transgressions against African-Americans, let us not become dark and hateful during the process of addressing these wrongs."