As the New York Giants wrap up their mandatory minicamp this week, a lot of questions still remain about the future of star running back Saquon Barkley and whether or not he'll be in uniform this season. 
However, that hasn't stopped new running backs coach Jeff Nixon from working to build a complete group of well-rounded players, even if Barkley doesn't wind up being one of them. 
"I followed his career," said Nixon of Barkley. "I always study all the great players. In the NFL and follow his career. I'm also a Penn Stater… He's a really good kid and had a really productive career. Exciting player…I mean, anytime you have an opportunity to coach a great player like that, yeah. You're naturally excited about it. So we'll see what happens."
Nixon, who was a member of the Carolina Panthers staff the previous three seasons, had the opportunity to work closely with another star runner in Christian McCaffrey, so he knows what elite running looks like. However, he also believes in the value of having depth in the running back room. 
"In the NFL these days, especially, you got to be three and four deep, strong at the position, and I feel we have that at this time."
That depth currently includes Matt Breida, Gary Brightwell, rookie Eric Gray, and former practice squad player Jashuan Corbin. While few of them are household names, Coach Nixon has been impressed with what each player has brought this spring. 
"Matt Breida is a great guy to have around; he has a veteran presence and really understands the offense," explained Nixon. "You know, he was with Coach Daboll in Buffalo, so he's kind of like in his third year in the offense. Great guy to have around to help some of our younger running backs."
While Breida only gained 220 yards on 54 carries working behind Barkley last year, he has averaged 4.8 yards per carry in his six-year NFL career and is known as a tremendous pass catcher out of the backfield as well. 
Nixon was similarly impressed with the work put in so far by the Giants' 2021 6th-round pick, Gary Brightwell. 
"He's continuing to develop throughout his career," said Nixon. "He got opportunities last year, I thought he performed well, you know, he started the last game against Philly. He performed well."
In that game, which was against Philadelphia's starters, Brightwell rushed for 60 yards on 11 carries and finished the season with 141 yards on 4.55 yards per carry while playing behind both Barkley and Breida.
"He's still an arrow-up player," explained Nixon. "I think he's getting a lot better."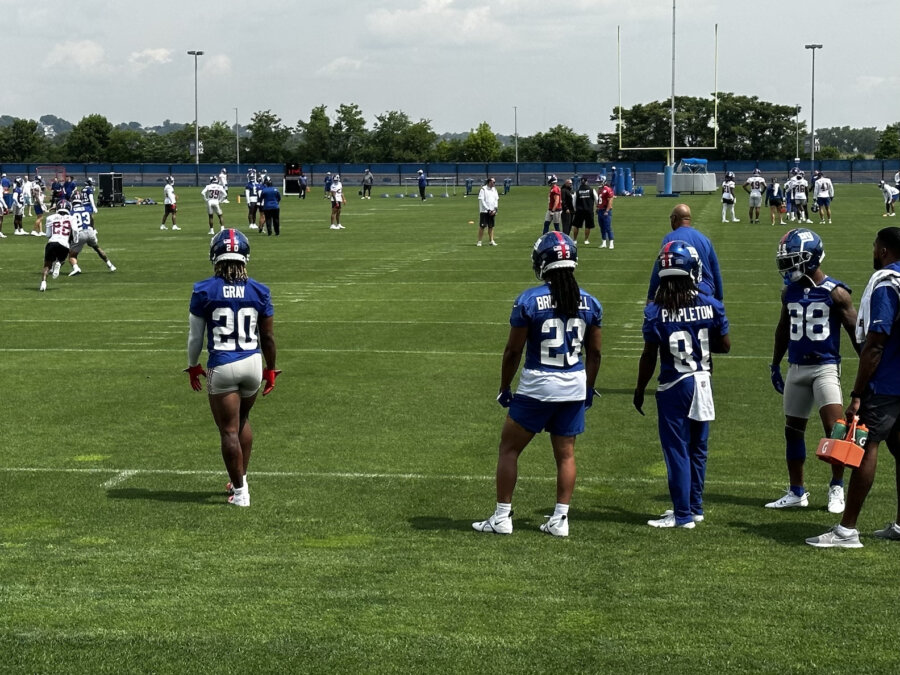 Nixon was also impressed by the progress of Corbin, who was on the practice squad last year after rushing for 887 yards and seven touchdowns on 6.2 yards per carry in his final season at Florida State. 
"Corbin you know, he was on the practice squad last year, but I really like his progress and he knows the offense. He's going to really be able to show what he can do during training camp."
However, the running back everybody is watching with Barkley out is the Giants' fifth-round draft pick from this year, Eric Gray out of Oklahoma. Part of what Coach Nixon likes most about him is the potential for Gray to be a true three-down running back. 
"I want to coach guys that can play on all three downs and who can be complete running backs," said Nixon. "I always say I know the running backs can run the football. I mean, that's what they naturally do. But what separates them from being great is if they can also catch the ball out of the backfield and block, so we try to train them to do all three things equally."
So far, Gray is passing most of those tests. 
"We're throwing everything at him," Nixon laughed. "Fortunately for us, you know, throughout the evaluation process, we evaluated Eric not only what he did on the field physically but also mentally, you know, how fast he would be able to learn our offense, and he's done a nice job. I mean, he's a hard worker. He worked hard off the field as far as studying the playbook and now we're throwing everything right at them so that he's ready to go for training camp to compete with the guys we have in that room."
Part of that ability to handle everything the Giants throw at him is due to having a former three-time Pro Bowl running back as his coach in college. 
"Fortunately for him, his college coach was [former Dallas Cowboy] DeMarco Murray, so he had a really good one that kind of trained him to be to be a pro running back, and he's been a constant pro since he's been here."
Obviously, the Giants will hope to have the Saquon Barkley situation resolved by the time training camp starts in August, but, for now, the rest of the running backs are putting in the time to make the Giants' backfield as deep and talented as possible.