East Rutherford, N.J. —While the New York Giants' offensive numbers from 2022 don't jump off the page at you, the job first-year coordinator Mike Kafka did with an injury-riddled unit garnered a lot of attention across the league. Now he's back in year two to make this unit even more explosive. 
In his first season as the Giants' offensive coordinator, and first year as a coordinator in general after being an offensive assistant for the Chiefs, Kafka ran an offense that ranked 18th in points per game, 19th in yards per game, 16th in fourth down conversion rate and 5th in red zone scoring rate. All of that despite having few healthy wide receivers. 
As a result, Kafka was a finalist for both the Cardinals and Texans head coaching jobs but failed to land either one. Still, that experience isn't impacting his ability to come back to New York and take this Giants offense to greater heights. 
"Don't really think about it all that much outside of the experience," Kafka said last Thursday. "Being fortunate enough to be a part of those discussions, those conversations, was really cool. I learned a lot about myself. Learned a lot about the league and the multiple organizations. It was a good experience overall."
Now that he's back with the Giants, Kafka is hoping to take what he learned and use it to make New York a more dynamic team. Of course, much of that improvement could come with simply being in year two of Kafka and head coach Brian Daboll's offense. 
"When you get into year two of the offense, things are obviously a little bit more smooth because you've heard it already a few more times," admitted Kafka. "You've been through some of those situations already, you have some stuff that you can fall back on."
That familiarity often leads to faster processing and easier communication, which is most important with the quarterback position. With Daniel Jones also returning to New York, the quarterback and offensive coordinator have been hard at work in building on Jones' breakout year in 2022. 
"Any time you can kind of get in the second year of the program, there's familiarity with the verbiage, familiarity with the communication," said Kafka. "The conversations happen a lot faster. Now we're working to streamline it, working to be more efficient with it, efficient with the situations that we're asking [Jones] to be in, making those decisions."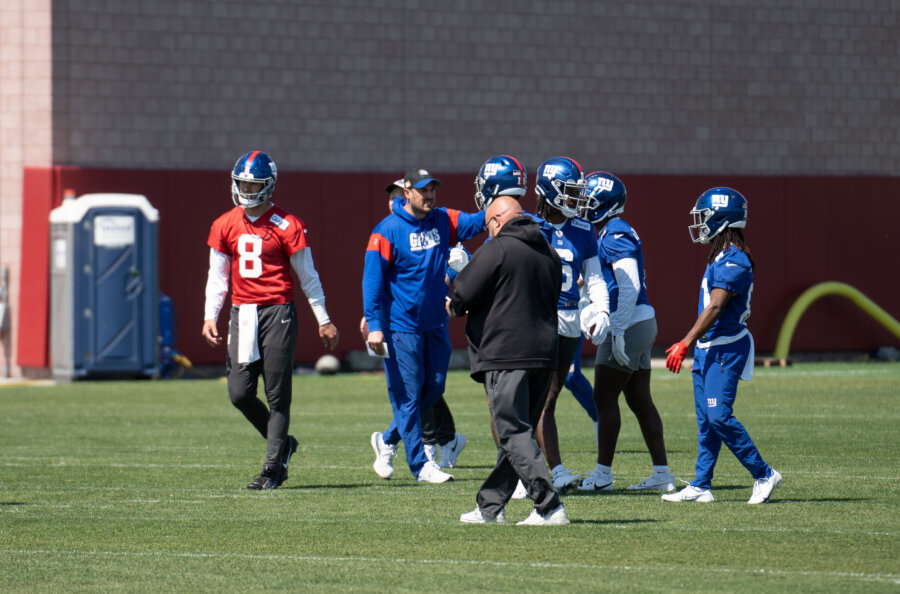 Another thing they're working on is making the Giants' offense more explosive. Much of the offseason was spent acquiring receiving weapons with game-breaking upside like Darren Waller and Parris Campbell and also re-signing key deep threats like Darius Slayton 
"I think [big plays is] one thing we kind of did a deep dive on in how can we whether improve it to get some more of those opportunities or personnel to get the right people in the right spots," admitted Kafka. "That's our job to make sure we do that the right way."
However, in order to make those big plays happen, Kafka needs to make sure that the Giants' new and old players are clicking on the field. For him, that means helping players to try "to identify a role for themselves in a bunch of different ways, the run game, the pass game, all the different schemes we want to try to build."
That can be easier for veterans like Waller and Campbell, but Kafka has also been pleased with the way rookie wide receiver Jalin Hyatt has adapted to NFL practices as well. 
"Jalin is doing a nice job. He's right on schedule," said Kafka. "He's working. He's growing. That's one thing you've seen from him from the first day in rookie camp, to the next day, then you're working through this Phase III part of it, is his growth and his familiarity and comfortability with the offense."
The Giants will need Hyatt's deep speed if they want to be as explosive an offense as they hope to be. But they will also need another rookie to get up to speed as well: second-round center John Michael Schmitz.
One of the big questions for Schmitz to answer early on was whether his dead ball snap technique, a snap that doesn't use the laces to spin the ball, would be comfortable for Daniel Jones. So far, it seems that both Jones and Kafka have no issues with the technique. 
"I've been around both, the dead snap, the regular snap, I don't even know what you call it, the laces snap, I guess," said Kafka. "I've been around enough. Just the comfortability and make sure it's accurate. At the end of the day, as long as the quarterback is good with it, that's all matters."
With Jones comfortable both with his new center and in the second year of this offense and the Giants also adding speed elements all around him, this could be a big year for offense in New York. 
"It's early," said Kafka. "There's a lot of football to be played. We haven't even put the pads on yet…but I think everyone is on schedule."