The college football post-season bowl circuit kicks off this weekend with the 10th annual NFLPA Collegiate Bowl. We'll give you all the information you need to know about the game, as well as which players New York Giants fans should be keeping an eye on as we head into the NFL Draft season. 
What is the NFLPA Collegiate Bowl?
The NFLPA Collegiate Bowl is an invitation-only game that gives prospective players an opportunity to showcase their talents in front of nearly 200 scouts, player personnel staff, general managers, and head coaches from all 32 NFL teams. There will be live practices, player interviews game film review, and a televised game.
Some recent alumni from the NFLPA Bowl are Darnell Mooney, Russell Gage, Marquez Valdes-Scantling, Quincy Williams, Will Dissly, Tarik Cohen, Shaquill Griffin, L'Jarius Sneed, and more. 
BETMGM SPORTSBOOK
SIGN UP FOR $1K FIRST BET OFFER!
CLAIM NOW
21+ and present in Participating states. Gambling problem? Call 1-800-GAMBLER.
$1,000
FIRST BET OFFER!
CLAIM OFFER
How to Watch: 
Date: Saturday, January 28th
Time: 6:00 p.m. ET
Channel: NFL Network
Who to Watch:
For Giants fans, specifically, who should you be paying attention to? Earlier this week we walked you through our first off-season mock draft, so you can see the positions of interest that we think the Giants will be targeting. As a result, these are the players we think could be of interest to Brian Daboll and company. 
2022 stats: 67 receptions for 1,016 yards, 9 TDs
C.J. Johnson is built well at 6'2″ 220-pounds, and he moves well with the ball in his hands. He has good top-end speed for his size, which he displayed by racking up 15.2 yards per catch this season and 16.3 yards per catch during his collegiate career. He tracks the ball well in the air but will need to display that he can make contested catches. 
The last elite wide receiver to come out of East Carolina was Zay Jones, and it took him a few years to adapt to the talent level at the NFL. 
2022 stats: 41 catches for 526 yards, 2 TDs
Ngata is another big-bodied wide receiver at 6'3″ and 220 pounds. He looks like a number-one receiver and seemed on track to be one after he was a top-10 receiver in his recruiting class. However, he never quite caught on at Clemson. He had 240 receiving yards and three touchdowns as a true freshman but was never able to top 526 yards in a season and finished with just 88 total catches. 
However, Clemson is a deep team and Ngata battled injuries at different points in his college career, so perhaps he just needs a fresh start at the next level. 
At 6'3″ and 195 pounds, Brownlee is another big receiver without big-time production However, he did have 2,144 receiving yards and 21 touchdowns across three years at Southern Mississippi. Given the competition level he faced, you'd like to see him put up better numbers, but he did secure five catches for 102 yards and a touchdown against Miami (FL) this year as well as six catches for 123 yards against a Coastal Carolina team that was in the top-25 at one point.
Brownlee has solid speed and good hands, so he could be a solid late-round flyer for the Giants at wide receiver.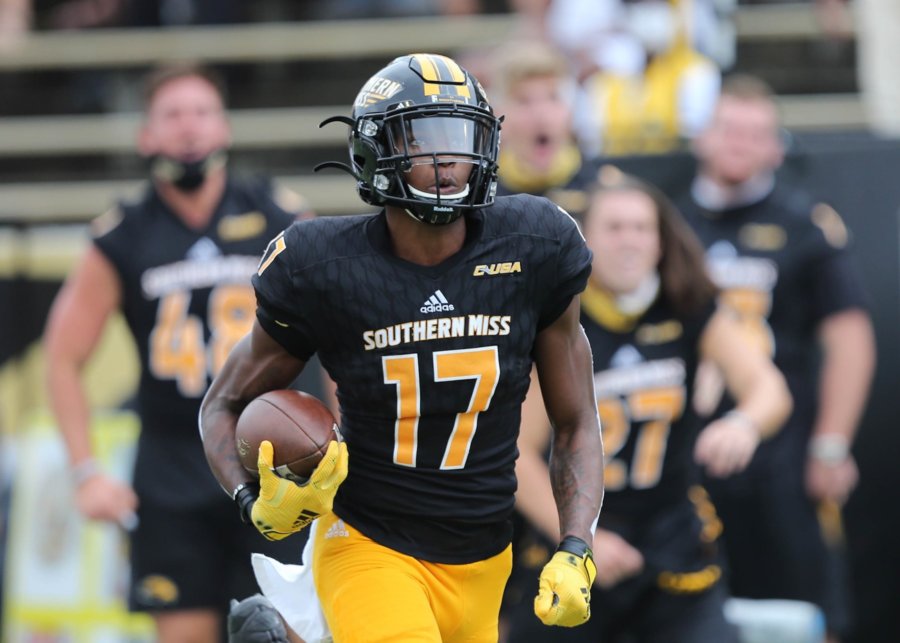 2022 stats: 47 tackles, 16 tackles for loss, 11.5 sacks, 1 INT, 2 forced fumbles
At 6'3″ and 250 pounds, Perales is a bit of a LB/DE hybrid, but that fits well at the NFL level. He's a three-time All-MWC player, including being named to the first team in 2022. He has 23 career sacks in three years at Fresno State, including 11.5 this season. He also has 38 tackles for a loss across those three seasons as well, and although he is more of a motor/effort player, he has always produced and shouldn't be counted out. 
2022 stats: 65 tackles, 14 tackles for loss, 3 sacks, 2 blocked kicks
Titus Leo lands on the Giants' radar as a New York product who has also recently accepted an invite to play in next week's East-West Shrine Bowl in Las Vegas. As a result, it's unclear just how much game action he'll see at the NFLPA Bowl, but Leo has good size at 6'4″ and 245-pounds and had 53 combined sacks and tackles for loss during his Wagner career. While the size plays, does he have the speed and skill to contribute at the next level?
Tarlas only played one year at Boise State after dominating at Weber State prior. He had four sacks and six tackles for a loss in seven games this season before a hip injury ended his year. His ability to quickly adjust to a new level of competition says a lot about him as a player, but he'll need to show that he's fully healthy. 
The Canadian has become a popular player amongst NFL scouts and has impressed early in the NFLPA Bowl practices. He primarily played left guard in college and possesses good bend for his size bend with a real nastiness. The Giants tend to love physical blockers like Sow, and he does a good job getting into the second level, so he could be a nice late-round find. 
At 6'4″ and 330 pounds, Manning is a massive human, and he graded out as the Wildcats best run-blocker after transferring over from Auburn for the 2022 season. He took some reps at left tackle during NFLPA practices and seems like he could have the versatility to play all over the line, which is a tremendous asset in a late-round draft pick. 
At 6'3″ and 190 pounds, Isaac is a lengthy and versatile corner who plays with a physical style. He was a four-year starter, even though he played just two games this season after undergoing off-season shoulder surgery. Isaac has just two interceptions in his career, so he'll need to show that he can make a play on the ball, and scouts will likely want to know if he's a corner or a safety, but he has the potential versatility and the body type to be a strong end-of-roster defensive back for teams like the Giants. 
2022 stats: 3 catches for 38 yards
We're going to end with Billingsley because he is such a unique story. He was a high-level recruit for Alabama and was able to get on the field as a true freshman. While he didn't put up big stats while catching passes from Mac Jones and Tua Tagovailoa, he did look like an athletic mismatch. However, he seemed to find his way into Nick Saban's doghouse prior to the 2021 season and wound up transferring to Texas for his final season where he could barely get on the field. 
He might have more natural talent than many players in this draft, but he has a lot of questions to answer about his mental makeup and work ethic since those were the criticisms levied against him at Alabama. 
For more Giants coverage, like this NFLPA Bowl article, visit AMNY Sports
BARSTOOL SPORTSBOOK
STATES: OH, MD, AZ, LA, KS, CO, IL, IN, MI, PA, VA, NJ, TN, IA, WV
GET THE APP
SIGNUP BONUS
$1,000


FIRST BET INSURANCE
CLAIM NOW