FLORHAM PARK — Much has been made about the pending personnel changes expected to hit the New York Jets heading into Week 11. 
One of those moves has already been made.
With New York's release of Michael Carter, the Jets have signaled that they will be giving more playing time to fifth-round rookie Isreal Abanikanda. Abanikanda's been a healthy scratch for the first nine games of the season for Gang Green but should be able to provide a spark for an offense desperately looking for one. 
"It came down, one, just want to give Izzy (Abanikanda) an opportunity," Jets head coach Robert Saleh said Wednesday. "He's a good young back and we felt like it wouldn't be fair for Michael to just sit there and rot on the bench and ask him to be a great teammate and all that stuff."
Carter's release came as a surprise to many in the Jets locker room on Tuesday. The former fourth-round pick was seen as a locker room leader despite an open frustration over the lack of a role he had. Despite those concerns, Carter was still able to lend a helping hand to Abanikanda and give him the tools necessary to perform at a high level.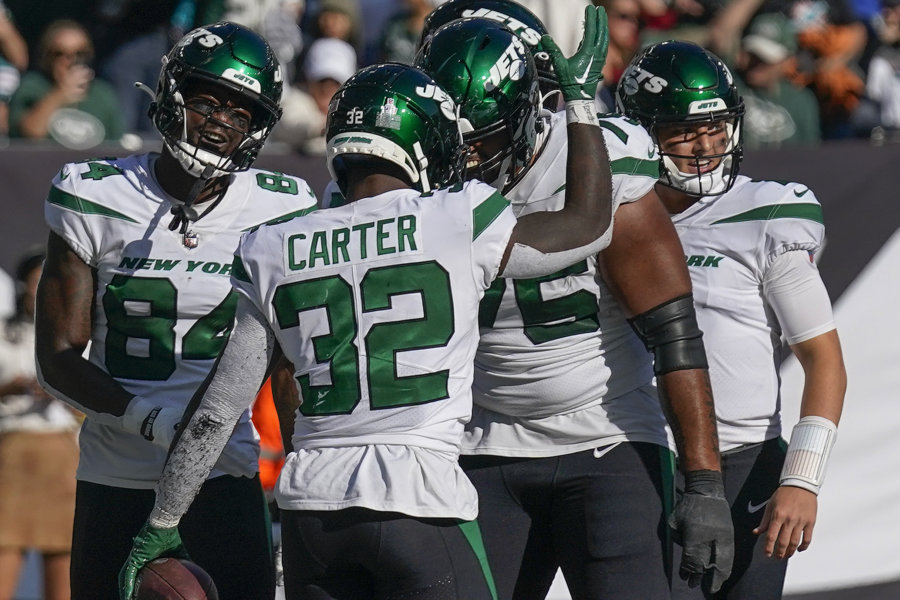 "Since day 1, since I walked in here, MC showed nothing but love," Abanikanda said. "I texted him after yesterday how much he was an influence on me and the running back room. He was a great guy. I learned a lot from him."
Abanikanda becomes the second offensive rookie from the Jets 2023 draft class to have a role on gameday this season. The first was second-round rookie Joe Tippmann. 
Both Tippmann and Abanikanda may have gone to different schools in college, but the two have grown a close bond with each other since being drafted by New York. That bond should help jumpstart an offense that has not scored an offensive touchdown in 11 straight quarters. 
"That's something that excites me," Tippmann told AMNY. "I was able to spend a lot of time with Izzy and see what kind of player he is. For him to get that kind of opportunity to step up, I'm excited to see what he can do."
Neither Tippmann nor Abanikanda were expected to make an impact on the 2023 team right away. Coming into the season, New York was expected to end their decade-long playoff drought with an improved offensive line and a franchise quarterback in Aaron Rodgers. 
Things haven't gone exactly to plan though.
Rodgers' Achilles injury has left the Jets offense in shambles, and struggling to find answers at almost every position. Following the team's 16-12 loss in Las Vegas Sunday night, the offensive incompetence had reached a new low that the entire group held a meeting to discuss how the group could improve as both individuals and as a unit. 
Tippmann's been involved in the offense more than Abanikanda to this point, but that doesn't mean he has all the answers to what is causing New York to be last in both third-down offense and red-zone efficiency. The Wisconsin product is only grading out at an average level per Pro Football Focus but gave up just two pressures in Sunday's loss to the Raiders. As impressive as Tippmann has looked at times on offense, there's still plenty for him to improve on. 
That doesn't mean he isn't willing to do whatever is necessary for the organization.
"I've been wired into getting better each week," Tippmann explained. "I know there are issues in my game specifically for me. Sometimes a defensive lineman can expose something in my game that's never been exposed before. So I just gotta keep my eyes down the road, keep moving forward, and try to build off each week."
Sunday evening in Buffalo will allow New York to see two of their offensive rookies in action. Tippmann may be used to the sights and sounds of an NFL gameday, but it'll be all brand new for Abanikanda. 
And that's just what the Jets might be hoping for to change their offensive inefficiencies. 
"It's a blessing," Abanikanda concluded. "I've been staying ready, and developing the last few weeks. I've been ready…I was just learning from the best, getting extra work, and practicing hard."
For more New York Jets news, turn to AMNY.com