The Mets had the bases loaded in the ninth inning but couldn't get the big hit they needed, falling to the Brewers 3-2 on Thursday night. 
Starling Marte, who had grounded into two double plays earlier in the game strode to the plate after the Mets loaded the bases on two walks and one hit against Brewers' closer Devin Williams. It was the perfect opportunity for redemption, but Williams instead struck Marte out on three straight change-ups. 
The loss drops the Mets to 7-18 in the month of June and was New York's 18th loss in their last 24 games, putting them nine games under .500 at the exact halfway mark of the season.
However, while the game ended on a sour note, it didn't start out on one, with the Mets striking first against Brewers starter Adrian Houser in the third inning.
After Francisco Alvarez grounded out to shortstop to start the inning, Brett Baty and Brandon Nimmo followed with back-to-back home runs. It was just the second time this year the Mets have hit back-to-back home runs with the only other time coming on April 7th when Francisco Lindor and Pete Alonso homered against the Marlins. 
Baty's home run was his fifth of the season and was much needed as the young third baseman has hit .250 in June with a 29.3% strikeout rate, up from 20.4% in May. 
The Mets rookie took a 1-1 change-up from Houser and hit it 102.3 mph and 389 feet to right field. Nimmo's home run was his 11th of the season and his 7th in the month of June. It was just 357 feet and came off the bat at 98.6 mph but neither Nimmo nor the Mets will complain. 
Adrian Houser would settle down and wind up going six innings for the Brewers, allowing seven hits and two earned runs while striking out five and walking one.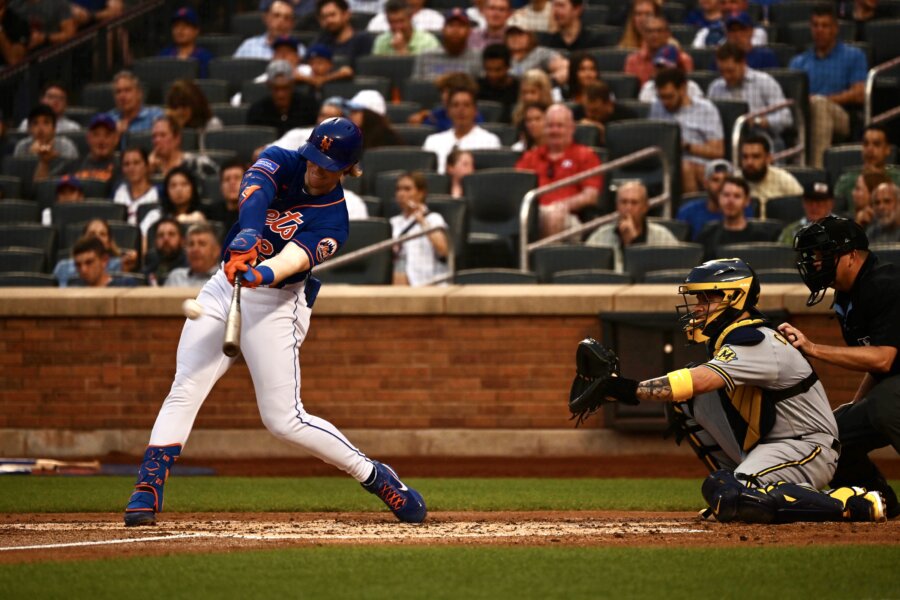 However, he was bested early on by Mets starter Max Scherzer, who held Milwaukee scoreless for five innings before the visitors finally broke through in the sixth inning.
Rowdy Tellez led off with a single up the middle and then two batters later, Victor Caratini hit a ball 415 to center field, 104.3 mph off of the bat, for a game-tying home run. 
Caratini was in the starting lineup specifically because of his success against Scherzer. The switch-hitter came into the game hitting .471 off of the Mets pitcher (8-for-17) with a .706 slugging percentage. He is now 10-for-20 against Scherzer with two home runs and three RBI.
"The game's always gonna find somebody that can get you and, unfortunately, he's one of those guys that has my number," said Scherzer after the game. "You gotta get those guys out. I don't care if he's had success or not, I feel like I always have the ability to get guys out; I don't care who you are. But tip my hat to him, he's put some good swings against me in my career."
Scherzer finished the day allowing just those two earned runs on seven hits, walking two, and striking out nine. While he gave his team a chance to win, it wasn't the most efficient start for the veteran, who had a 21% whiff rate and threw just 64.7% of his pitches for strikes. He had only one swing-and-miss on 22 swings against his once-blistering fastball, relying far more on his off-speed pitches. 
With Scherzer out of the game, Mets manager Buck Showalter made the decision to go with T.J. McFarland to start the 7th. The journeyman left-hander had just one inning pitched with the Mets this season prior to this appearance. He lasted only a third of an inning, giving up an infield single and hitting a batter. 
Showalter then turned to Dominic Leone, who came into the game with a 5.32 ERA.
Leone allowed an infield single to pinch-hitter Owen Miller and then a fly ball to center field off the bat of Brian Anderson that went 375 feet and landed just shy of the wall, but deep enough to bring in the go-ahead run as Milwaukee took a 3-2 lead into the seventh inning stretch. 
The Mets briefly threatened in the seventh before Marte grounded into a double play with two runners on and then failed to capitalize in the final frame as well. 
"I'm accountable for those two runs," Scherzer said, discussing his frustration with the loss. "You wish you would have gotten zero up there, and you never know how things would have gone, but, you know, that's baseball."
The Mets now sit 17.5 games behind Atlanta in the NL East and nine games behind the Giants for the final NL Wild Card spot. With owner Steve Cohen hinting at selling at the trade deadline, it might only be a matter of time before we see major roster turnover in Queens unless the Mets can turn it around in a hurry.