So…where do the New York Jets go from here with their quarterback room?
Head coach Robert Saleh has made a change at quarterback, the third new signal-caller the team will have in the 2023 season – the second straight year that such a change has been needed.
Zach Wilson, the quarterback thrust into the starting role thanks to the injury to Aaron Rodgers in Week 1, was benched for Tim Boyle midway through the third quarter in New York's 32-6 loss to the Buffalo Bills last week. Now, it will be Boyle to start for the Jets in the NFL's first Black Friday game to begin Week 12. 
Is Boyle the answer for Gang Green for the rest of the 2023 season? Can he get this team to stay relevant for a potential return of Rodgers? What about Wilson – what happens to him now?
Based on conversations with Saleh over the week, we can give educated answers to all of the quarterback questions surrounding the Jets in November. 
Zach Wilson's Jets Future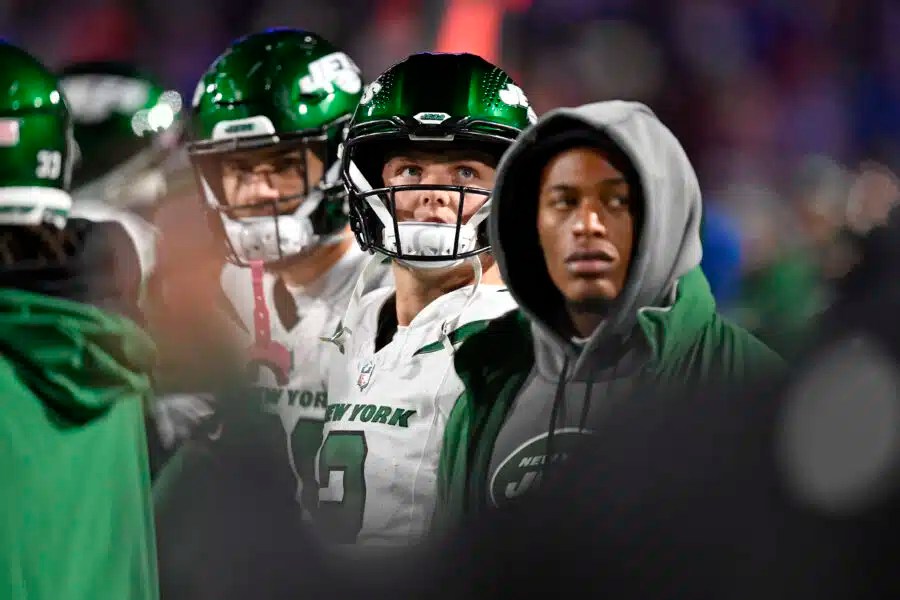 It's safe to assume that Wilson has started his last game as a member of the New York Jets barring something catastrophic happening in the next few weeks. In three seasons as the starting quarterback for Gang Green, the former second-overall pick has completed less than 60% of his passes and has more interceptions thrown than touchdowns. 
Per Saleh, the Jets will have Wilson be the third quarterback on the roster from now on with Trevor Siemian becoming Boyle's immediate backup.
Wilson was not the only reason for the offense's struggles all year so far, but he did not offer many solutions. His inefficiencies as a passer were exasperated due to the team's offensive line injuries, and poor skill positions around him. All that being said, Wilson played all year like a quarterback overly afraid to make a mistake – something that can't happen in the modern NFL. Going over a month without scoring over 14 points is simply inexcusable as well. 
Following the 2023 season though, the Jets will need to decide on Wilson. He will enter the final year of his rookie deal and carries a dead cap hit of just $11 million. Other quarterbacks have been cut or moved in recent years with a larger cap hit. 
It's safe to say that the Jets are either going to release or trade Wilson after the 2023 season concludes. Who will be Rodgers' immediate backup remains to be seen but it's probably going to be a top pick from the 2023 class or a veteran quarterback that's picked up in free agency.  
Either way, it's safe to say Wilson is done in New York. 
Aaron Rodgers' Return
Aaron Rodgers made it clear that he wanted to return in 2023 so long as the Jets remain in playoff contention.
That may no longer be the case.
New York, at 4-6 has upcoming games against the Miami Dolphins (2x), Cleveland Browns, and Houston Texans. It's hard to see Rodgers ready to play in any of those games, and unless the offense magically improves with a new quarterback, each should be expected losses. 
That would leave the Jets with 10 losses on the year – the same amount as last year and not even counting games against the Falcons, Commanders, and Patriots. In short, it's very hard to see the Jets relevant late in December for Rodgers to justify a comeback. The best bet is that he returns for the 2024 season at full strength and ends New York's playoff drought then. 
Hard to envision him coming back with an offensive line in flux and no legit receiving option outside of Garrett Wilson. 
What happens if Boyle struggles?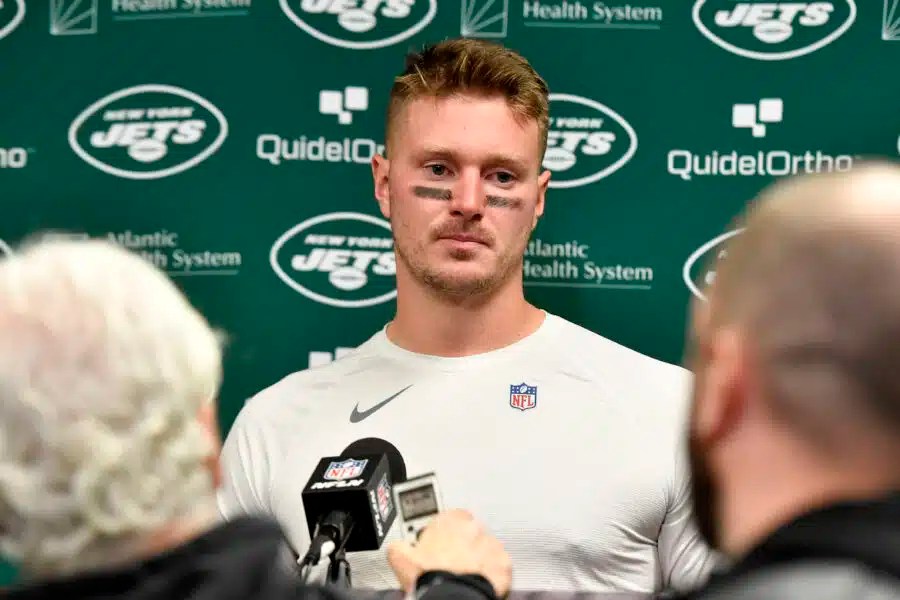 The reason why Boyle gets the start over Siemian? Because of his previous experience with Nathaniel Hackett in the west-coast offense. Boyle has been a career backup but has not won a start in four tries at quarterback throughout his five-year career. 
Should Boyle struggle (and there is reason to believe he will), Siemian should be the one to get the call pretty quickly. At 4-6, the Jets aren't completely out of it. That means if they are in a game or within striking distance, Siemian should get some time in action. 
The real question comes if an injury is sustained. If Boyle gets hurt, would the Jets be comfortable to turn to Wilson at quarterback again as the immediate backup? What if Boyle AND Siemian go down? 
It may seem far-fetched, but we have to remember that the Jets lost two different centers in the same quarter just over a month ago. 
For more New York Jets news, turn to AMNY.com