A local nonprofit group unveiled a model pop-up housing unit within, of all places, a below-ground parking lot — aiming to highlight the amount of space dedicated to car storage that could otherwise be used for residential dwellings. 
Open Plans, a grassroots group dedicated to advocating for pedestrian infrastructure, unveiled the pop-up "People Over Parking: An Installation" project in Williamsburg on Saturday, showing how the space could be used to house a relatively-comfortable place for someone to live. 
Featuring a bed, a pair of couches, a small table, and a kitchenette within several spaces in a cavernous, concrete garage, the installation takes aim at the idea of parking minimums — a Robert Moses-era rule that requires most developers to include off-street parking spaces whenever they construct additional housing density. 
According to the activists, the laws promote car ownership, and simultaneously force developers to use space that could be used for housing, and instead build car parking. 
"There is no excuse for New York City's zoning code to encourage driving and car ownership," said Sara Lind, Open Plans co-executive director in a statement. "Parking mandates were misguided in 1960, but they're disastrous in 2023. Walking through this installation, you feel the absurdity of forcing this space to be used for cars when we so desperately need housing."
Mayor Eric Adams last month proposed a groundbreaking "City of Yes" plan that includes eliminating parking minimums — a proposal that is currently being debated, and appears to have an uphill climb before potentially becoming a reality. 
Lind and her partners at Open Plans created the installation to gin-up support for the measure, aiming to show alternative uses for parking spaces. 
"Mayor Adams' administration has an opportunity to modernize New York's housing policy with this one zoning amendment, and we want every New Yorker to understand what they stand to gain from that," Lind said.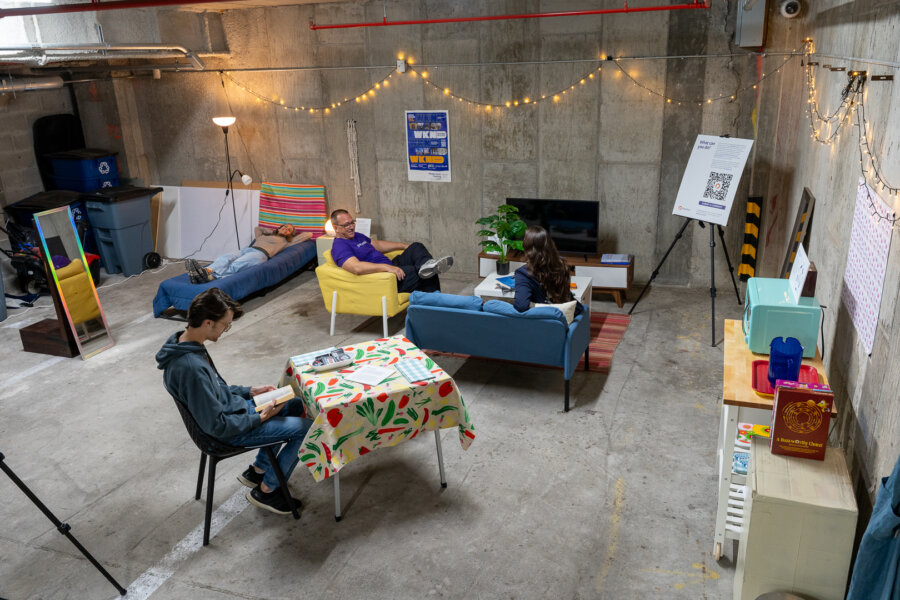 According to Adams' administration, developers typically opt for underground parking when they need to fulfill minimum requirements — which costs around $135,000 for every two parking spaces. For that money, they could instead add additional housing units.  
Located at 66 Ainslie St. for the weekend, the pop-up was built upon two parking spaces owned by Slate Property Group — a developer who lent the space in an effort to help spread the anti-parking minimum message. 
"Anything that adds to the cost and time it takes to build new apartments is working against us in this housing crisis," said David Schwartz, a principal of Slate Property Group. "Cities across the country have stopped forcing builders to add unnecessary parking in new construction—and it's time New York City follows suit. Slate is proud to partner with Open Plans to demonstrate the simple truth: it's more important to create housing for our neighbors than it is to create parking for more cars."
While the installation is no longer active, the point they set out to prove will now last as the mayor's "City of Yes" proposal works its way through the lengthy public review process before becoming law. 
The next hearing on that proposal will come via a Zoom meeting on Oct. 26, where members of the public are invited to provide comments and share their thoughts on the issue.