The mobile COVID-19 testing company LabQ has earned the dubious distinction as the city's most prolific vehicle idler, beating juggernauts like Amazon by leaving vans to emit carbon into the atmosphere on thousands of occasions. 
LabQ vans have been dinged with 3,288 summonses for vehicle idling since the city launched its Citizens Air Complaint Program in 2019, which prohibits drivers from idling their car engines for more than three minutes lest they be hit with fines of up to $2,000. Besides Amazon, LabQ, with testing vans around the city, also beat several other corporate behemoths such as Con Edison, Verizon, FedEx, UPS, National Grid, and Ryder Truck Rental.
But LabQ says the nature of its work requires that its testing vans be idling to store COVID tests, and argues that it is permitted to do so by the state Health Department.
The city says that it is clamping down on vehicles that idle given the damage it does to the environment.
"[Department of Environmental Protection] will not stand 'idly' by while these companies allow their fleet vehicles to ruin New York City's air quality and fill the lungs of our residents with harmful pollution," said DEP Commissioner Rohit Aggarwala, who is also the city's Chief Climate Officer. "These companies have demonstrated a blatant disregard for the law and public health, and that is why DEP is working with the City Council to strengthen our idling laws and improve the Citizens Air Complaint Program."
The program notably allows for citizen enforcement: New Yorkers who submit video evidence of a vehicle idling for more than three minutes are eligible to receive a quarter of the ticket value, a lucrative hustle for the city's eco-vigilantes. Recorded complaints have grown over 400% in recent years, from 9,070 in 2019 to 48,979 in 2022. More than 23,000 complaints were filed just in the first three months of 2023.
Several councilmembers are currently backing legislation that would permit citizen enforcement of bike and bus lanes infractions. However, the bill is facing an uncertain future in the City Council, with the "bounty" eliminated in legislative negotiations and the NYPD declaring its opposition.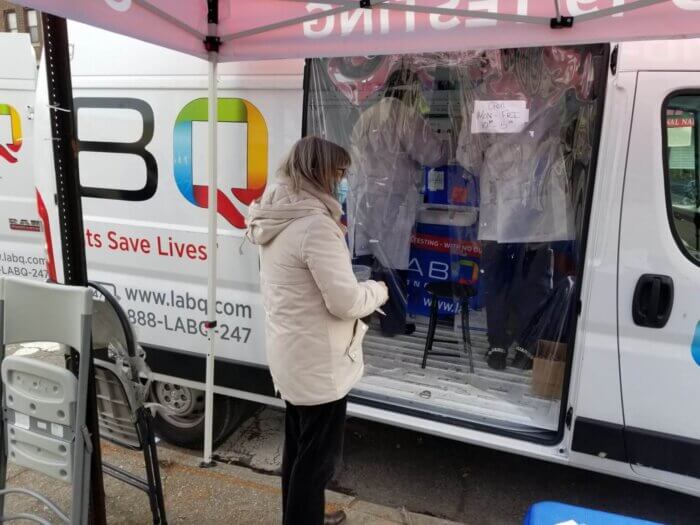 But unlike its fellow idlers, LabQ claims that its tickets are baseless, contending that idling is essential to the company's testing business. Specifically, vehicles have to remain running so the company can store specimens on-site and turn around test results in short order.
The company's permits with the state Health Department, reviewed by amNewYork Metro, stipulate it must keep its specimens within a certain range of temperatures which is only possible with the engine running.
"It would be a lot less costly for us to go ahead and not use the vehicle," said Daniel Adar, the company's chief operating officer, in an interview. "We use the vehicle and spent a tremendous amount of money per vehicle so we can go ahead and properly collect the specimens."
In fact, when the company challenged one of the summonses in February, a city administrative judge dismissed it, classifying LabQ's testing vans as "emergency medical service or emergency response vehicle[s]" that are exempt from the idling law. That came even after the state ended its COVID emergency declaration, though the federal one remains in effect until May 11.
Adar said the company intends to challenge all of the idling summonses. The mayor's office deferred questions about the permits to the state Health Department, which declined to comment.
It wouldn't be the first time the city granted amnesty to companies for violations of the idling law. On Tuesday, the city said that it had granted a "variance" for idling penalties to the armored car company Loomis, the ninth most prolific idler, after the company agreed to electrify its entire fleet by 2025.
Amazon has paid just over $1 million to settle 764 idling violations, averaging more than $1,300 per instance. The e-commerce giant still has 1,640 outstanding summonses that have not been settled, and faces a minimum penalty of $691,010, the city says.
LabQ and its mobile test sites came to prominence when the Omicron variant peaked in the winter of 2021. The sites were heavily used when COVID cases skyrocketed, and the city's brick-and-mortar testing sites could not keep pace with demand.
While the company got high marks for the relatively quick wait time at test sites, considerably faster than at hospitals and clinics, LabQ drew regulatory scrutiny. Attorney General Letitia James wrote a letter to the company in December 2021 saying that her office had received complaints that it was falsely advertising quicker turnarounds than what patients actually experienced.