The head of the private Russian military company Wagner will move to neighboring Belarus as part of deal to defuse rebellion tensions and the criminal case against him will be closed, the Kremlin said Saturday.
Yevgeny Prigozhin's troops who joined him in the uprising will not face prosecution and those who did not will be offered contracts by the Defense Ministry, Kremlin spokesman Dmitry Peskov said.
After the deal was reached, Prigozhin said he was ordering his troops to halt their march on Moscow and retreat to field camps in Ukraine, where they have been fighting alongside Russian troops.
The deal appeared to defuse a dramatically escalating crisis that represented the most significant challenge to President Vladimir Putin in his more than two decades in power.
The deal was mediated by Belarusian President Alexander Lukashenko, a staunch Putin ally.
Moscow had braced for the arrival of forces from the Wagner Group, a private army that has been fighting alongside regular Russian troops in Ukraine, by erecting checkpoints with armored vehicles and troops on the city's southern edge. Red Square was shut down, and the mayor urged motorists to stay off some roads.
But Prigozhin announced that while his men were just 200 kilometers from Moscow, he decided to turn them back to avoid "shedding Russian blood."
He did not say whether the Kremlin had responded to his demand to oust Defense Minister Sergei Shoigu. There was no immediate comment from Putin's government.
The turnaround followed a statement from Belarusian President Alexander Lukashenko's office saying he had negotiated a deal with Prigozhin after discussing the issue with Putin. Prigozhin agreed to halt the advance in a proposed settlement including security guarantees for Wagner troops, Lukashenko's office said, without elaborating.
Putin had vowed harsh consequences for organizers of the armed uprising led by his onetime protege, who brought his forces out of Ukraine, seized a key military facility in southern Russia and advanced toward Moscow.
In a televised speech to the nation, Putin called the rebellion a "betrayal" and "treason."
"All those who prepared the rebellion will suffer inevitable punishment," Putin said. "The armed forces and other government agencies have received the necessary orders."
It wasn't immediately clear what concessions, if any, Putin may have made to Prigozhin.
If he accedes to Shoigu's ouster, Prigozhin would emerge from the crisis as a clear winner in a major blow to Putin's authority. If Prigozhin drops that demand, Putin could award him with more lucrative government contracts like those on which he has built his fortune.
However, it would be awkward and politically damaging for Putin to backtrack after branding Prigozhin a backstabbing traitor.
Some observers speculated that Prigozhin could make concessions such as putting the Wagner Group under federal authority, or he could shift the force's activities back to Africa, where his mercenaries have been active in recent years.
Early Saturday, Prigozhin's private army appeared to control the military headquarters in Rostov-on-Don, a city 660 miles (over 1,000 kilometers) south of Moscow, which runs Russian operations in Ukraine, Britain's Ministry of Defense said.
A nighttime video from the city posted on Russian messaging app channels showed Wagner troops getting ready to withdraw, hailed by shouts of "thank you!" and "well done!" in an apparent expression of relief following expectations of a bloody battle. Earlier videos had showed some residents yelling at Wagner mercenaries to leave.
Wagner troops and equipment also were in Lipetsk province, about 360 kilometers (225 miles) south of Moscow.
Authorities declared a "counterterrorist regime" in Moscow and its surrounding region, enhancing security and restricting some movement. On the southern outskirts, troops erected checkpoints, arranged sandbags and set up machine guns. Crews dug up sections of highways to slow the march.
Moscow Mayor Sergei Sobyanin warned that traffic could be restricted in parts of the capital and declared Monday a non-working day for most residents.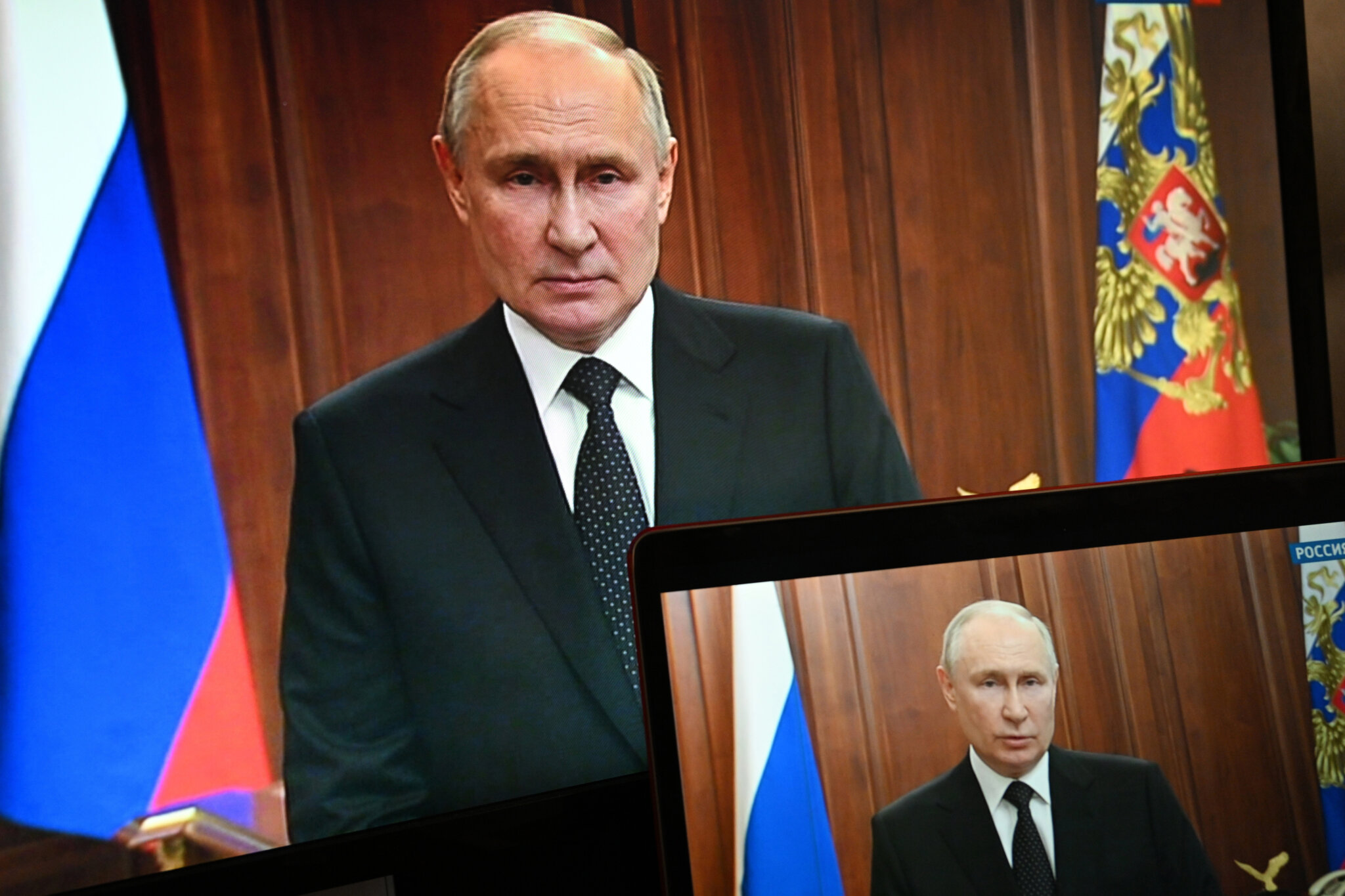 The dramatic developments came exactly 16 months after Russia launched its full-scale invasion of Ukraine, Europe's largest conflict since World War II, which has killed tens of thousands, displaced millions and reduced cities to rubble.
Ukrainians hoped the Russian infighting would create opportunities for its army to take back territory seized by Russian forces.
Ben Barry, senior fellow for land warfare at the International Institute for Strategic Studies, said that even with a deal, Putin's position has probably been weakened and "these events will have been of great comfort to the Ukrainian government and the military."
Ukrainian President Volodymyr Zelenskyy said late Saturday, shortly before Prigozhin announced his retreat, that the march exposed weakness in the Kremlin and "showed all Russian bandits, mercenaries, oligarchs" that it is easy to capture Russian cities "and, probably, arsenals."
Switching into Russian in his daily video address, Zelenskyy said "the man from the Kremlin" was "very afraid." He repeated his calls for the West to supply Ukraine with F-16 fighter jets and ATACMS tactical ballistic missiles.
Russia's Federal Security Service, or FSB, called for Prigozhin's arrest Friday night after he declared the armed rebellion. It was unclear whether those charges would be dropped.
Prigozhin had vowed earlier that his fighters, whom he said number some 25,000, would not surrender because "we do not want the country to live on in corruption, deceit and bureaucracy."
"Regarding the betrayal of the motherland, the president was deeply mistaken. We are patriots of our homeland," he said in an audio message on his Telegram channel.
He posted video of himself at the military headquarters in Rostov-on-Don and claimed his forces had taken control of the airfield and other military facilities in the city without any deaths or even "a single gunshot."
The rebellion came as Russia is "fighting the toughest battle for its future," Putin said, with the West piling sanctions on Moscow and arming Ukraine.
"The entire military, economic and information machine of the West is waged against us," Putin said.
State-controlled TV networks led their newscasts with Putin's statement and reported the tense situation in Rostov-on-Don. Broadcasters also carried statements from top Russian officials and lawmakers voicing support for Putin, condemning Prigozhin and urging him to back down.
Chechnyan strongman Ramzan Kadyrov, who in the past has sided with Prigozhin in his criticisms of Russia's military, also expressed support for Putin's "every word."
"The mutiny needs to be suppressed," Kadyrov said.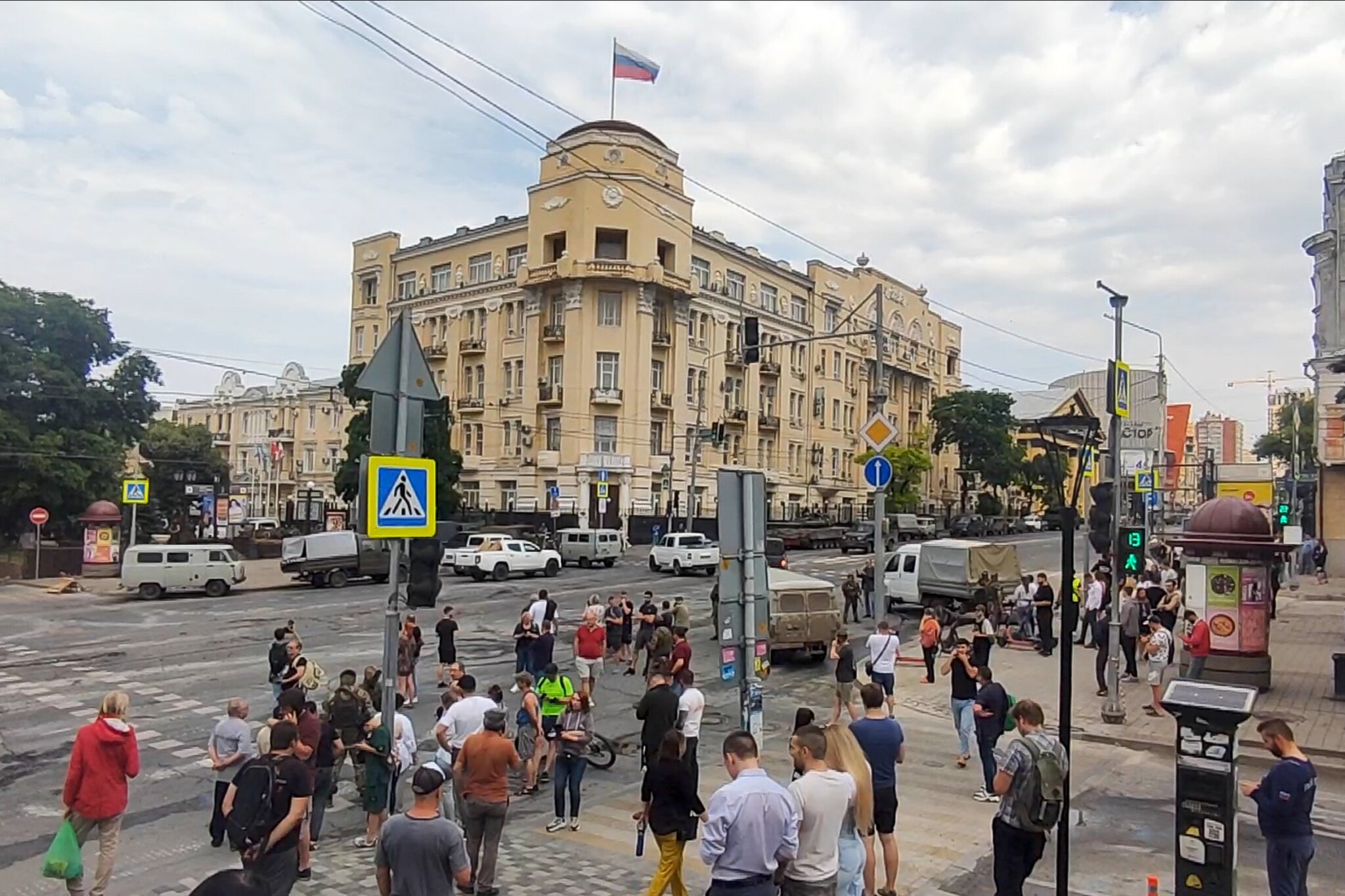 Wagner troops have played a crucial role in the Ukraine war, capturing the eastern city of Bakhmut, an area where the bloodiest and longest battles have taken place. But Prigozhin has increasingly criticized the military brass, accusing it of incompetence and of starving his troops of munitions.
In announcing the rebellion, Prigozhin accused Russian forces of attacking Wagner camps in Ukraine with rockets, helicopter gunships and artillery, killing "a huge number of our comrades."
Prigozhin alleged that Gen. Valery Gerasimov, chief of the General Staff, ordered the attacks following a meeting with Shoigu in which they decided to destroy the military contractor.
The Defense Ministry denied attacking the camps.
The 62-year-old Prigozhin, a former convict, has longstanding ties to Putin and won lucrative Kremlin catering contracts that earned him the nickname "Putin's chef."
He gained attention in the U.S. when he and a dozen other Russian nationals were charged with operating a covert social media campaign aimed at fomenting discord ahead of Donald Trump's 2016 presidential election victory. Wagner has sent military contractors to Libya, Syria, several African countries and eventually Ukraine.
Even with the confrontation seemingly defused, it appeared likely to further hinder Moscow's war effort in Ukraine, as Kyiv's forces probed Russian defenses in the initial stages of a counteroffensive.
Orysia Lutsevych, the head of the Ukraine Forum at the Chatham House think tank in London, said the infighting could create confusion and potential division among Russian military forces.
"Russian troops in Ukraine may well now be operating in a vacuum, without clear military instructions, and doubts about whom to obey and follow,″ Lutsevych said. "This creates a unique and unprecedented military opportunity for the Ukrainian army."
Western countries monitored developments closely. U.S. Secretary of State Antony Blinken spoke with his counterparts in the other G7 countries and the European Union's foreign affairs representative, his spokesman said, adding that Blinken "reiterated that support by the United States for Ukraine will not change."
Latvia and Estonia, two NATO countries that border Russia, said they were increasing security at their borders.