It's easy to walk right past the nondescript door on Forsyth Street that leads to Eastside Sound, the oldest running recording studio in downtown Manhattan. Founded by Lou Holtzman in 1972, the place mixes analog equipment with modern technology under the guidance of Chief Engineer Marc Urselli, who got his start in the business as an intern "pouring coffee and scrubbing toilets."
Born in Switzerland, raised in Italy and living in the states since 1999, the Grammy-winning Urselli has a resume that almost sounds like he made it up. At 17, he had his own studio in southern Italy where he concentrated on the punk/hardcore scene but at 21 wanted to expand his horizons.
"My intention was to do three months here and then go back," he recounts. "But New York blew my mind!"
His years since have seen him working with the late renowned producer Hal Willner (a 10-year run) and musicians ranging from Elton John to John Zorn (who recorded over 120 LPs at Eastside). The list of clients on his website, marcurselli.com, is too long to list here, but we will mention that the notoriously persnickety Lou Reed was quoted as saying, "Nobody has ever made me sound so good."   
Urselli's talents are personal as well as technical. While he knows his way around the equipment, he also knows that the human element makes a difference.
"It's important to make the musicians comfortable so that they can give their best performance," he notes.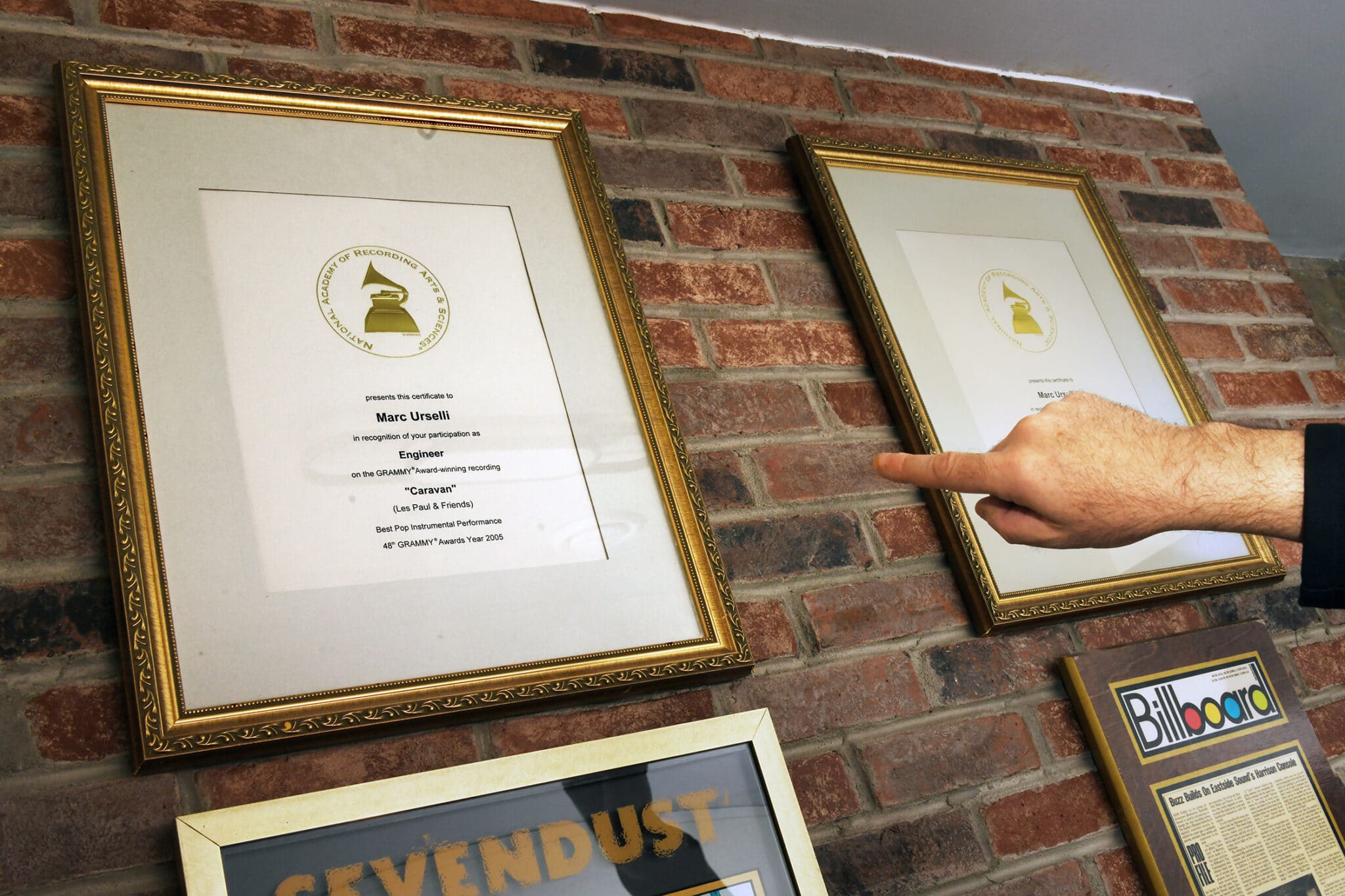 The notable jazz guitarist Bill Frisell has recorded dozens of sessions there with Urselli and is effusive in his praise.  
"Marc is a musician with extraordinary instincts," says Frisell. "He listens, full attention. He is there in the moment. Often it seems as if he's actually there before the moment. I can concentrate on just playing — there's never any waiting around wondering if the tape is rolling. The process of recording becomes transparent. Marc clears the way so that nothing gets in the way of the music".
It's not always smooth sailing, Urselli admits, as "there are always divas, but the show must go on." His work load can range from 1-2 sessions a week to 1-2 sessions a day, yet he still manages to take advantage of the live music scene.
"I see about 500 shows a year," he says. "Luckily my calendar reminds me of what I've seen and when. And I post videos of every show on my Instagram."
A brief sampling of last month's concerts includes Laurie Anderson, Kamasai Washington, Gary Lucas, Dresden Dolls, Puzzled Panther, Robert Glasper and Ted Hearne in venues that range from Carnegie Hall to the Bowery Electric. 
Urselli's clients' sessions can be equally eclectic, from jazz greats such as Jack DeJohnette to an upcoming tribute to The Ramones featuring some major names from the world of heavy metal mixed with some surprises.
And then there are Urselli's own productions, such as his musical collaborations with Jim Jarmusch and Lee Ranaldo (two discs where he plays bass and keyboards) and SteppenDoom — his blend of doom metal and the ancient art of throat singing, which is certainly something that no one has thought of before.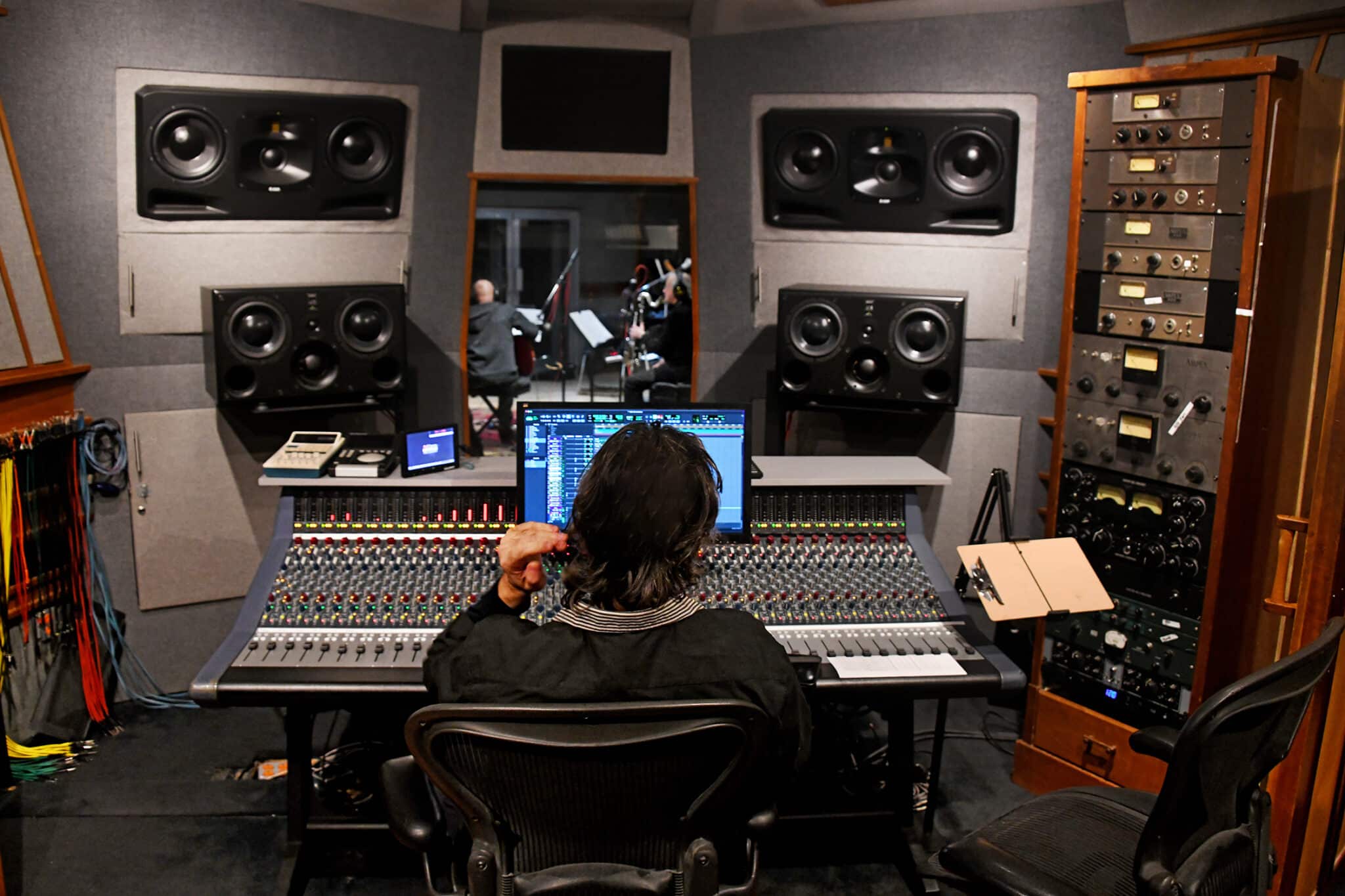 Eastside Sound has been through some changes over the years. Holtzman is no longer the owner, although he still lives upstairs and comes around to record his own clients from time to time or jam with friends and chat about the old days, like when he was a "juvenile delinquent" and his high school buddy and future New York Doll Arthur "Killer" Kane – a straight 'A' student – used to do his homework for him. 
These days, there are many jazz musicians passing through Eastside, including Marco Cappelli and IDR (Italian Doc Remix), who are putting a new spin on traditional Neapolitan tunes. It's their first time at the studio, but not the first experience with Urselli.
"Marc mixed our previous record," Cappelli explains. "It was well-played but terribly recorded. Marc made magic and saved our a**!"
This time around, with "the way that the instruments are miked" and his "quick, effective support," Cappelli has more confidence in the process. Drummer/Percussionist Jim Pugliese concurs, mentioning that " this is the best mic setup that I've seen in my 50 years of playing."
It's not just a job for Urselli, who appreciates the space he's in.
"It's the most rewarding thing," he muses. "We record the best musicians and I am a witness to the creation process. It's an enormous privilege."
Learn more about Marc Urselli on Instagram @marcurselli, and Eastside Sound online at eastsidesound.nyc.