BY ROBERT POZARYCKI, EMILY DAVENPORT AND ZACH GEWELB
The "city that never sleeps" is officially under curfew at this hour after the fifth-straight night of protests over the police-involved death of Minneapolis' George Floyd, but the city's set a limit on demonstrations this evening.
Earlier Monday, Governor Andrew Cuomo and Mayor Bill de Blasio announced a curfew that will take place citywide from 11 p.m. tonight until 5 a.m. Tuesday morning. This effort aims to prevent the looting, vandalism, fires and other incidents seen during protests in Brooklyn and Manhattan over the last four nights.
By all accounts, the evening's protests — mainly confined to Brooklyn and Manhattan — were relatively peaceful. However, just as in the previous evenings, looters showed up amid the protest to do damage, undermining the intent of the gatherings.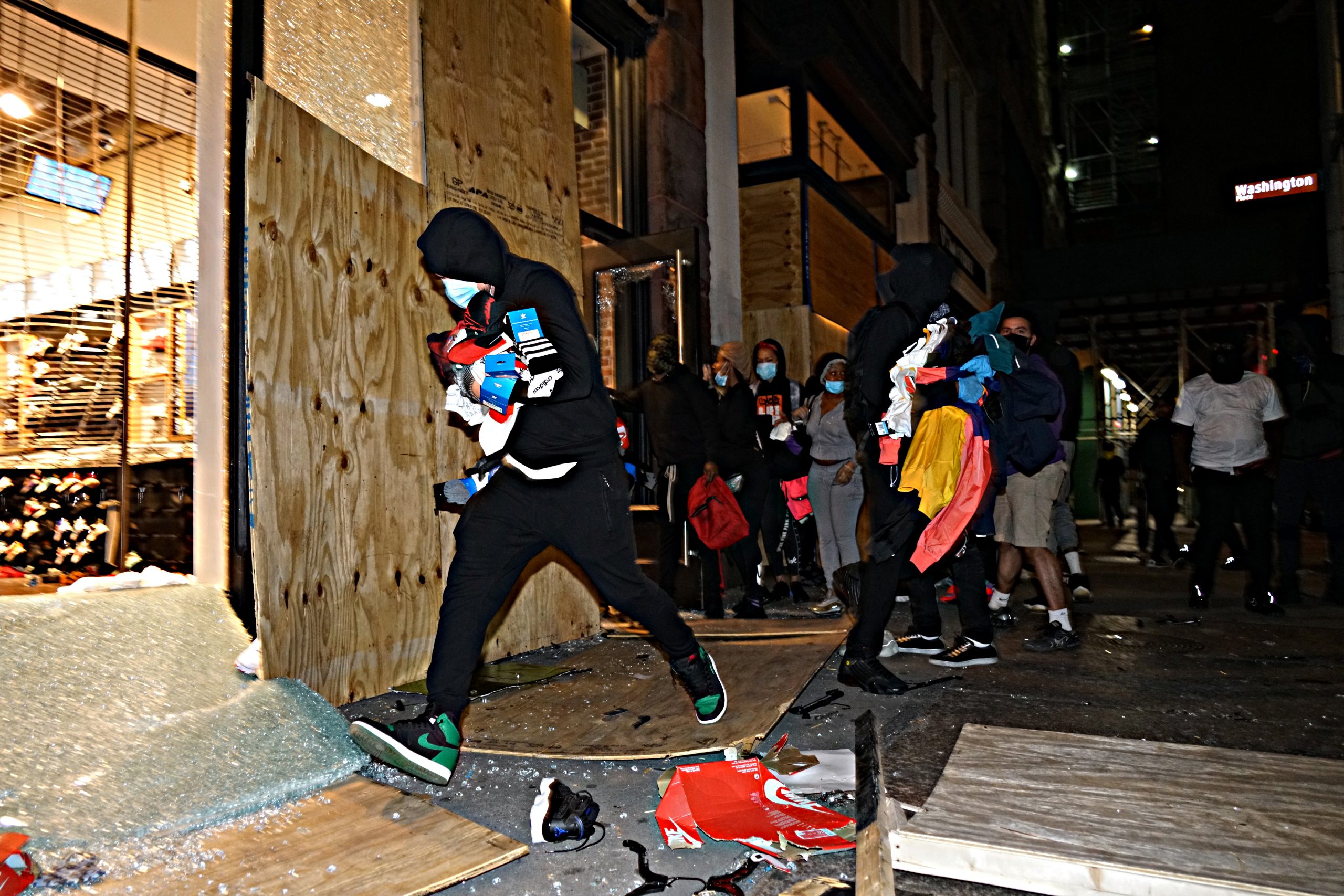 Plywood and rolldown gates couldn't stop looters from smashing through this Foot Locker at 716 Broadway. There have been numerous reports of looting across the borough tonight, prompting Mayor Bill de Blasio to declare a second curfew for Tuesday night — one that will start at 8 p.m., minutes before sunset.
Reporting from 716 Broadway at a #footlocker where swarms of looters grabbed handfuls of clothes and shoes just moments before the NYC curfew began.#protest #looting #nyc pic.twitter.com/6CqQvYz26n

— Dean_Moses (@Dean_Moses) June 2, 2020
There was also isolated looting in the Bronx.
Fordham Road's major retail corridor near Webster Avenue taking a brunt of fires and looting tonight, footage indicates https://t.co/WM9x4GWFE0

— Alex V. Mitchell (@AMitchReporting) June 2, 2020
Soon after Monday's curfew began, de Blasio took to Twitter to tell the protesters to head home for the night.
"We support peaceful protest in this city. But right now it's time to go home," he tweeted. "Some people are out tonight not to protest but to destroy property and hurt others — and those people are being arrested. Their actions are unacceptable and we won't allow them in our city."
Marchers began gathering in Times Square this afternoon at 3 p.m. on June 1 and headed down through the island since then, making stops in Greenwich Village at Sheridan Square and Washington Square Park. Thousands attended, and the numbers went up as the day drew on.
Took a knee with 2000 people three blocks from where I live. Helicopters above, immense police presence. But the people of the city do me proud. Washington sq park has never been this breathable. #nycprotests pic.twitter.com/6ICErk5RAj

— Nosheen Ali (@nosheenali) June 1, 2020
#NYCPROTEST #nycprotests Sheridan Square pic.twitter.com/FBuKwzopa9

— Not Sure (@nsny2016) June 1, 2020
#NYCPROTEST #NYC #newyork #NewYorkprotests #nycprotests we out here pic.twitter.com/BFeh246C1K

— Dee (@LifeOfLowKeyDee) June 1, 2020
There was some trouble reported at the corner of Broadway and 29th Street as cops and protesters clashed, resulting in a number of arrests made.
According to photographer Dean Moses, protesters met a line of cops there and things got heated between the sides. After someone began throwing traffic cones at a bike blocking the crowd off, the cops charged forth. No major injuries were reported at this time.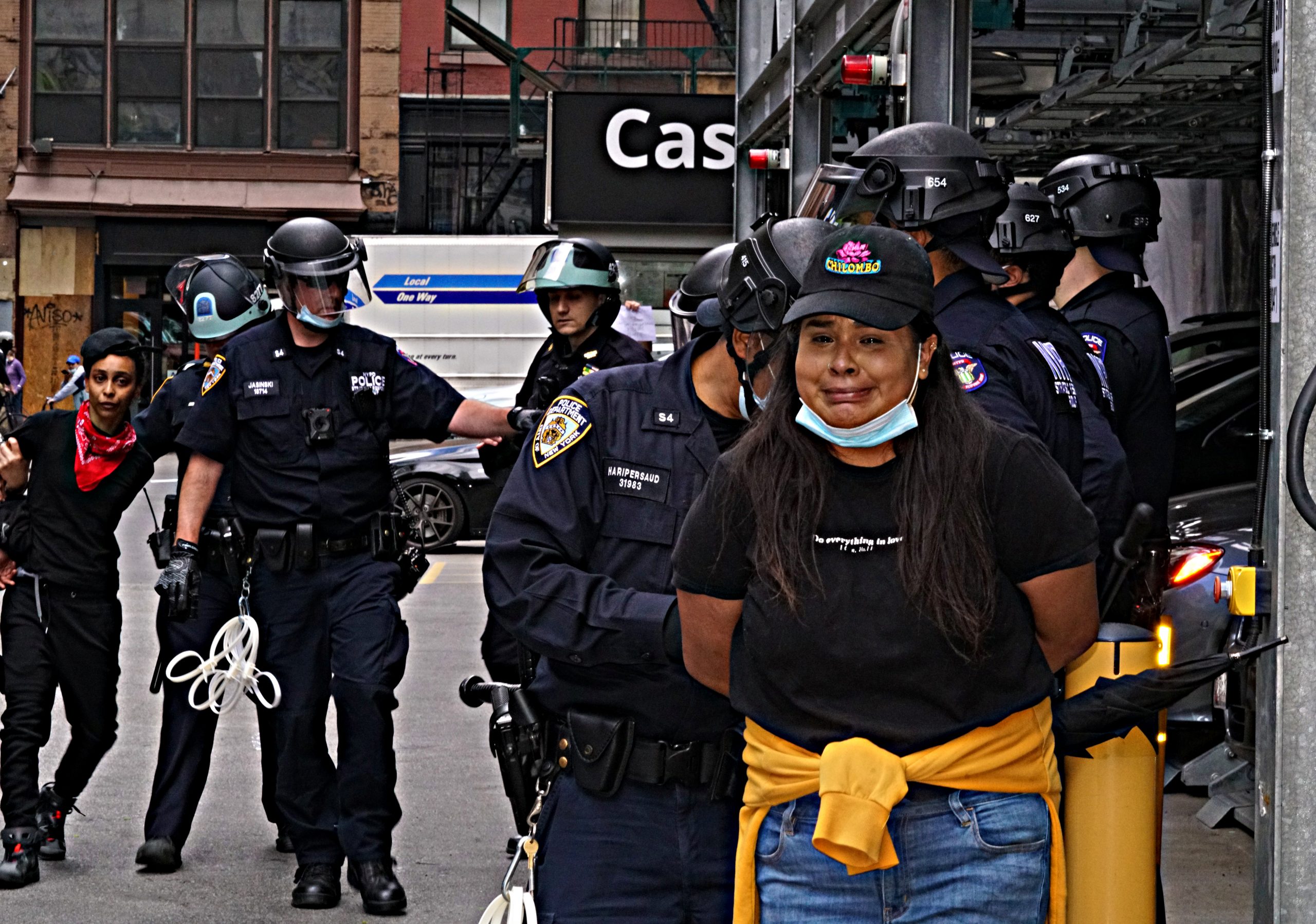 Another protest is scheduled for tonight outside the Barclays Center as well. The Brooklyn arena was the site of a wild scene on May 29 as a peaceful protest broke down into chaos as the sun set.
The peaceful crowd on Monday marched past the Barclays Center down Flatbush Avenue toward a rally outside Brooklyn Borough Hall. The more than 1,000 participants were seen heading for a walk across the Brooklyn Bridge.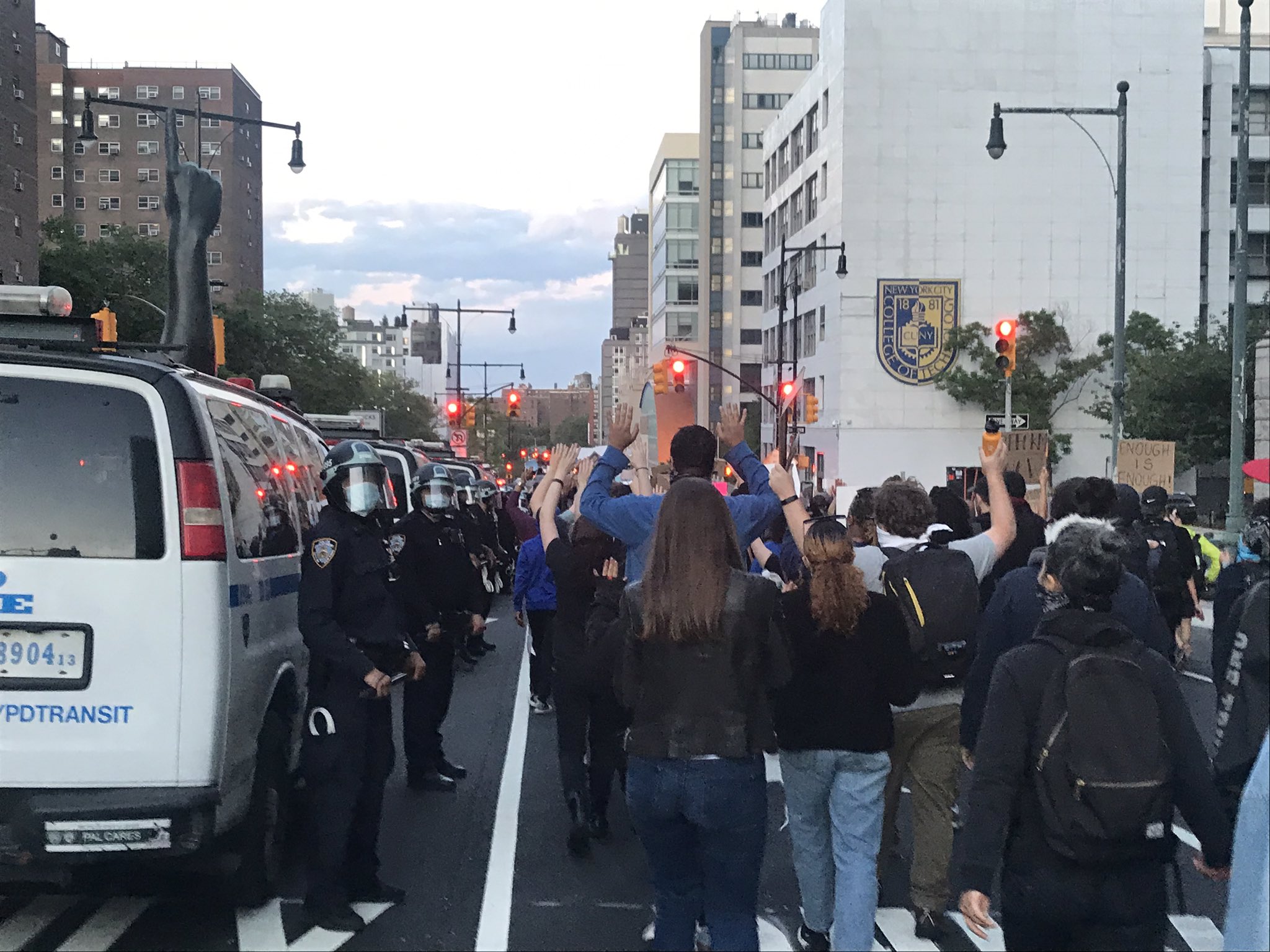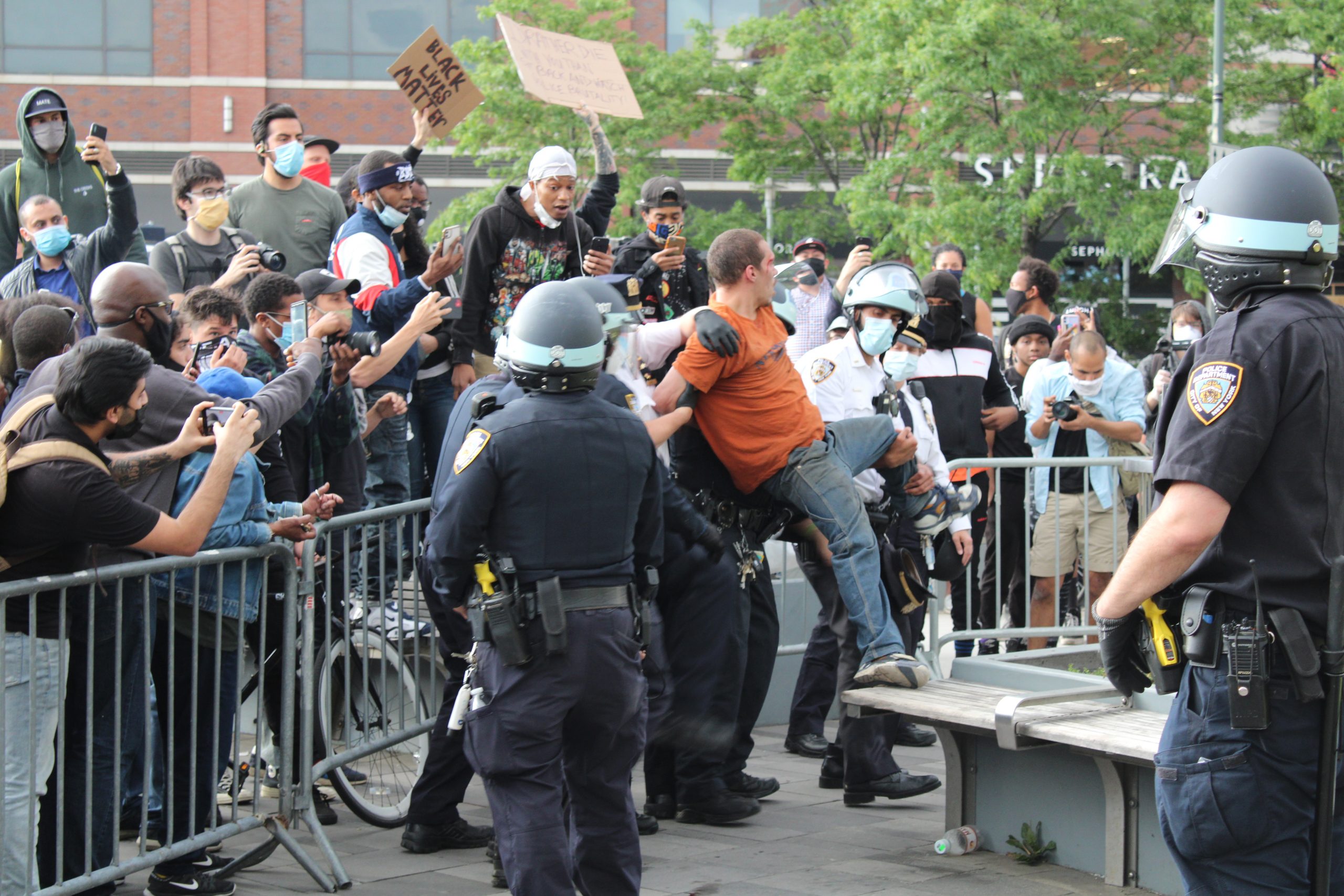 Meanwhile, in Queens, hundreds of demonstrators gathered in Astoria Park for a peaceful protest Monday night in response to the police-involved death of Minneapolis' George Floyd.
Previous protests in Queens have have been relatively peaceful compared to the chaotic scenes in Brooklyn and Manhattan.
The trend continued Monday, as the protest in Astoria Park started at 7 p.m. and has remained peaceful.
Stay with amNY.com all night for the latest on the protests.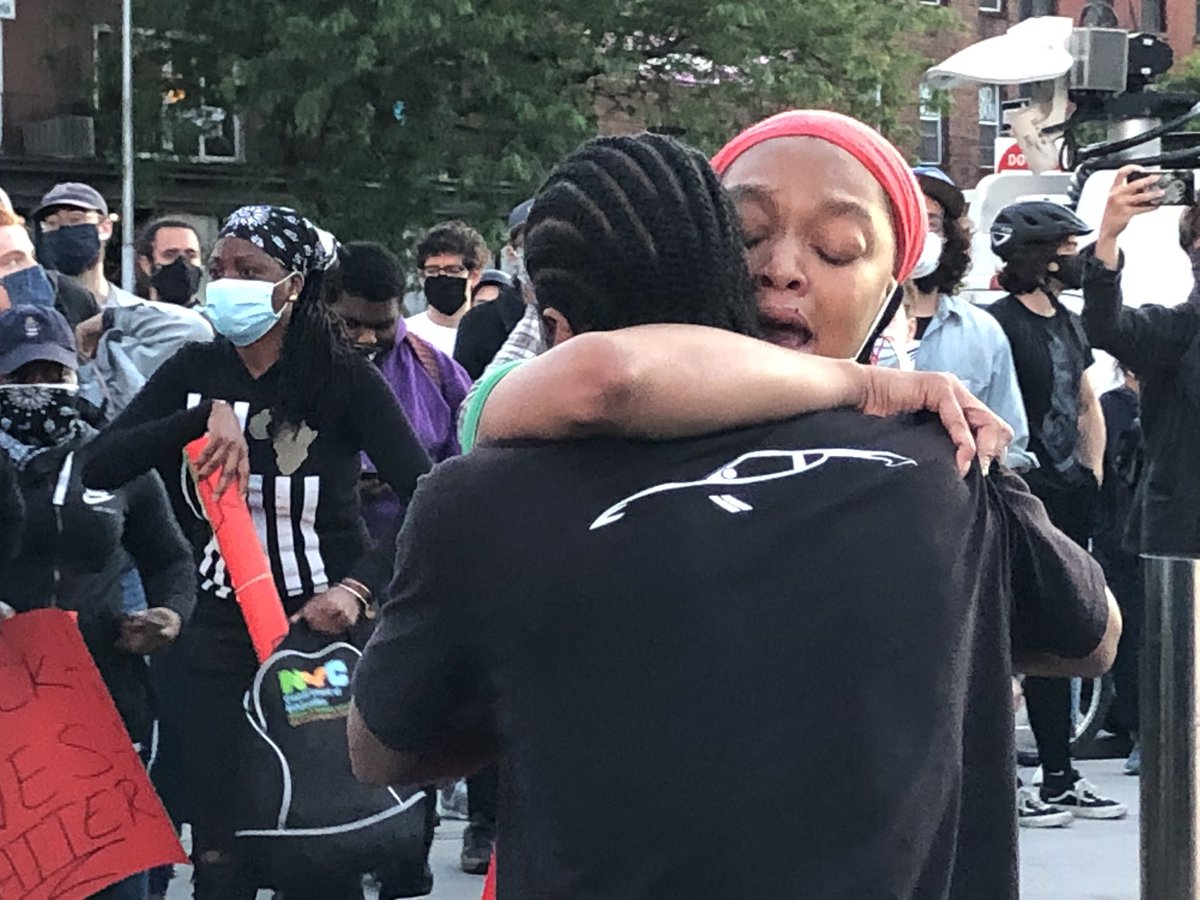 People took a knee and started praying at Barclays pic.twitter.com/NX1xrljXsz

— Alejandra O'Connell (@AODNewz) June 2, 2020
"Let's act as one" pic.twitter.com/rd5x4jrqgt

— Alejandra O'Connell (@AODNewz) June 2, 2020
New York City – now. pic.twitter.com/EmCHE000nK

— Sonali Basak (@sonalibasak) June 1, 2020
NYC protest leaving Washington square heading north #protests2020 #BlackLivesMatter #nycprotests pic.twitter.com/tbjJvnm6Sf

— driftingphoto (@daniel_kouba) June 1, 2020
Here at Avenue D & East Ninth Street in Manhattan, where police violently beat a bystander during a "social distancing enforcement" a month ago. Protesters are reading names of black people killed

(From May: https://t.co/qrjxnMYIOW) pic.twitter.com/TBFSD6gWDj

— Sydney Pereira (@sydneyp1234) June 1, 2020
Hands up, don't shoot! NYC protests heading north on 6th Ave. #nycprotests #protests2020 #BlackLivesMatter pic.twitter.com/Le8o36K8sy

— driftingphoto (@daniel_kouba) June 1, 2020
After NYPD blocked off 26th and 5th, protesters turn left on 24th heading west. #nycprotests #nycprotest pic.twitter.com/6t1dXLg2tt

— 𝓙𝓔𝓢𝓤𝓢 (@gramishel) June 1, 2020
6th ave #2020Protests #nycprotests pic.twitter.com/Vby6aDn37i

— Quaison != Quaisaun (@Quaison) June 1, 2020
#nycprotests #nycprotest on 24th St. pic.twitter.com/4KBTFTWFmd

— Not Sure (@nsny2016) June 1, 2020
NYC protest applauding essential workers at 7PM #BlackLiveMattters #nycprotests #2020Protests pic.twitter.com/eTf4c1XLF2

— driftingphoto (@daniel_kouba) June 1, 2020
Marching uptown on 5th ave with 5000 people spanning 12+ blocks #nycprotests #JusticeForGeorgeFloyd pic.twitter.com/5AUug0OpGh

— ジェームズ (@filmismygf) June 1, 2020
This guy was the silver lining to our peaceful protest #NYC #Peacefulprotest #ny #newyorkprotest #NYCForGeorgeFloyd #NYCPROTESTS #NewYork #JusticeForGeorgeFloyd #BlackLivesMatter #ALLLIVESMATER pic.twitter.com/RZAqORaruB

— Dee (@LifeOfLowKeyDee) June 1, 2020
#NYCPROTESTS pic.twitter.com/JmrM4cvtT4

— Catherine Torpey (@Treepey) June 1, 2020
Watch Derrick's broadcast: 77th precinct protesthttps://t.co/VPMgW75QVi#NYCProtests #NYC #Protests2020 #Protest

— Sky Dether ☯ (@skydether) June 1, 2020
Hundreds of protesters are walking down Flatbush Avenue towards BAM. Very peaceful, little police presence from what I've seen. MTA bus drivers all honking in solidarity pic.twitter.com/DXfm8QjRHq

— Rose Adams (@rose_n_adams) June 1, 2020
#BlackLivesMatter #GeorgeFloyd #GeorgeFloydProtests #Brooklyn #NYC #NoJusticeNoPeace pic.twitter.com/yrSMx7NIyx

— Nazanin (@MsNazaninN) June 1, 2020
#BlackLivesMatter #NYCProtests pic.twitter.com/JVuqnBliAG

— ☆jaquapanda 📎 (@jaquapanda) June 1, 2020
Out here in Astoria Park where a crowd of easily over a thousand has gathered for a vigil organized without set speakers. 10 minutes of silence has been punctuated by an accidental NWA "FTP" ringtone, applause and then a hymn. pic.twitter.com/dfhENyff2f

— Max Parrott (@mwparrott) June 1, 2020
Cars honking in solidarity pic.twitter.com/QxdJ6CiOeg

— Rose Adams (@rose_n_adams) June 2, 2020
I'm reporting live from Times Square which is absolute chaos right now #nycprotests pic.twitter.com/9Uhqp4TH4m

— Andrew Solender (@AndrewSolender) June 2, 2020
I'm reporting live from Times Square which is absolute chaos right now #nycprotests pic.twitter.com/9Uhqp4TH4m

— Andrew Solender (@AndrewSolender) June 2, 2020
Rally at Federal Hall on Broad and Wall streets.

"We March for real change," says an organizer. pic.twitter.com/XTGr8t0ji0

— Rose Adams (@rose_n_adams) June 2, 2020
Marchers started to circle at Grand Army, other protesters yelled to redirect them north toward Eastern Parkway.#BrooklynProtests #NYCProtest #protest #BlackLivesMatter pic.twitter.com/YMfWHCyuXt

— Grant Lancaster (@grantlan145) June 2, 2020
Marchers still moving up Eastern, protesters on bikes leading the way as others hoist a banner that reads "stop killing black people" at the head of pedestrian protesters.#brooklynprotest #NYCPROTEST #protest #BlackLivesMatter pic.twitter.com/6qrypI53Nu

— Grant Lancaster (@grantlan145) June 2, 2020
Rally at Federal Hall on Broad and Wall streets.

"We March for real change," says an organizer. pic.twitter.com/XTGr8t0ji0

— Rose Adams (@rose_n_adams) June 2, 2020
Large group of protesters paused at #NYPD 77th Precinct, chanting "Who do you protect? Who do you serve?"#brooklynprotest #NYCPROTEST #protest #BlackLivesMatter pic.twitter.com/7zNhQAnZFX

— Grant Lancaster (@grantlan145) June 2, 2020
People are asking them to take a knee. The police offered to give a hug, but the crowd said they don't want the hug, they want the knee. #nycprotests pic.twitter.com/wAactkCpDI

— Anna Bressanin (@AnBress) June 2, 2020
People are asking them to take a knee. The police offered to give a hug, but the crowd said they don't want the hug, they want the knee. #nycprotests pic.twitter.com/wAactkCpDI

— Anna Bressanin (@AnBress) June 2, 2020
GORGEOUS. Brooklyn is out in the thousands to demand #JusticeforGeorgeFloyd and #BrionnaTaylor! pic.twitter.com/jGcymMrKfv

— AnaMariaArchila🦋 (@AnaMariaArchil2) June 2, 2020
Tomorrow there will be calls for this #NYPD officer to be stripped of his badge and gun. @NYCMayor @NYPDnews @NYCPBA pic.twitter.com/HV1S6Xcowu

— NYC Scanner (@NYScanner) June 2, 2020