Days before Halloween, members of progressive political action groups Rise & Resist, Empire State Indivisible and Indivisible Brooklyn marched from House Minority Leader Hakeem Jeffries' office in Downtown Brooklyn to Senate Majority Leader Chuck Schumer's home on Prospect Park West on Saturday, calling on the Democratic leaders to "unrig" the U.S. Supreme Court.
During the rally, dubbed "SCOTUS is Scary," the progressive groups called the conservative majority on the bench "out of control" because they overturned Roe v. Wade, gutted the Voting Rights Act, undermined the EPA's authority to regulate polluters, ended affirmative action in higher education, ruled against student debt relief and allowed businesses to discriminate against LGBTQ+ people.  
The only way to restore and protect constitutional rights and democracy, the groups say, is to expand the Supreme Court from 9 to 13 judges by passing the Judiciary Act, or H.R. 3422. 
Danielle Brecker, co-lead organizer of Empire State Indivisible, said it was important — especially on the first day of early voting — to push Schumer and Jeffries to pass these laws because conservative judges were "harming democracy."
Brecker explained there were a few bills on the table to overhaul the Supreme Court.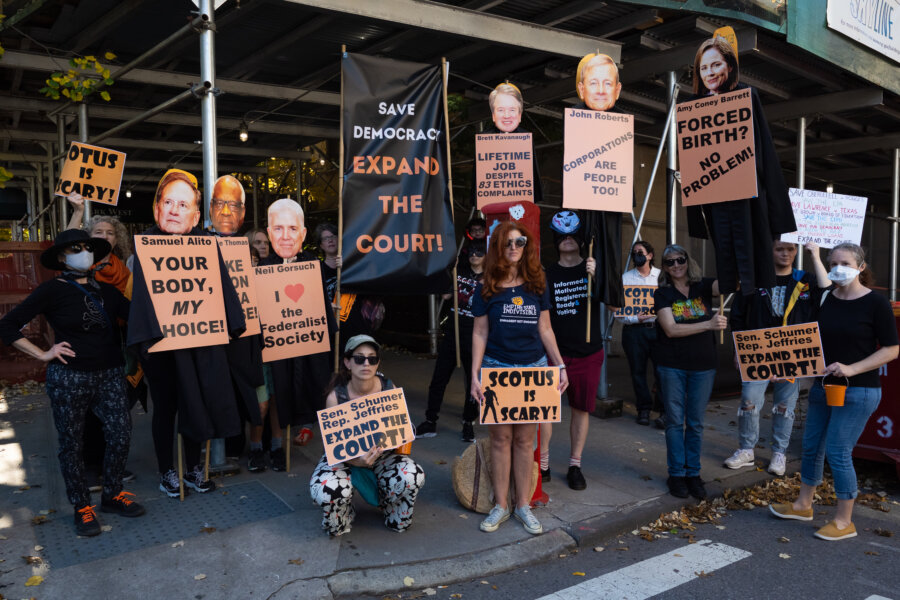 Besides H.R.3422, the Supreme Court Ethics Recusal Act (SCERT) would require the U.S. Supreme Court to adopt a code of conduct for justices and establish a process to investigate judicial misconduct complaints. Justices also would have to disclose gifts, travel, and income they receive, and parties in SCOTUS cases would have to disclose any gift, income, or reimbursement they gave to justices. 
Another bill would impose term limits for justices serving on the country's highest court. The Supreme Court Biennial Appointments and Term Limits Act would ensure new justices take the bench every two years and establish 18-year terms. 
Brecker acknowledged that it would be more difficult for Jeffries to push the bills but was confident that Schumer could get the bill passed in the Senate because of his "huge influence."
"Even if it doesn't get done in 2024, [Jeffries and Schumer] could push this," Brecker said. "Let voters know that this is what they're about. So voters will vote for Democrats and make sure we take back the house."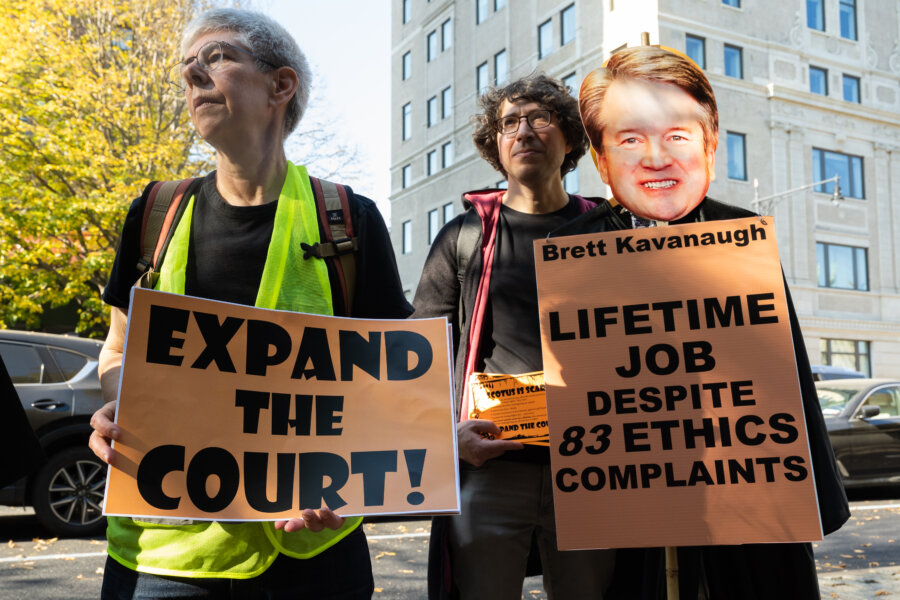 Longtime Rise & Resist activist Jamie Bauer said when Brett Kavanaugh was confirmed to the Supreme Court in 2018, they knew that abortion rights and access to abortions were going to be overturned. 
Bauer thinks that H.R.3422 is a way to "turn the court around."
"It's just very clear to me that nine justices is not sufficient. And that the best way to have a more equitable court is to expand it," Bauer, who also would like to see term limits for justices, said. "I think the more voices you have on the court and the bigger opportunity for a range of voices, not all of whom are from the Federalist Society, the more democracy will be preserved and defended."
Bauer realizes that H.R.3422 probably won't pass Congress before the 2024 election because Republicans have the majority in the House of Representatives. However, they are confident President Biden will be re-elected next year, and Democrats will win the Senate and House.
"The more seeds we can plant now and the more we can push and talk to our representatives about the importance of it," Bauer said. "You have to start fighting ahead of time. You can't wait for Election Day."
Representatives for Jeffries and Schumer did not immediately respond to requests for comment.